Mission Mangal Box-Office Early Prediction: Akshay Kumar, Vidya Balan, And Taapsee Pannu Starrer Likely To Collect Rs 23-25 Cr
Check out the box-office early predictions of multi-starrer, Mission Mangal, starring, Akshay Kumar, Sonakshi Sinha, Vidya Balan and Nithya Menen among others.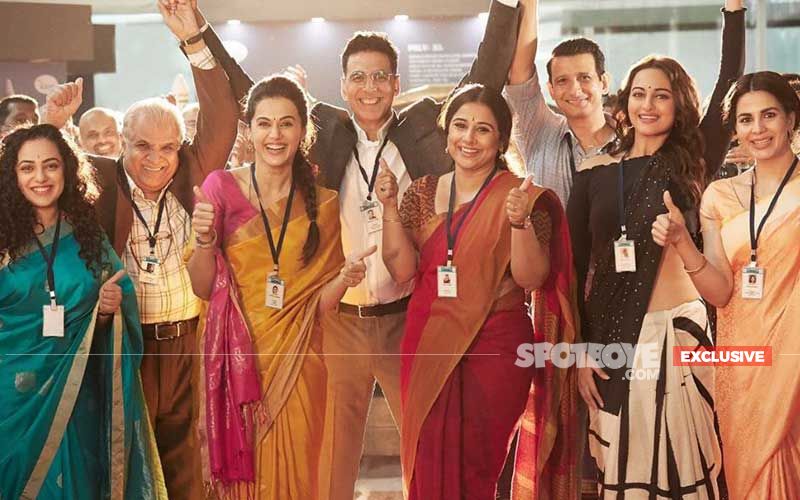 August 15 will witness the clash of two big Bollywood movies- Mission Mangal and Batla House at the box-office. Mission Mangal which stars an ensemble cast of Akshay Kumar, Vidya Balan, Sonakshi Sinha, Taapsee Pannu, Nithya Menon, and Sharman Joshi will show the real journey of ISRO's mission to Mars. On the other hand, Batla House stars John Abraham, Mrunal Thakur, and Nora Fatehi and are based on real incidents. As both films are set to open tomorrow, we bring to you the early box-office predictions.
We got in touch with Film Business and Trade Analyst Girish Johar and he has pegged the first-day collection of Akshay Kumar led between Rs 23-25 Crore. He told us, "Like Batla House, Mission Mangal is also trending and its advance booking are also great. Whatever promotional material team of Mission Mangal has shared has been very much appreciated. So, the first time a film is being made around this genre, ISRO is involved, Akshay Kumar is all always top lining the cast, ensemble cast of Vidya, Taapse, Sonakshi and Nithya. It has everything that the audience would want. They are also highlighting the women power behind the film. Mission Mangal has light shades also, which Akshay Kumar brings in subtly and smartly into the film. It has everything in its favour. After seeing the trailer and promotional material, everyone is excited to watch the film. I am expecting the film to have Rs 23-25 Crore start. I would peg it in that range. Again it's the word-of-mouth is strong the collection will go further. I am expecting it to be Akshay Kumar's one of the top starters."
(ALSO READ: Batla House Box-Office Early Prediction: John Abrahm-Mrunal Thakur Starrer To Have A Decent Opening)
Talking about Misison Mangal leading at box-office and also it clashing with John's Batla House, Johar continued saying, "Yes, it would surely lead. Right from Akshay to John, they are not in the competing space; they have set up a very cordial release phase of the film, where both will coincide and come out easily. Their fans and they themselves are calling 'Desi Boys at the box-office'. There's no mudslinging, it's a very friendly and amiable kind of a release. Both have good breathing space too at box-office. Both films have different story lines and different budgets. They also cater a different audience. As a fan of both actors, personally, I would want both films to exceedingly well."
Images Source: instagram/akshaykumar