Amitabh Bachchan, Katrina Kaif, Aamir Khan and Fatima Sana Shaikh are here with their magnum opus, Thugs Of Hindostan. A while back, they arrived at the launch of the trailer and now, take a look at what these thugs have in store for you this Diwali.

The trailer starts with Amitabh Bachchan's introduction as Azaad, followed by Fatima's character and then Aamir Khan. The trailer is a proof that the film is a winner in the visual effects, VFX department. Larger than life scenes and sets, the movie is sure to be a big Diwali bonanza for fans. Take a look at the trailer below:



Aamir Khan has been sharing the posters of various characters since a week. He first introduced Amitabh Bachchan's character, Khudabaksh with a caption, ""The biggest thug of all!!! Love, a. @amitabhbachchan as #khudabaksh in #thugsofhindostan @yrf | @tohthefilm | @katrinakaif | @fatimasanashaikh (sic)."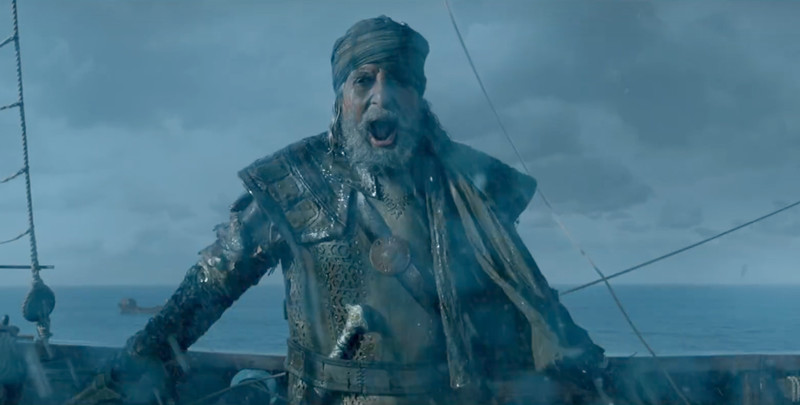 Amitabh Bachchan As Khudabaksh

The makers then introduced Fatima Sana Shaikh's character, Zafira and said, "Zafira is fiery and stunning. She is an extremely talented fighter and specialises in combat by bow and arrow. Zafira has perfect accuracy and she doesn't miss a target, ever. Fatima Sana Shaikh as Zafira brings vigour and freshness to Thugs of Hindostan."
Then came the hot and sizzling Katrina Kaif as Suraiyya. Aamir introduced Katrina's character and wrote, ""सुरैया जान.... सबसे खूबसूरत ठग ! धूम ३ केवक़्त से मेरा दिल इनपे आया हुआ है... पर कहने कीहिम्मत कभी नहीं हुई. कोई अगर इन्हें ये बता दे तो बड़ी मेहेरबानी होगी ;-) #ThugsOfHindostan | @yrf | @tohthefilm | @amitabhbachchan | @katrinakaif | @fatimasanashaikh"

Lastly, Aamir introduced himself as Firangi Mallah and captioned the poster as, "और इ हैँ हम, फिरंगीमल्लाह. हम सेज्यादा नेक इन्सान इस धरती पे कहीं नहीं मिलेगा आपको. सच्चाई तो हमरा दूसरा नाम है, और भरोसाहमरा काम. दादी कसम!!!#ThugsOfHindostan | @yrf | @tohthefilm | @amitabhbachchan | @katrinakaif | @fatimasanashaikh"

The trailer has instilled lot of excitement among the fans; let's see how the film fares well at the box-office. Since it's Aamir Khan's much ambitious project, we are sure he must have given his heart and soul to it along with the entire team.


Image Source: instagram/yrf