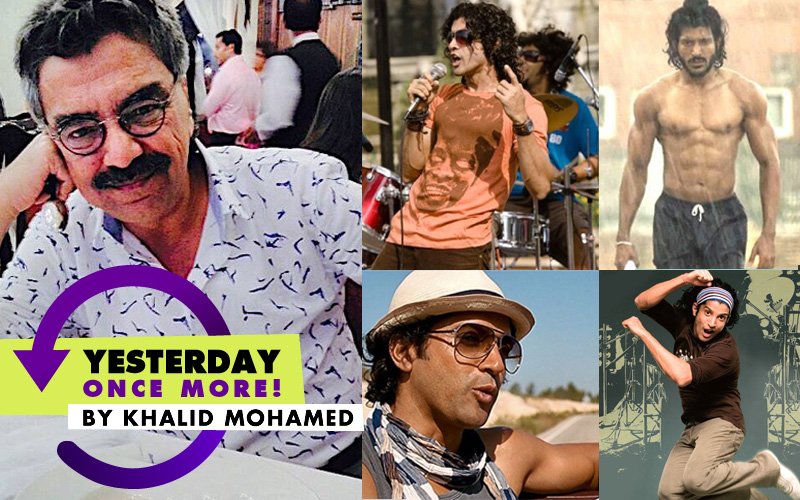 The buzz hasn't been kind on Rock On!! 2. The music promos have been thumbed down. The trailer didn't find favour either.

He split from his ever congenial wife Audhuna. And his liaisons became grist for the gossip mills.

That's his business not ours. For what it's worth I have my fingers crossed for Farhan Akhtar who's all of 42 now. Truly he deserves to be in the frontline, he's a superior talent.



Image Source: thynkfeed

Imagine it was 15 years ago that he debuted as a director with Dil Chahta Hai (2001), a class act mined from that nostalgic yearning for innocence lost. All his superior quality projects – as a director and actor – have been a break in varying degrees from the formulaic triangular romances. They have parachuted on an ensemble, each character with his or her lovable and detestable qualities. They're somewhat like him in real-life, you can't figure him out – entirely.

On being invited to the Filmfare Awards for Dil Chahta Hai, the well-bred Farhan Akhtar had assured that he would be there on the dot of time. He would be honoured to collect his writing trophies, he had trilled. And then? No show. Later, he said he was far too busy shooting an ad film for a cola conglomerate. Right.

In fact, I'm not sure whether to say hello or not to him if and whenever I run into him. It all depends on, of course, whether his last film has been favourably reviewed or not. Like most of his biradari, the filmmaker is an expert in the averted gaze as well as the warmest hug this side of a Mumbai summer. His films are different to an extent, he isn't.

I've seen him as a teenager, assisting the reserved cinematographer Manmohan Singh on Lamhe (1991); and then he assisted the erratic director Pankaj Parashar on Himalay Putra (1997). It seems that he dropped out of college after two years of B.Com.



Image Source: mbc

There was talk that he would record pop songs on cassettes and give them to his mum Honey Irani – to hand them over to music composers for potential "inspiration". Dad Javed Akhtar wouldn't talk much about him, opting to let Farhan design his own wings to fly. There isn't a perceptible influence of Javed Akhtar on the son's films, except perhaps a fun time childhood memory which led to the making of Don.

In Farhan's oeuvre as a director his men are always in centre-frame. A pity that, because Farhan as the son of a broken marriage, could invest emotion in a subject dealing with shifting man-woman equations.

That Dil Chahta Hai must have drawn from real-life moments was perceptible though. The son sent away overseas, the joker in the pack, and the sensitive sort in love with an older woman – Aamir Khan, Saif Ali Khan and Akshaye Khanna – were so next-door types. For years, he had flogged the coming-of-age script to actors. At one point, it was to be done by Abhishek Bachchan and Sikander Kher, or so Bollywood lore goes.



Image Source: brns

Expectations soared for Lakshya (2004), a somewhat moralistic yarn about a ne'er-do-well who finds a lifetime goal on joining the Indian army. The Barkha Duttish TV journo played by Preity Zinta was unintentionally howlarious, Hrithik was as self-conscious as a groom at a wedding, and Amitabh Bachchan – was he there at all? Lakshya ko dil nahin chahta hai, went those smarmy SMS as soon as its post-midnightpremiere was over at Globus, Bandra.

Next: Don: The Chase Begins Again (2006) was choppy. By repackaging the earlier Don (1978) – Farhan had taken on the comparison onus. And he had blown it. What do you remember from it? A Kareena Kapoor redoing Helen (what a joke!), a Boman Irani stumbling all over the place, Eesha Koppikar outclassing Priyanka Chopra? Pran morphing into Arjun Rampal? Like it or not, this Don smacked of Khaike Paan Bachchanwala. Its sequel was no improvement.

As an actor, he has a goodfella-well-met presence. As in Rock On which he is rumoured to have ghost-directed (not fair to director Abhishek Kapoor at all). His sister Zoya Akhtar's Luck by Chance he is rumoured not to have directed, mercifully.

In Luck by Chance, he was the quintessential Bollywood struggler who sells his soul….till he gets his comeuppance. As an actor, Farhan doesn't glamourise himself, he's remarkably natural. This he repeated again in Kartik Calling Kartik (2010), a commendable try, but he could not quite bring the viewer close to a schizophrenic's mind. As for his performances in Shaadi Ke Side Effects (2014) and Wazir (2016), the actor in him appeared to have disappeared.



Image Source: healthyceleb

Undeniably his career-best has been Bhaag Milkha Bhaag (2013) and he was pretty casual and cool in Zoya's Zindagi Na Milegi Dobara (2011) and Dil Dhadakne Do.

Farhan Akhtar is still a superior mind and craftsman. The snag is that he's still to achieve that complete hold on you, a hold that would make you race to the TV set to watch a show which he once compered (Oye, it's Friday…was noye noye),rewind to the lyrics he co-wrote with Zoya for Bride and Prejudice, or even hunt out the DVD of Aids Jaago for which he directed an episode featuring stepmom Shabana Azmi and Boman Irani.

You're okay with him, you like his 'unaggressive' style, his inscrutable personality. Here's a guy who can afford to take risks…rewrite many more rules and become the best there is in the market. After all, his name is Akhtar, Farhan Akhtar.


Thumbnail Image Source: healthyceleb, onlinetoday, thelittlenews & hdpicswale