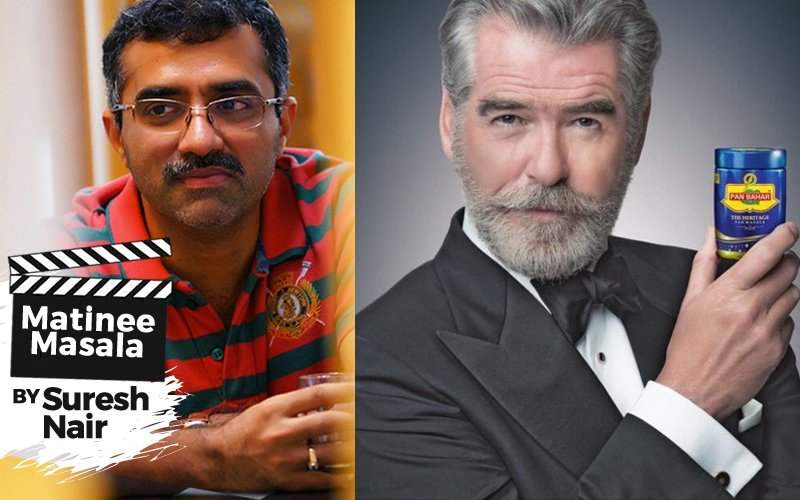 Ian Fleming turned in his grave last week. James Bond was spotted selling paan masala in India. Who would have thought the spy who lived life like spoilt royalty with his Aston Martin, shaken and stirred Martini and Saville Row suits (in the books) would end up with desi mouth freshener. Just shows that recession and Brexit has far reaching consequences.

Pierce Brosnan posing with a paan masala is probably just the beginning. Imagine the paan masala slowly making in-roads into the James Bond world of in-film advertising – which already includes everything from his watch to his laptop to his car to his underwear... What are the odds that in the future Daniel Craig tears open a pouch of paan masala, puts it into his mouth and then goes ballistic on the bad guys? Or Miss Moneypenny comes so close to Bond that the mouth freshener makes her burst into traditional garba dance around him!

It's a terrific marketing move by the paan masala guys. In one genius stroke they got one of the most popular and handsome actors of our times as well as the world's biggest movie franchise linked to their product. I mean, Pierce Brosnan and paan masala sounded an impossible combination even in our dreams. But now Brosnan's entire career – from the suave private eye Remington Steele to the super spy James Bond – has been overshadowed by a member of the controversial desi mouth freshener family.

Brosnan, as you know, is not the first international movie star to endorse an Indian product. There's also Hugh Jackman, who was seen peddling cellphones. But then his Wolverine is seen as part of the X-Men family. I guess, the key here is to pick a star with a solo super successful movie franchise in his resume. Interestingly, this might inspire others to make similar surgical strikes in marketing…

Matt Damon has had a long run as Jason Bourne, the spy who's been struggling with memory loss since ten years but refuses to visit a good doctor. The series has been hugely successful but chances are that it might be a bit much to have one more movie in the franchise where Bourne tries to remember his past. This might be a good time to get Mr Damon to endorse Ashwagandha powder!

Now that Ben Affleck has taken over as Batman, it might be time for Christian Bale, the most famous Dark Knight of them all, to consider the Brosnan career path. There are many products out there for sleeplessness and insomnia…


DISCLAIMER: The views expressed here are solely those of the author and do not represent the views of SpotboyE.com.

Thumbnail Image Source: static