'Bhagyashree Ka Affair Salman Ke Saath Tha Aur Ab Ye Bachcha Hua Hai' Bhagyashree Recalls How A Journalist Humiliated Her Right After She Gave Birth To Abhimanyu
Bhagyashree recalls how a reporter once asked her husband about her alleged affair with Salman Khan right after she welcomed her son Abhimanyu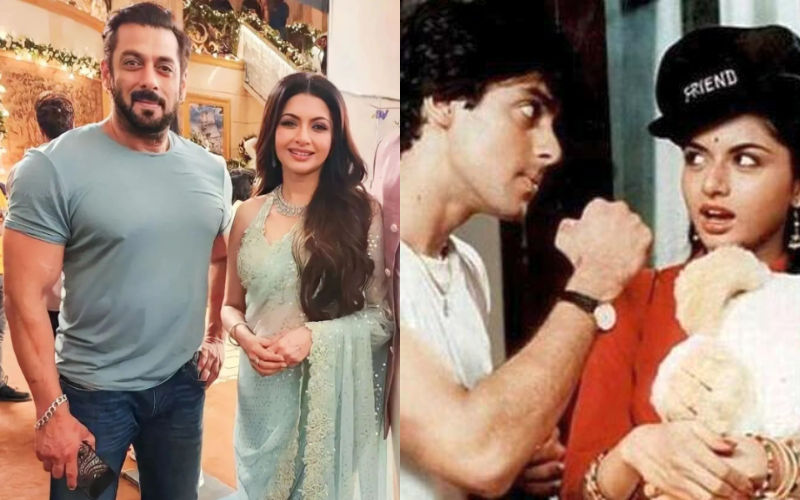 Actor Bhagyashree, who recently featured in Salman Khan starrer 'Kisi Ka Bhai Kisi Ki Jaan', has been busy promoting the film. In a recent interview, she recalled an unpleasant incident from the past when a journalist told her husband Himalaya about her link-up gossip with Salman Khan, hours after she gave birth to her son Abhimanyu. Bhagyashree revealed that the incident turned her off from movies and she banned film magazines at home and even stopped reading them.
Speaking with RJ Siddharth Kannan on his show, the actress was asked to share her views about the scandalous reporting that used to happen back then when celebrities had no idea about the misinformation being spread about them. Talking about the same, Bhagyashree recalled an incident when a reporter on the pretext of congratulating her, entered her hospital room and proceeded to ask her husband intrusive questions. She shared, "I had just given birth to Abhimanyu, and my sister-in-law was outside my room. A press reporter came by with a big bouquet, and asked to meet me. Of course, they said go in. She came in, looked at Himalaya, and said, 'How do you feel about Bhagyashree's affair with Salman Khan, and now she has this kid with you?."
ALSO READ: Bhagyashree Reveals The Reason Of Not Kissing Salman Khan In Maine Pyaar Kiya: 'I Was About To Get Married, So I Wasn't So Comfortable'
She added, "Nobody had ever said anything like this in my life. Through the entire course of Maine Pyar Kiya being made, Salman was such a gentleman. There was nothing between us, nobody had ever said such a thing. And this was on the very next day of my delivering a baby. I was shocked at how badly people can treat each other. I was so upset by this, I stopped reading film magazines, I stopped getting film magazines at home, and I decided to distance myself from the world of films."
Meanwhile, Bhagyashree, who had worked with Khan in the super hit film Maine Pyar Kiya, played a special cameo role of Salman's former love interest in Kisi Ka Bhai Kisi Ki Jaan. In fact, her husband Himalaya Dassani, and her son Abhimanyu Dassani were also seen in special appearances in the movie.