Lovebirds Ranbir Kapoor and Alia Bhatt are the latest couple in tinsel town. And many a times the couple indirectly admitted of being in a relationship with each other. Today we bring you 5 instances when Alia-Ranbir, unknowingly, hinted about their relationship, that world is loudly talking about only now.
Talking about the recent instance, during an interview, Ranbir Kapoor has once again gone on record to tell the world that he is smitten by her. In conversation with Rajeev Masand, the actor said that "Alia Bhatt is the best thing to happen to the movies."
Few days back, Alia wanted world to know that she is addicted to boyfriend, Ranbir's upcoming movie Sanju's last released song, Kar Har Maidaan Fateh. Taking to Instagram stories, she posted the snapshot of her music player which showed the song playing on it. She captioned the picture, "#ONREPEAT".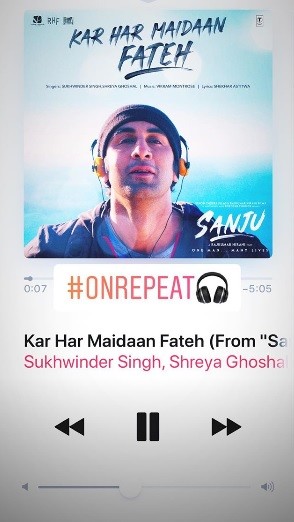 Last week, we brought to you Alia and Ranbir's similar statements on getting married. At an event, 3 years ago, Ranbir Kapoor had said, "The day when I feel I want to have children and the day when my partner and I feel that it's an organic thing now to get married, is when I'll marry.'' And when Alia was asked if marriage is on her mind, the actress had said, "I feel that I am in a position where I want to take such a step, then I will. I've always believed that I would get married because of kids. So, if I am like, "This is the time I want to have my children and am also ready to have babies, I will get married."
Well, there statements clearly state that they think alike in terms of marriage and children. Don't you think so?
Early this month, Ranbir made a statement on his relationship with Alia Bhatt. In an exclusive interview to GQ magazine, Ranbir was asked if he is dating his Brahmastra co-star and the reply almost confirmed that he is. The actor had said, ""It's really new right now, and I don't want to over speak. It needs time to breathe and it needs space. As an actor, as a person, Alia is – what's the right word? – flowing right now. When I see her work, when I see her act, even in life, what she gives is something that I'm aspiring to for myself. It's new for us, so let it cook a bit."
And for the very first time, when Alia Bhatt had almost confirmed dating Ranbir Kapoor was on Rajat Sharma's show, Aap Ki Adalat. After making a joint appearance at Sonam Kapoor's reception, the actress statement on the show proved that something was definitely cooking between the two.
While on the show, the host asked her about what's brewing between Ranbir and her. Alia first blushed on his name and then said, "As I said, I don't want to accept it and I don't want to deny it." Not just this, she covered her face and said, "Mera chehra laal ho gaya hai, use pehle control karne ki zaroorat hai."
Watch the video ( 34 mins) below to hear to the exact conversation.


Well, we think these instances and similar statements are more than enough for anyone to understand what's brewing between you two, Alia & Ranbir. It's time to make if official guys!