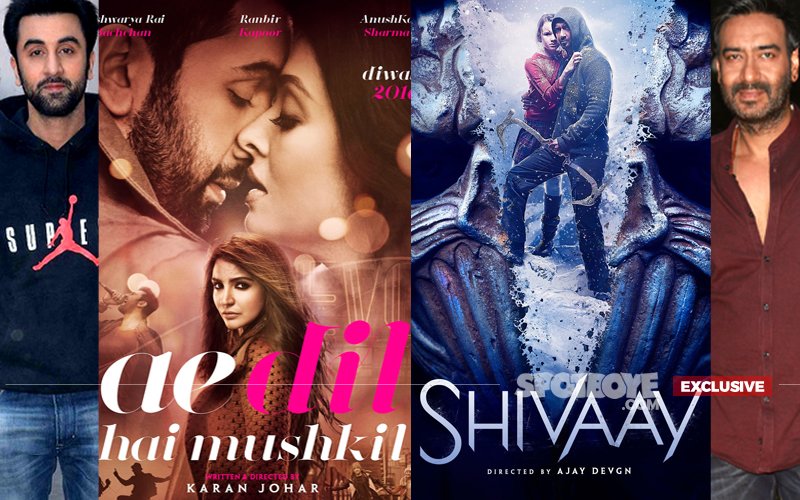 Ajay Devgn is going to sleep disturbed
tonight
, he might not sleep even a wink. The response at the advance booking for his ambitious extravaganza Shivaay, which releases
tomorrow
, is lesser than that of his wife Kajol's estranged friend Karan Johar's product Ae Dil Hai Mushkil (ADHM) which clashes with it at the box-office.
The distribution and the exhibition circuit are a tad surprised at the disparity which they have registered on their sheets so far.
Is this an indicator of what the public has decided? Is the race already over? Or will things change?
A leading distributor-exhibitor (on request of anonymity) says, "There was a tussle last night when multiplexes wanted to give more shows to ADHM- and rightly so. It's a simple case of demand and supply so far. If Shivaay ka demand aata hai, toh multiplexes can definitely pull out some English/Regional film and enhance its shows. The response to ADHM is simply fantastic and hence the multiplexes have chosen to have a 60:40 ratio in favour of ADHM."
Image Source:youtube/FoxStarHindi & Ajay Devgn
Confirming this, Rayan from multiplex PVR Icon (Andheri) told SpotboyE.com, "It is true that we will have a division of 60:40 for ADHM:Shivaay. Shivaay has registered just 47-50 per cent at my end but it may pick up if people don't get tickets for ADHM and proceed towards it
Single screen owner, Bhatia of Premiere says, "Let me tell you that though I have divided ADHM and Shivaay equally- two shows each- ADHM is getting 10 times the response. Shivaay has generated a very average response at my end, while on the other hand I have already closed bookings on certain shows of ADHM slated for
Friday
,
Saturday
and
Sunday
because it's HouseFull."
According to trade analyst Amod Mehra, Devgn is most likely to gain from
Monday
onward, "Shivaay will get a good opening in single screens, ADHM is a far better candidate for multiplexes. But we need to understand that why does ADHM has an edge at the moment. That's because 70 per cent of the business in today's times comes from multiplexes and Shivaay is unlikely to do well in multiplexes.. If Shivaay's reports are good, it will make up
on Monday
and
Tuesday
, but ADHM will score on all 5 days and therefore its chances of recovering its cost are extremely high while on the other hand Shivaay is a very costly film. Moreover, Shivaay has opened very ordinary in Dubai whereas ADHM is drawing packed houses there."
Leading distributor-exhibitor Vivek Shah too opines that ADHM is better placed at the moment, "It will get a bigger opening than Shivaay because it is a multiplex film. While Shivaay has drawn good response in B and C centres, one cannot discount the fact that the rates are higher in A centres and multiplexes. Also, ADHM got a lot of publicity because of the Pakistani artistes controversy," and then quickly added, "The content will eventually speak though and decide the final winner. And yes, ADHM also has a youth appeal to it."
Image Source:youtube/FoxStarHindi & Ajay Devgn
Leading exhibitor Hasmukh Shah concludes with a very pragmatic comment, "Movies are seen in the dark and their fate is also in the dark. There are some pockets where Shivaay has generated larger response than ADHM- say in Rajasthan for one. Yes, ADHM has scored better at the ticket counters so far-- but I really wouldn't like to put my finger on any one. Let's wait and watch."
For those who've come in late--- this clash, easily the biggest one of 2016, is a full-on ego battle between two men- Karan Johar and Ajay Devgn- who cannot stand each other today.
Rewind: Kajol and Karan's equation (they became very thick friends during the making of Karan Johar's Kuch Kuch Hota Hai) went sour following a row and interestingly Ajay was at the centre of it. Ajay reportedly confronted Karan over the phone about rumours which claimed that the filmmaker was bad-mouthing him behind his back. The allegation was vehemently denied by Karan but Ajay was not appeased. Kajol chose to side with her husband. Also, Kajol recently took a trip to the US with him to promote the Devgn production Shivaay overseas. It was then itself clear that she was making a firm statement about her allegiances (
Kajol Joins Ajay To Counter Aishwarya-Ranbir-Anushka Star Power, October 20
).
So, who will win? Karan or Ajay? We are not taking sides but for now--- the wind is certainly blowing far more in one direction than in the other. Stay tuned to SpotboyE.com for all the updates on this war, yeah it's a WAR! Fire !!
Thumbnail Image Source: Manav Manglani, twitter/karanjohar & APH Images