While some spend the V-Day with their loved ones, a few of the Bollywood stars chose to be with their little kids, who made their Love Day tad bit special.

Akshay Kumar who is a big fitness freak had a message for everyone on Valentine's Day. He shared a video of his daughter Nitara and wrote, "This Valentine's Day don't let a guy take u for granted. Learn martial arts, u never know when it comes handy & starting early always helps."


Akshay has always advocated women to take up martial arts for self- defence. It looks like Akshay is training his four-year-old daughter Nitara in martial arts and the cute little girl looks just so adorable showing off her skills!

Nitara was born to Akki and Twinkle Khanna on September 25, 2012. Akshay's elder son Aarav holds a first degree black belt in Kudo, a Japanese martial art form.

And now, coming to Mahendra Singh Dhoni's daughter Ziva! Captain Cool shared an adorable video of the father-daughter duo crawling together and it is the cutest thing ever! Check it out:



Meanwhile, Amitabh Bachchan in his Day 3244 Blog shared something really sweet. Can you imagine little Aaradhya taking Granny Big B for a pizza treat? Well, she did!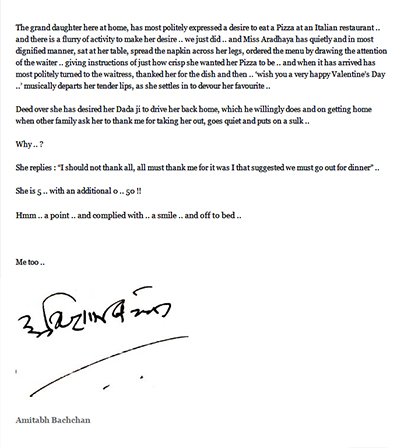 Image Source: tumblr/srbachchan


Amitabh Bachchan narrated the entire episode in his blog: "The granddaughter here at home, has most politely expressed a desire to eat a Pizza at an Italian restaurant... and there is a flurry of activity to make her desire... we just did... and Miss Aradhaya has quietly and in most dignified manner, sat at her table, spread the napkin across her legs, ordered the menu by drawing the attention of the waiter... giving instructions of just how crisp she wanted her Pizza to be ... and when it has arrived has most politely turned to the waitress, thanked her for the dish and then ... 'wish you a very happy Valentine's Day ..' musically departs her tender lips, as she settles in to devour her favourite...Deed over she has desired her Dada ji to drive her back home, which he willingly does and on getting home when other family ask her to thank me for taking her out, goes quiet and puts on a sulk...

Why...? She replies: "I should not thank all, all must thank me for it was I that suggested we must go out for dinner." She is 5...with an additional 0... 50!! Hmm ... a point... and complied with... a smile... and off to bed...Me too."

Now, isn't this episode just too cute to handle? Talk about cuteness overload, meet Imran Khan's little princess Imara. Check out how Daddy and his munchkin pose so cutely for the camera:


Here's more power to the little kids of Bollywood!


Thumbnail Image Source: Manav Manglani, tazaupdates & rumournews