Anurag Kashyap Character Assassination Plot Unearthed! Is Vikas Bahl The Mastermind? Or, Someone Else?
Kashyap, you might have been in a needless 'Harassment Scandal' as an accused, if Joshi had no conscience in agreeing to a sinister plan hatched against you, and perhaps even if SpotboyE.com hadn't brought this to light soonest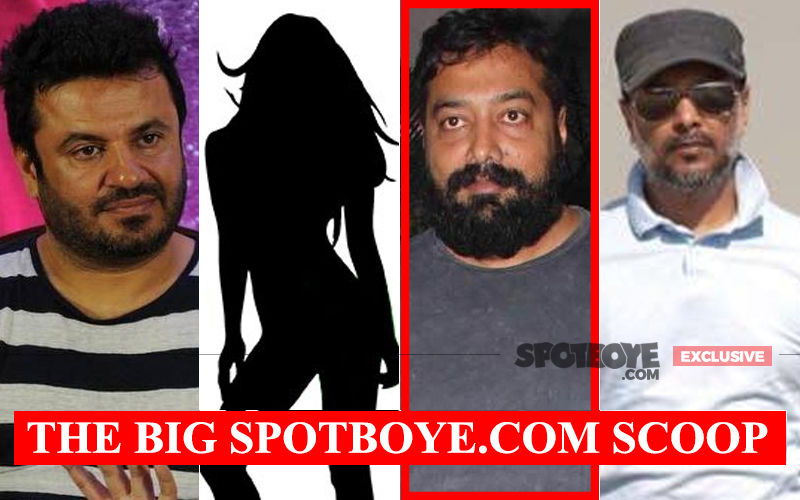 This is one of the most shocking and shameful story of recent times. Has Vikas Bahl, who has been in virtual hiding ever the first story about he being a sexual offender broke out, resorted to cheap tactics? If I am wrong in suspecting that Bahl is the mastermind behind this (apologies to Bahl if indeed he is innocent in this story), then it is definitely his Super 30 (the ambitious venture that he is making with Hrithik Roshan) producer Vivek Agarwal out on a personal vendetta. Or is it that both, Bahl and Agarwal, are in cahoots?

A big scheme to character-assassinate the noted director Anurag Kashyap- who went public talking about Bahl sexually harassing a Phantom female employee- was being plotted. AND SPOTBOYE.COM HAS UNEARTHED THE SHAMEFUL PLOT (IN THE NICK OF TIME). Also, a big thanks to a gentleman by the name of Vijay Joshi (who worked with Ram Gopal Varma on Sarkar Raj and with Kashyap on Ugly), staying now in the United States, who was asked to execute this dirty act, for refusing to co-operate with Agarwal and in fact exposing him on Facebook.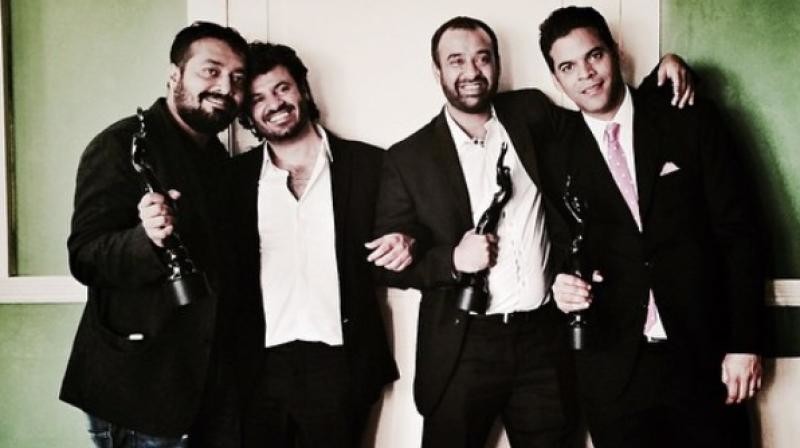 Anurag Kashyap, Vikas Bhal, Madhu Mantena And Vikramaditya Motwane

The story goes that Agarwal was hired by Phantom, after he worked as a line producer on Mausam. During the times that Bombay Velvet (Agarwal got himself credited as co-producer in Bombay Velvet) went over-budget, Agarwal and Kashyap failed to see eye to eye over financial matters. Kashyap even told his Phantom close associate Madhu Mantena that they had taken a wrong decision in bringing Agarwal in their fold. Now with Phantom having dissolved, Agarwal is a close associate of Bahl.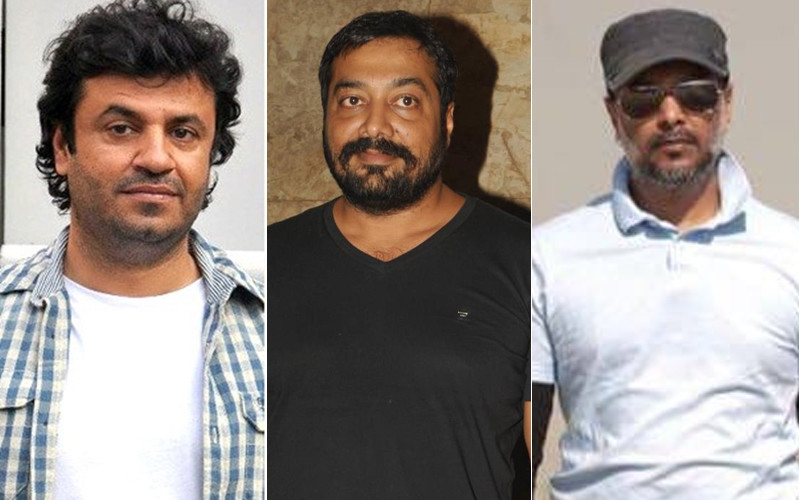 Vikas Bahl, Anurag Kashyap And Vivek Agarwal

The story's second half is dirtier. Just recently, Agarwal posted a message to Joshi on his FB account that he needs his help to fu*k Anurag's happiness and it's all a game. Joshi exposed him in no time (and called Bahl the piece of SHIT), and later even said that Agarwal had also given him a victim's name and a fake story about Kashyap (Hats off to Joshi for not producing the victim's name in public).

READ THE ENTIRE EXPOSE BELOW: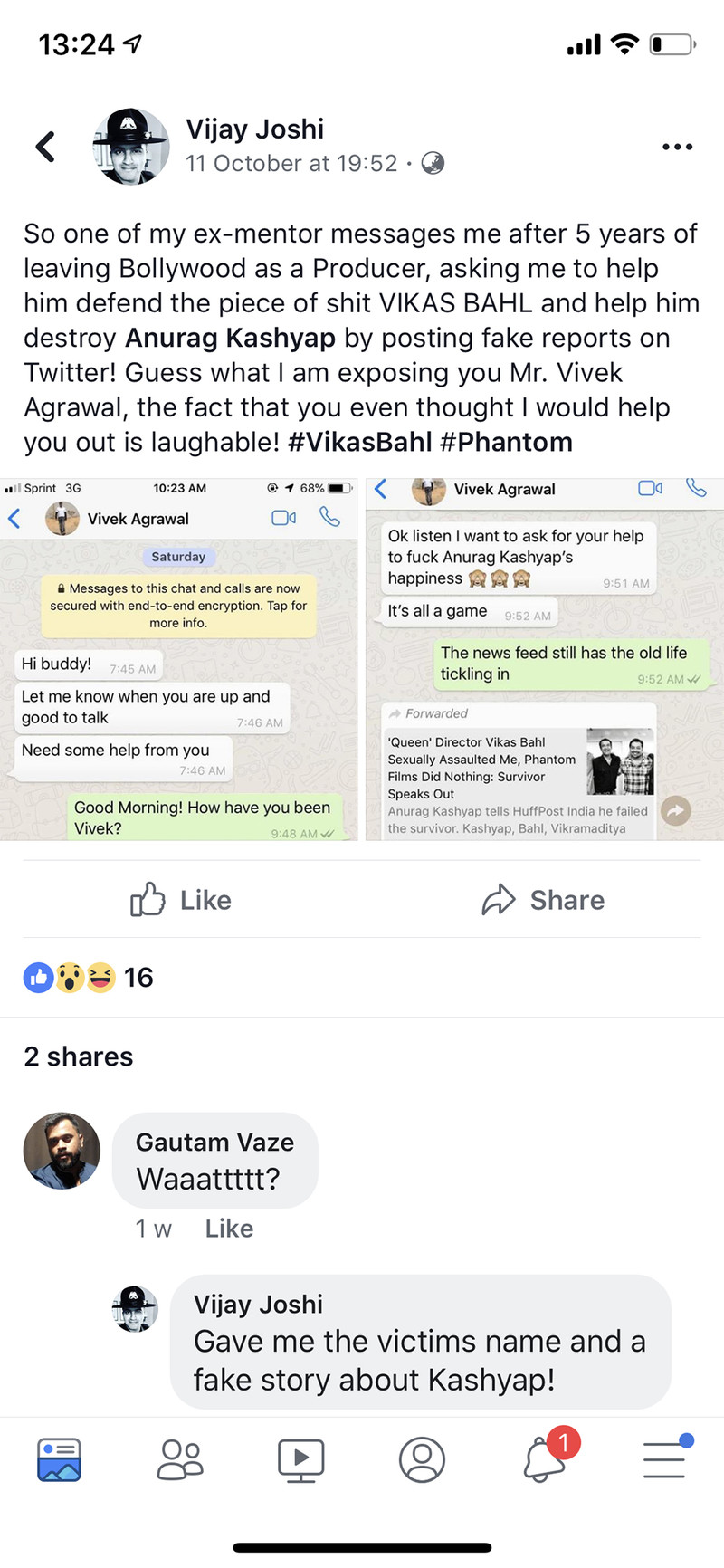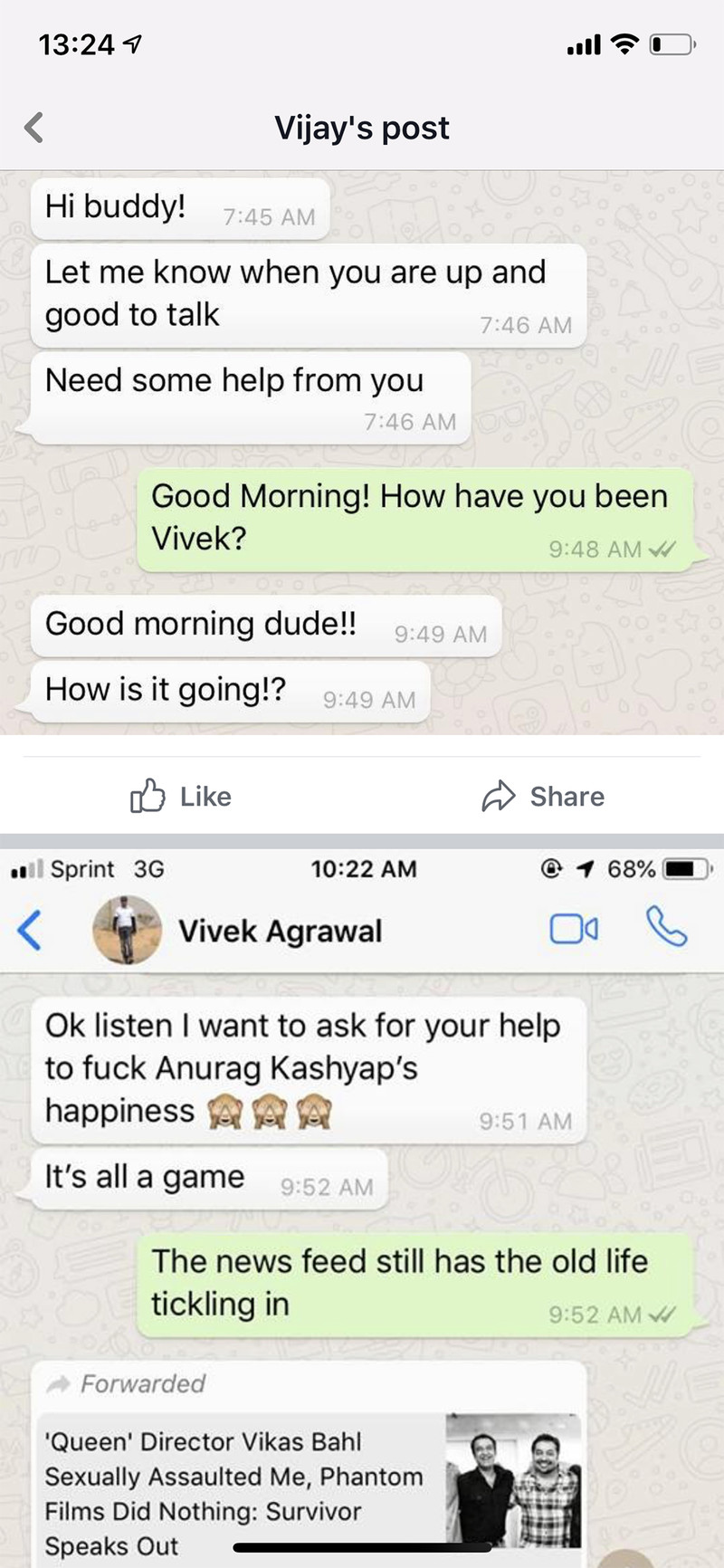 We called Agarwal to tell him that we had learnt that he was trying to implicate Kashyap. Now, look at the cheek of this Agarwal. He first refused to confirm that he is Vivek Agarwal when we started the conversation but demanded to know that we first tell him why we had called him. It was only ethical that we be polite with him and tell him why we were talking to him. Okay, so he heard us all out and then said, "You have got the wrong Vivek," and before we could react, he hung up.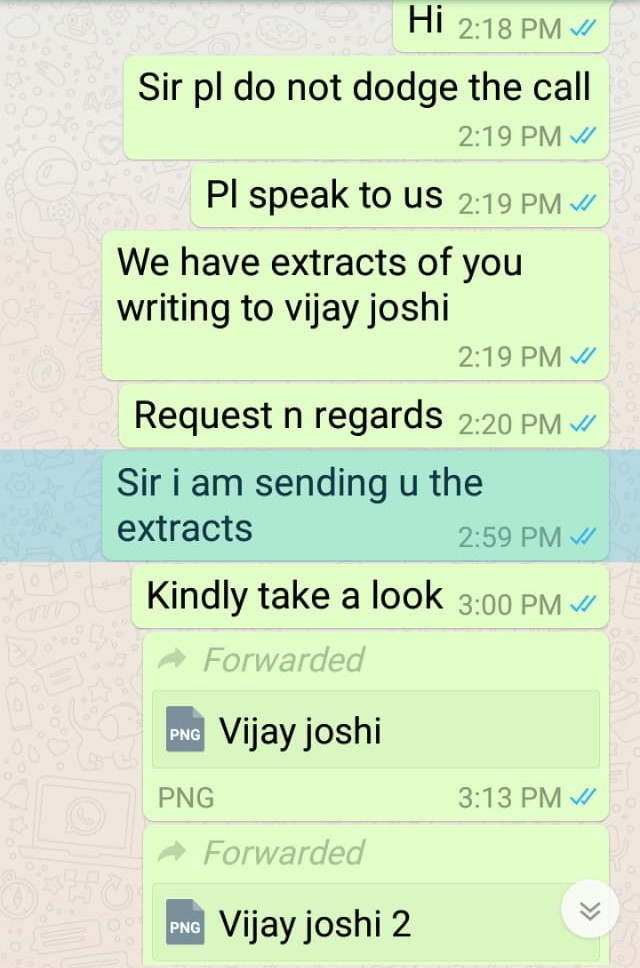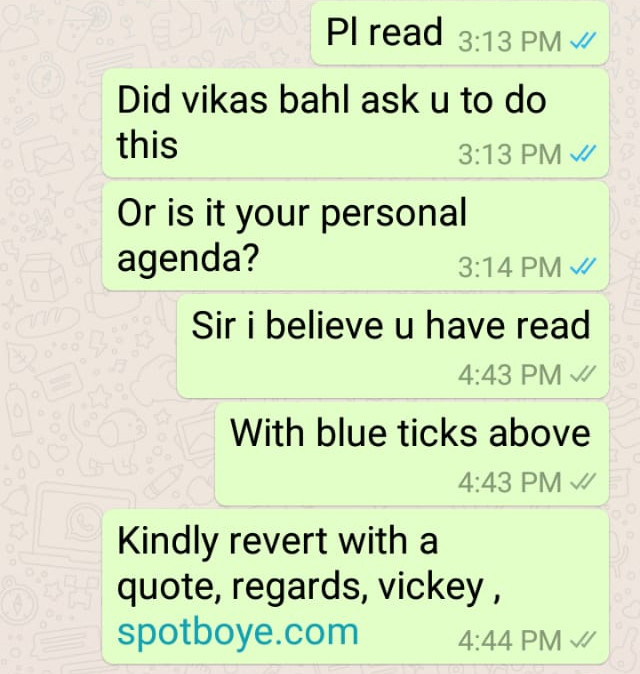 Vika Bahl chose not to say anything on this matter, neither on phone or WhatsApp- when we reached out to him for his quote.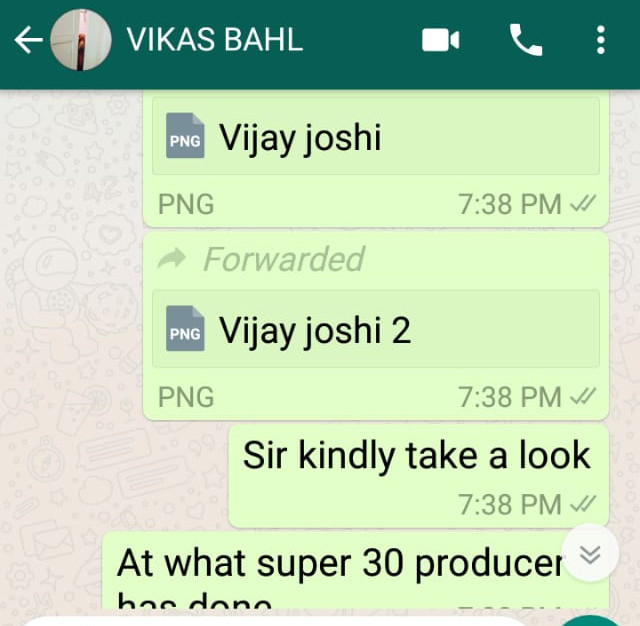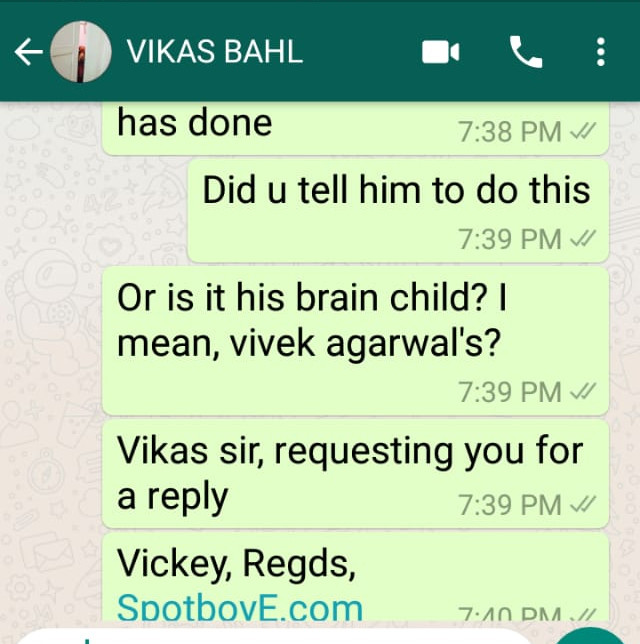 All calls and messages (which we reproduce below) on Agarwal's phone thereafter went unanswered.

However, talking EXCLUSIVELY to SpotboyE.com from the US, Joshi confirmed that Agarwal wanted him to plant stories against Kashyap. Spilling the beans in detail, Agarwal said, "I have worked with Phantom and found that Kashyap and Mantena were the nice prople in that company. When I joined, I was taken aback when Vikas told me that Agarwal will be my boss. I cannot prove it but I had heard that Vikas used to sign whatever Agarwal wanted him to endorse. Vikas and Agarwal were very thick and thin.

Okay, so coming to what transpired recently was that Agarwal called me and said that I should put out stories on FB saying that Kashyap was a wife-beater and is now dating a girl who is just 5-years older than his daughter. Basically, he wanted a character assassination of Kashyap to be done. He also told me that I should portray him as a man who does not respect women- mind you Kashyap is not like that and why would I do such a thing? I refused Agarwal and he went on to tell me that Vikas is innocent in the sex scandal that he is embroiled in, and Kashyap had paid Rs 5 lakh to that girl in question to malign Kashyap's name- thereby planting her as a victim and nothing of the sort that has been reported happened between that girl and Vikas that night. Worse still, he even disclosed the identity of that girl who has accused Vikas. I am still reeling and before I went on FB to give a reply, I called Kashyap and Mantena both to tell them whatever Agarwal had directed me to do."

Does it get, not just dirtier but even scarier than this? Up in arms with someone is something else, but being so nasty to someone after throwing the cloak of decency is... god knows what! I can't help cursing the times of hate, shamelessness, manipulations and revenge we live in.