Anurag Kashyap and Vikas Bahl had a massive fallout last year after the latter was accused of sexual harassment. In fact, SpotboyE.com was the first to tell you that matters heated between Anurag and Vikas to such an extent that the former wanted the latter out of Phantom ASAP. Over a year on, things have not settled between the two. Now, Anurag has confirmed to Bombay Times that he is not on talking terms with Vikas.

He said, "My stand on this is the same as it was back then. Vikas works in the company, he is a partner and nothing against him has been proven. But mutually, we've decided that we will work separately, in separate premises. Vikas and I are not on talking terms; everything else is a rumour. We will continue making films together but I see no point in making him uncomfortable. We can work in different set-ups. I don't feel the need to sort anything out, because no one came forward to say or prove anything, at that time."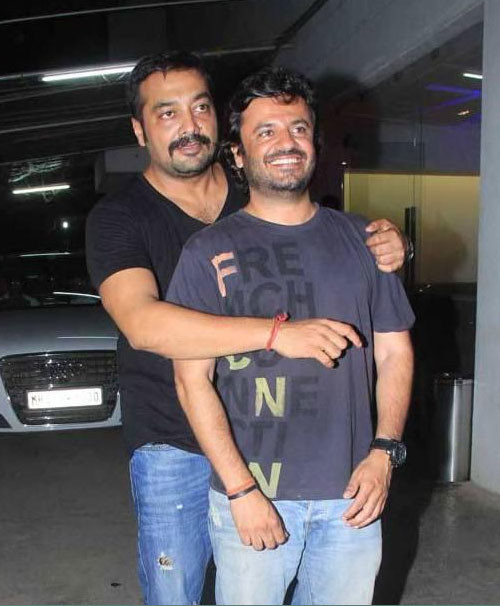 Anurag Kashyap And Vikas Bahl's Pic In Their Happier Times

When asked about the sexual harassment incident, Anurag said, "I have also been through abuse, but somewhere, we have conditioned ourselves to believe that abuse comes with the rite of passage. I was a boy when I was abused. When I tried speaking about it, people said, 'Hota hai yaar'. What does that even mean? No one ever addresses these things. When I addressed it at the age of 19, I was the only one who did it. My friends and the school got upset, saying, 'Tu sabko badnaam kar raha hai.' There are very few people who take a stand in such matters and this will take a long time to change. Har aadmi rumour mein baat karta hai. I have fought these battles so many times. In a recent case from another company, I had to protect a girl, who named her perpetrator, and a committee was also set up. She was threatened and I got her under my wing to protect her. Those responsible for her suffering were fired from the company. The matter was thoroughly investigated and that company was prompt in taking action. It's the only case I know where someone stood up. You are perceived as the backstabber because you stood up for someone else. Fighting against abuse is pointless if the victim doesn't speak up. My integrity and intentions will be questioned if the person abused doesn't stand up for himself or herself and only I do the talking. It's a cycle and it will take time to set things right."

Not just these, there have also been rumours saying that Anurag no longer visits the Phantom office since Vikas was brought on board to direct Super 30. "The subject of me working separately was all bull talk. I have worked from home for 25 years, even when we set up Phantom. Yes, Vikas and I don't work on the same projects and we work from different premises. But everyone knows maine 25 saal se ghar ko office bana rakha hai. I work from a room and I am the happiest doing that. I had started going to office for a very silly reason. I had a massive crush on Shubhra Shetty (Kashyap's girlfriend) and the office staff used her as a bait to get me to work. People don't know anything and yet they talk like they know it all. You know, I love the way Vidhu Vinod Chopra works. He doesn't come out of his house and I don't like coming out of my house either," concluded Anurag.