A blind item published about an alleged sex scandal in a leading production house on the front page of Mumbai Mirror on Wednesday got tongues wagging. The name of the Ladies Man that was being floated in the industry was Vikas Bahl. The same publication threw out the name this morning, again on Page 1.
SpotboyE.com has also heard the same whispers in the industry and we now bring you an EXCLUSIVE piece of news in relation to the scandal.
Vikas Bahl visited the Phantom office last week. Isn't he supposed to be missing at work since 30-40 days?
A source says, "Yeah, but it's a fact that he was there right in the middle at Phantom with his partners- Madhu Mantena and Anurag Kashyap."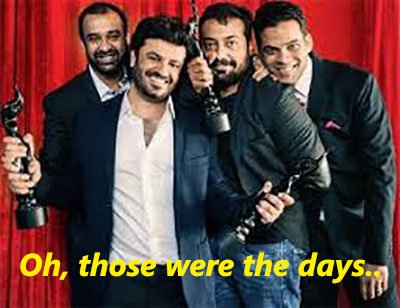 The meeting soon escalated into a major fight between Vikas and Anurag.
Anurag was clearly not happy with what he had been hearing since a long time.
What had he been hearing? Our source reveals, "All about Vikas' 'extra-curricular activities' which eventually made him take a stand when Vikas got friendly with a close friend of his."
Interestingly, the rift between Vikas and Anurag started years ago, with creative differences over Bombay Velvet, which was directed by Anurag and produced by Vikas. After that, the two have never seen eye to eye and had several heated exchanges over many issues, including Anurag's ambitions of doing films outside Phantom like Mukkebaaz for one and dishing out a box-office dud like Raman Raghav 2.0 which created a dent of Rs 6 crore in the balance sheets of Phantom.
Matters have now come to such a point that Anurag wants Vikas out of Phantom ASAP.
Concludes our source, "Anurag and Vikas are both equal shareholders in Phantom. Let's not forget that if Anurag is the face of the company, Vikas is the founder. Phantom is Vikas' brainchild."
It's trippy.


Thumbnail Image Source: rochakkhabare, clipartfest & bezistena