Boney Kapoor Gets Emotional Talking About Sridevi; Janhvi Kapoor Reads A Self-Written Poem For Mom
Father-daughter duo Boney Kapoor and Janhvi Kapoor speak up about Sridevi's passing away and their lives post that at International Film Festival of India (IFFI), Goa. The Dhadak actress also read out a heartfelt poem for her mother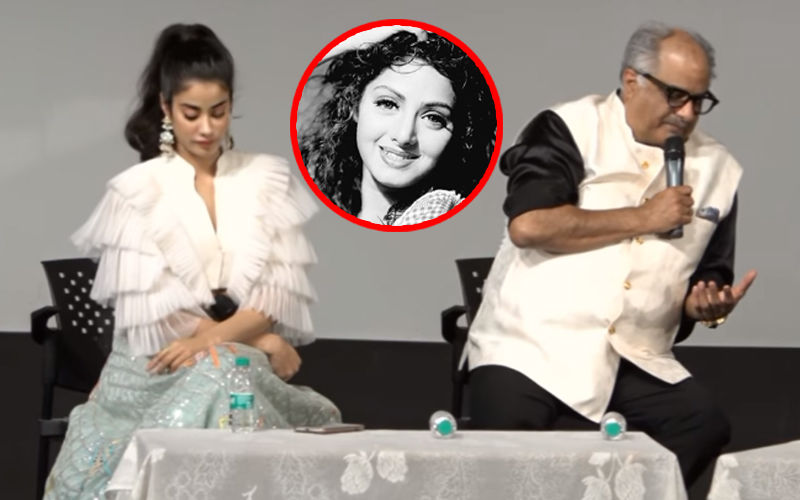 Sridevi's death in February was not only a huge blow to the family but also her fans around the world. While the void might never be filled but as they say – the show must go on. Earlier today on stage of IFFI at Goa,
Boney Kapoor and Janhvi Kapoor
were invited to talk about cinema. At the panel discussion when an audience member posed a question about Sridevi, Boney couldn't hold back his emotions.
During the Q&A session, when
Boney was asked about 4 of his kids coming really close after Sridevi's death
, he said, "I was going through a phase where I didn't know what was happening and the children coming together gave me a lot of strength to cope with the situation we were facing. I couldn't have asked for more. For a parent, children come first and seeing all my 4 children together was, kind of a balming effect after the tragedy." Check out the video below (after the 46-minute mark).
Janhvi too had penned
a beautiful poem which she read out loud to the audiences present at IFFI. Talking about her mom, Janhvi also said, "It's harder to say anything. When I say 'growth', I mean personal growth, I don't know about artistic. This year brought me both the worst and the best experience of my life. It's a little strange. Our family is now united, so that is very big thing for me."
She went on to add, "But whatever happened that too was very heavy (tragedy). We are still in shock, so we haven't been able to process it properly.
I'm really thankful for all the love that we have received
and I got a chance to work, which is a big thing for me. I got a chance to make my parents proud, which is most important for me."
Image Source:- Youtube/@Ministry of Information & Broadcasting