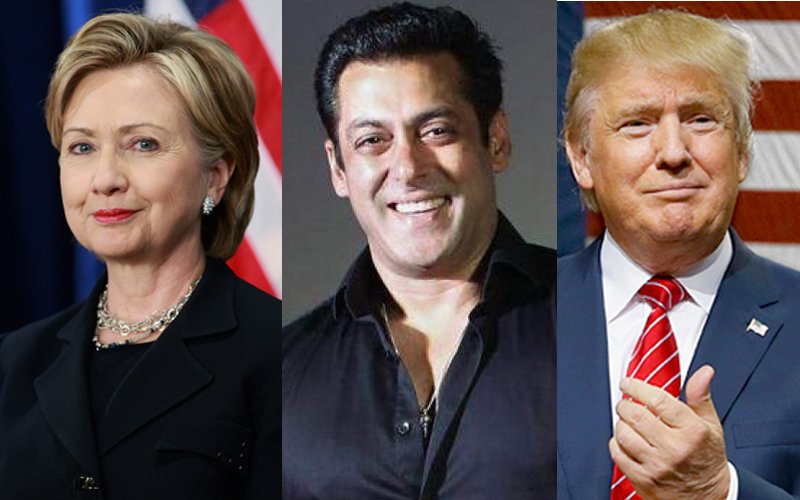 The battle between the two prospective candidates for the Presidential elections- Hillary Clinton and Donald Trump is intensifying.


As the two are gearing up for the Election Day that is on November 8, Tuesday, back in India Bollywood too seems to be interested in the US elections as well.

Salman Khan took to twitter few minutes back and tweeted in support of Hillary Clinton. He posted "Hope you win. May God give you the strength to follow the constitution and human values. All the best. #Hillaryclintonforpresident (sic)"
Salman Khan frequently travels to the US for his medical treatments. Other than him when the two candidates went in for the first presidential debate, actors like Rishi Kapoor and Preity Zinta tweeted about it. Preity is married to Gene Goodenough who is an American scientist, so her interest in the US elections is obvious enough!

While Trump had recently organized a Bollywood theme concert called the 'Humanity United Against Terror'. It was held by the Republican Hindu Coalition and had stars liek Shahid Kapoor, Malaika Arora and Prabhudheva attending it.



Image Source: diyatvusa

Trump's one of the financer for the campaign is an Indian. So it's obvious that he wants to go after Indian voters, as according to the various surveys conducted they are ones who are wealthiest and well-educated ethnic groups in the country.

Trump has very strong will to fight against terrorism, which echoes the sentiments of many but at the same time a large majority of them support Hillary Clinton, in part because Indian-Americans have suffered from the kind of racial attitude in which Mr. Trump trades.

So will Salman Khan supporting Hillary Clinton ignite another debate on the social media platform?


Thumbnail Image Source: theodyssey, urdupoint and salon