Dahi Handi 2019: Arjun, Anil Kapoor, Amitabh Bachchan, Taapsee Pannu, Ayushmann Khurrana Extend Their Wishes On Social Media
As the world is celebrating Dahi Handi with love and enthusiasm, Bollywood stars including Amitabh Bachchan, Arjun Kapoor, Anil Kapoor, Taapsee Pannu, and more have taken to their social media handle to wish their fans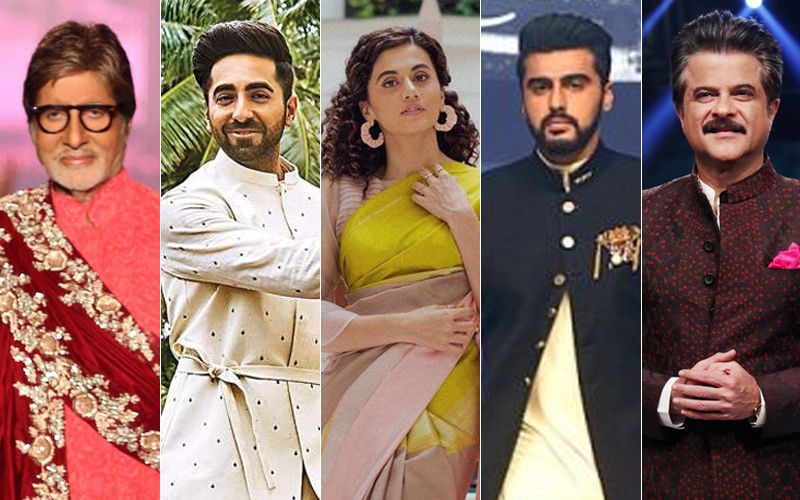 Krishna was born in Rohini Nakshatra on the eighth day of the Krishna Paksha of Bhadrapada month. Today, the festival of Krishna Janmashtami is being celebrated all over the country. The whole nation is celebrating the birth of Lord Krishna and so is B-town. The auspicious occasion of Lord Krishna's birth is celebrated not in only in India, but in the whole world with love and enthusiasm.
The fun of breaking dahi handi is celebrated worldwide. With this, even Bollywood stars including Amitabh Bachchan, Arjun Kapoor, Anil Kapoor, Taapsee Pannu, Raveena Tandon and more have taken their wishes to their social media handle. Check out their tweets inside.
All the devotees of Lord Krishna are in full swing to celebrate the birth of Lord Krishna. And that calls for a lot of singing and dancinh, spreading joy and happiness in the atmosphere, right? Lord Krishna is remembered for his naughtiness and his affinity towards dance. Also, how can one forget the peacock feather? Hence, even Bollywood filmmakers cash on it, thus, we brought to you Bollywood songs which are apt to be played on the joyous occasion of Janmashtami.

Happy Dahi Handi!
Image source: Instagram/ Ayushmann Khurrana/ devs213/ Pinterest/ Indiaglamour/