Priyanka Chopra
gets trolled quite often these days. Whether it is for clicking selfies at the Holocaust Memorial or showing off her legs while meeting Prime Minister Narendra Modi, the Bajirao Mastani actress is very often slammed by people for something or the other. This time it's for a picture which makes some folks on social media feel that PeeCee had a nose job done.
The story goes that the Baywatch actress put up a picture on her Instagram with a picture on her Instagram account with the caption: "Is it ok to be super excited about heading home?#mumbaikar."
The picture was good but Priyanka's nose looked a little different. Little did the actress know that she would be consequently be trolled by a lot of people. Check out a few comments: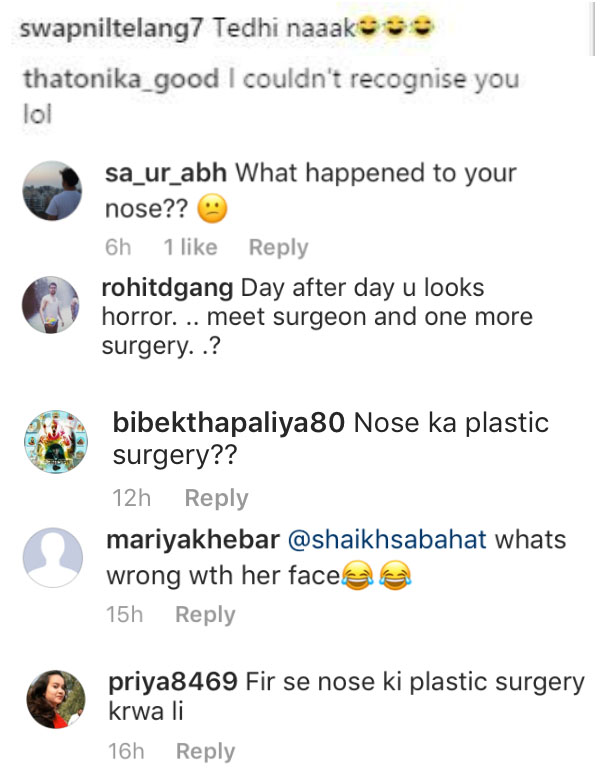 Priyanka Chopra Trolled On Instagram


Recently, Priyanka in an interview was asked if the constant trolls irked her and here's what she had to say: "I feel like we live in a world right now where everything gets magnified so much and most of us are afraid to have an opinion. Everyone has an opinion on the internet. Since when did trolling become international news first of all? It's TROLLING FOR A REASON. I don't care, I get so much love and affection from people on my social – I focus on that. And second of all, that's how you should treat life. I was raised by my parents to have an opinion, I was raised to be fearless, and I was raised to not be a girl who was meant to always be quiet and demure. I was told to be the best that I can be and I wish that for every girl-child on the planet."
We wonder what's Priyanka reaction on the latest trolls against her.
Thumbnail Image Source: bet2joy & instagram/priyankachopra