Did Richa Chadha Take An Indirect Sarcastic Dig At Kangana Ranaut With Her Latest 'BIKAU' Tweet?
Richa Chadha recently made a post in Punjabi talking about people perceiving someone to be 'bikau'. Kangana Ranaut had called Diljit Dosanjh a 'chamcha', suggesting he got work in Bollywood by 'asslicking'.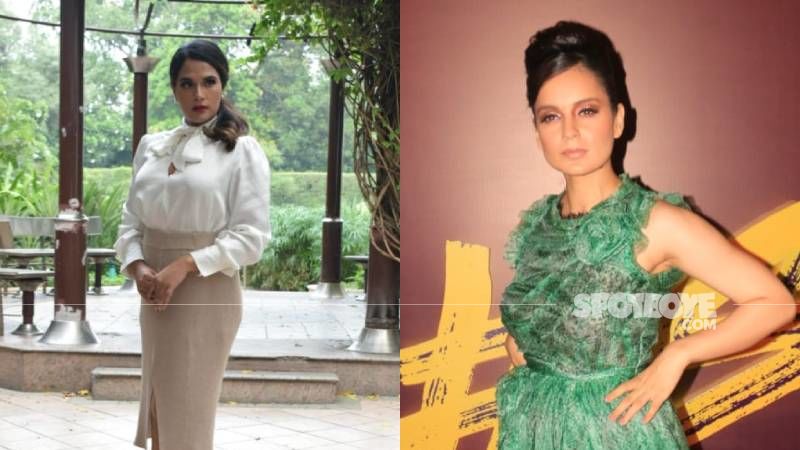 It was just yesterday that Kangana Ranaut and Diljit Dosanjh had a nasty argument on social media. Diljit slammed Kangana Ranaut for making a tweet over an old woman participating in Farmers' Protest. In return, Kangana Ranaut made some harsh comments calling him 'Karan Johar's pet' and 'chamcha'. Later, Diljit gave her befitting replies in Punjabi. Now, it seems Richa Chadha too has taken an indirect dig at Kangana Ranaut in her latest post.
In Punjabi, the Fukrey actress has tweeted, "Jo apne apne aap nu vechade aa, uhna nu lagda hai sab loki vikau haan." It means that the person who makes himself/herself available feels that everyone else is available too. She has attached a GIF of a laughing baby along with it. Earlier, after the social media stood divided during Kangana Ranaut and Diljit Dosanjh's fight, Richa had tweeted, "Seriously, tussi saareyan nu public interest vichon daas ne aa , pubjabiyan naal lado ni plz." It means that one must not mess with Punjabis.
Richa Chadha is extremely active on social media and she often gets targeted by Kangana Ranaut. The two ladies often have a war of words on social media. Take a look at Richa's post below:
Tuneh Jitne Logon Ke Saath Film Ki Tu Un Sab Ki Paaltu Hai...?
Fer To List Lambi Ho Jaegi Maalko Ki..?

Eh Bollywood Wale Ni PUNJAB Wale aa .. Hikk Te Vajj Sadey

Jhooth bol kar logo ko badhkana aur emotions se khailna woh toh aap achey se janti ho..😊 https://t.co/QIzUDoStWs

— DILJIT DOSANJH (@diljitdosanjh) December 3, 2020
Image Source: SpotboyE Archives