DID YOU KNOW? Kangana Ranaut BANNED Filmfare Awards Since 2014; But, Gushed About Receiving The Best Actress Trophy In 2015-READ BELOW
Kangana Ranaut had once banned the Filmfare awards in 2014, she took a jibe at the award show after they nominated her in the Best Actress Category Award for her film Thalaivii in 2022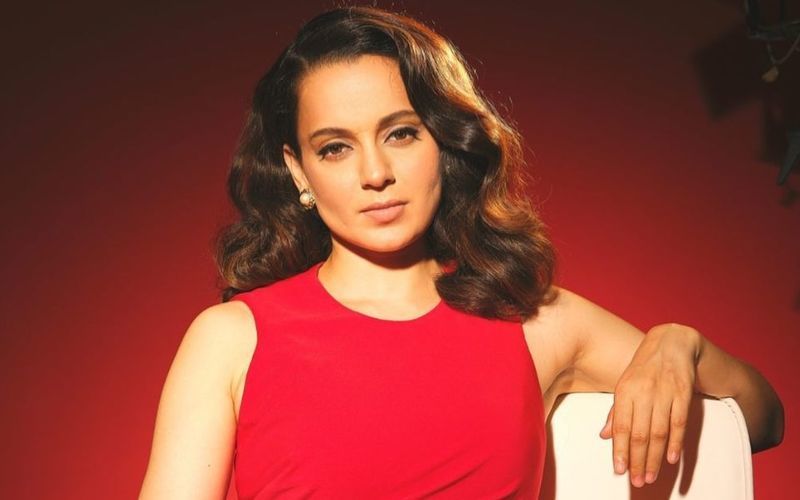 Kangana Ranaut never holds back on her punches while taking a jibe at the nepotistic culture in the Hindi film industry, unfolding one truth at a time. While she had once banned the Filmfare awards in 2014, she took a jibe at the award show after they nominated her in the Best Actress Category Award for her film Thalaivii.

Well, as per the timeline, her confession seems a bit exaggerated and the actress even happily received the award for Best Actress in 2015. Kangana Ranaut bowled everyone with her performance in Queen in 2014 and won for the same.
The actress won the Filmfare Award for Best Actress in 2015, but she was absent from the award show. Rekha accepted it on her behalf and the evergreen superstar was humble enough to drop the trophy at Kangana Ranaut's place at night to deliver her award in person!
In 2015, Kangana sat down for an interview with The Times Of India and revealed, "In the night, at 3 o'clock, Rekha ji came to my house with the award and flowers. Isn't that amazing? Isn't that the most amazing thing ever? I mean, I was like, 'What is this?' Beyond awards, beyond appreciation, beyond hit and flops. I mean, I wish my parents were here so that someone could share this thrilling moment. That gesture and courtesy of Rekha ji is beyond everything."
She even thanked Filmfare for giving her the award despite not being present. The actress said, "I was with my friends and was shocked and very impressed that I had been given the award despite my not being there."
Fast forward to 2022, Kangana wanted to sue the Filmfare Awards for nominating her and inviting her. She even posted an Instagram story informing that she banned them in 2014.
"I've banned unethical, corrupt and totally unfair practices like @filmfare since 2014, but since I have been getting many calls from them for attending their award function this year as they want to give me award for Thalaivii… I am shocked to know that they are still nominating me. It is beneath my dignity, work ethics and value system to encourage such corrupt practices in anyway, that is why I have decided to sue @filmfare … thanks," Kangana Ranaut had written in a post in 2022.
In another post, Kangana Ranaut allegedly blamed Filmfare for being unfair since 2013 and wrote, "Back in 2013, Filmfare clearly told me that if I don't attend their award show or dance on the stage, I won't get awards and I made clear to them back in 2013 that I will never attend anything which is morally deprived and unethical."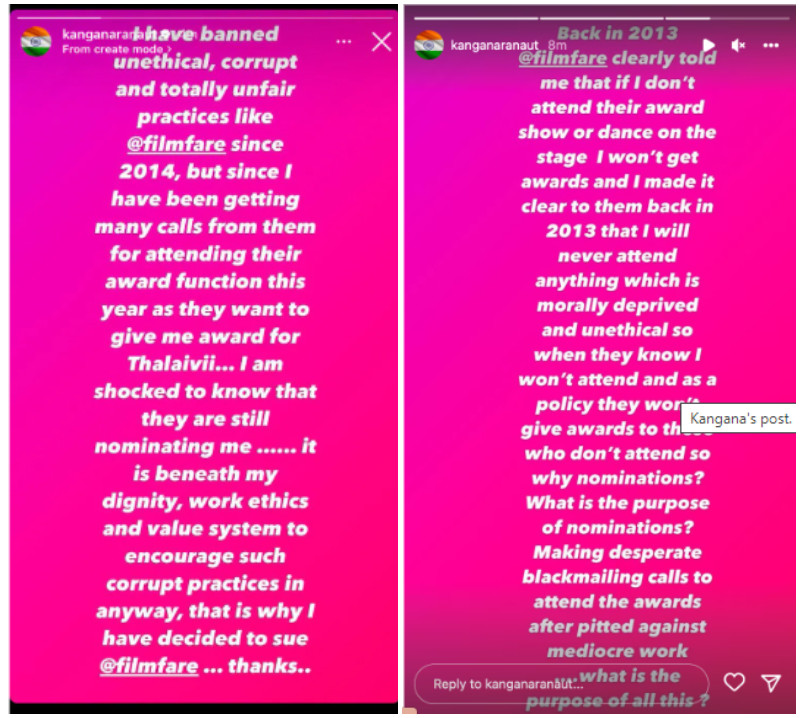 Well, Kangana's claim fell flat after she won the Filmfare Awards for Best Actress in the year 2015 for Queen and 2016 for Tanu Weds Manu Returns, though it was a critics choice and she lost the popular award to Deepika Padukone's Piku, which might have been the reason for her parting ways with the Award.
Ever since she was not nominated for any of her performances until 2022 for Thalaivii, when she took the matter into her own hands and revealed the truth. Filmfare denied all such allegations and also took back her nomination for Best Actress.
Image Source: Instagram