Anupamaa SPOILER 18th September 2023: Anuj Encourages Anu To Find Malti Devi's Son; Devastated Samar Cries In His Mother's Arms After His Friend Dies
Anupamaa's upcoming episode will see Anu getting hints about Malti Devi's son from an orphanage slip in her suitcase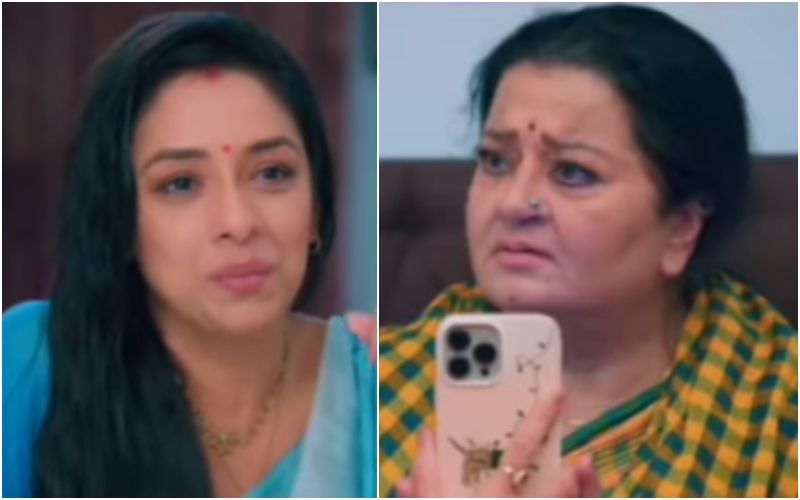 Starring Rupali Ganguly, Sudhanshu Panadey, Madalsa Sharma, Apara Mehta and Gaurav Khanna, Anupamaa is one of the most-watched shows on Star Plus. The show has always topped the BARC ratings ever since it was released in 2020. The high voltage drama in Rajan Shahi's Anupamaa has kept the audiences invested. It was seen in the last few episodes that Anu brings home Malti Devi's remaining stuff home. As she goes through the suitcase she realises that Gurumaa has a son.
Today's episode starts with Anu looking at the receipt in hopes to find a clue about Malti Devi's son. She sees the name of the ashram and wonders if Malti Devi left her newborn son at an orphanage. She decides to search for the missing son. At the Kapadia mansion, Vanraj and Kinjal scold Baa for not taking care of her health. They threaten to tell Anupamaa everything after which Baa promises to look after health. Anu comes back to the Kapadia mansion and sees that Anuj has fallen asleep while working. As she takes the file from his hand, he wakes up.
ALSO READ: Anupamaa SPOILER ALERT 16th September 2023: Anuj Feels Uncomfortable As Malti Devi Calls Him Beta, Anu Finds Gurumaa's Son's Birth Certificate
Anu goes on to tell Anuj about her findings and explains how Malti Devi's son might be his age, in his 40s. Anuj inquires if this might be the reason why Gurumaa was constantly referring to him as beta. He asks if Anu found out the name of the son and encourages Anu to find Malti Devi's real family so that she can live with them and her health gets better. Anu wonders who and where Gurumaa's son might be after all these years. Back at the Shah house, Vanraj is worried about his mother's health and checks up on her at night. Baa wakes up and the mother-song duo have a heart-to-heart talk about the bond parents and children share. The next morning, as Anu is praying Samar rushes to her and starts crying.
ALSO READ: Anupamaa SPOILER ALERT 15th September 2023: Pakhi Forgives Romil, Gives Him Another Chance; Anu-Anuj Take Malti Devi To A Doctor
As Anu gets hyper, Samar informs her that his college best friend Manoj passed away in a road accident. A shocked Anu consoles him. He explains how Manoj had two parents and his wife was pregnant. Anupamaa encourages her younger son to take care of Manoj's family. As the episode comes to an end, it is seen that Anu shows Malti Devi a photograph of them and tries to remind her of their bond. In the upcoming episode it will be seen that Anu shows ghungroo to Malti Devi, who starts remembering everything. Anu shows her a photo of her newborn to Malti Devi, who starts crying.
Image Source: Instagram