The Instagram account called 'Diet Sabya' is known for calling out or even slamming actors, magazine covers, movie posters, fashion designers, etc. As we speak of this, not so long ago, Diet Sabya accused Bhumi Pednekar and Sanjay Dutt of plagiarism. Beginning with Bhumi, she recently posted a few graphical clips of Taj Hotel, Howrah Bridge and other places turning into a grren place while sending out a message about the environment on World Nature Conservation Day. However, she also gave credits to the artist Saim Ghani from whom she was inspired. Later she was called out by Diet Sabya for her 'sneaky behaviour' and 'stealing the idea.'
While sharing the post on their story, the IG account captioned it as, "What gives celebrities the right to steal your ideas and use it for 'engagement,' only to low-key credit after being called? Is this sneaky behaviour? Do we give this a pass? 'Is creative inspo' as pass for stealing concepts?" The artist Saim Ghani also shared the post on his feed and captioned it as, "Plagiarism needs be called out, we cannot settle at what's unfair!" The note also mentioned, "Art unites and stands together for one another. Should we support plagiarism in a constructive industry like ours?"
Coming to Sanjay Dutt's post, a few days ago, Sanjay shared the first look poster of himself as Adheera from KGF. The intense and brutal look was loved by his fans but was certainly not loved or appreciated by Diet Sabya who slammed the poster for being an exact copy of Ragnar from Vikings. From the deadlocks, the costume, his sword to even the posture of the actor, everything looks very similar to the Vikings. Seeing the striking similarities between the two posters, Diet Sabya reacted 'And I Oop' which is used when "something or someone does something that catches you off guard."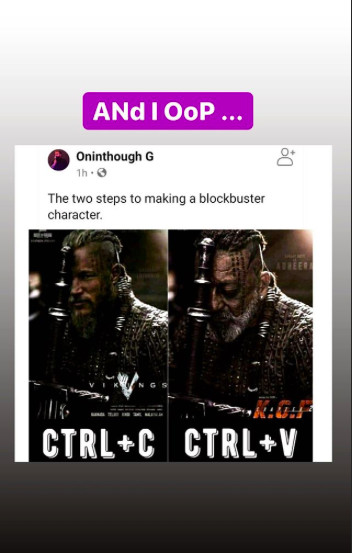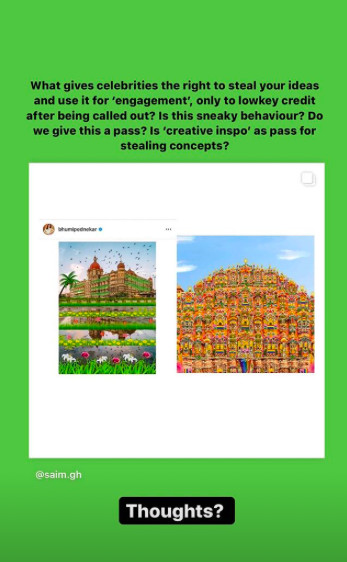 Image source: Instagram/ bhumipednekar/ duttsanjay