Diwali 2022: Shah Rukh Khan, Bachchans, Karan Johar Are NOT Hosting Any Party Instead Will Attend Other Celebs Bashes-Check Out List Of Actors Throwing Grand Parties
While SRK, Karan Johar, and Bachchans will not be hosting a Diwali party this year, Ekta Kapoor, Manish Malhotra and Ramesh Taurani are expected to throw a grand party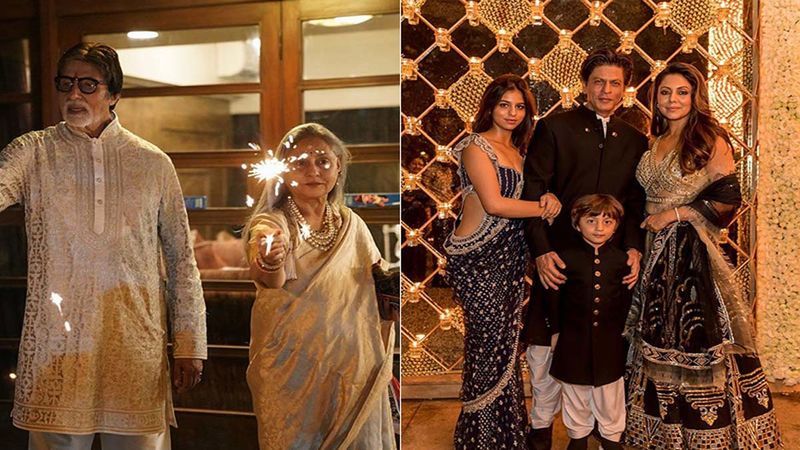 Diwali is around the corner and B-Town is gearing up to celebrate the festival of lights with great zeal. Notably, many actors throw star-studded and glitzy parties every year to make the most of the festival. And, when it comes to hosting Diwali parties, the Bachchans, Shah Rukh Khan, Ekta Kapoor, Shilpa Shetty, and Karan Johar are the prominent names. However, this year SRK, KJo, and Bachchans will not be hosting any party instead they would be on the guest list of other celebs' Diwali parties.
As reported by PinkVilla, Karan Johar, who is known to bring Bollywood under one roof, will not be throwing a Diwali party this year due to ongoing construction work at his residence in Mumbai. The report added that even Shah Rukh and Amitabh would be keeping a low profile this Diwali. They are expected to attend lavish parties hosted by other celebrities. The report added even Anil Kapoor is skeptical about hosting a party. His wife Sunita recently threw a bash for Karwa Chauth celebrations at her residence. ALSO READ:
Diwali 2019: Amitabh Bachchan To Shah Rukh Khan; Throwback To The Biggest Diwali Parties Of Bollywood
Now let's talk about the actors who are reportedly throwing grand Diwali parties. A host of celebs including, Kriti Sanon, Bhumi Pednekar, Taapsee Pannu, Shilpa Shetty Kundra, Ekta Kapoor, Manish Malhotra, and director Ramesh Taurani are likely to host starry Diwali bashes. The source revealed to the portal that Kareena Kapoor, Karan Johar, Arjun Kapoor, and Kriti Sanon may attend Manish's grand Diwali party. On the other hand, Vicky Kaushal, Katrina Kaif, Salman Khan, and Ranbir Kapoor will reportedly be gracing the glitzy Diwali party of Ramesh.