Ranveer Singh and Deepika Padukone are at it again. The lovebirds' exchange of words on social media keeps their fans entertained. So what's the latest one? Well, Ranveer couldn't stop himself from commenting on Deepika's latest post where the actress has shared a sizzling hot picture from a photo shoot. She captioned the picture as, "Marc Jacobs once said "let's do what we love and do a lot of it!" So here goes... #strikeapos @eveningstandardmagazine Photographed by @buzzwhitestudio Styled by @nicky_yates Arts and Entertainment Director @dee_acharya (sic)."

In no time, Ranveer's mischievous side took over and he left a comment on the post saying, Ranveer's comment read, "Mark is right. We should do a lot of it (sic)."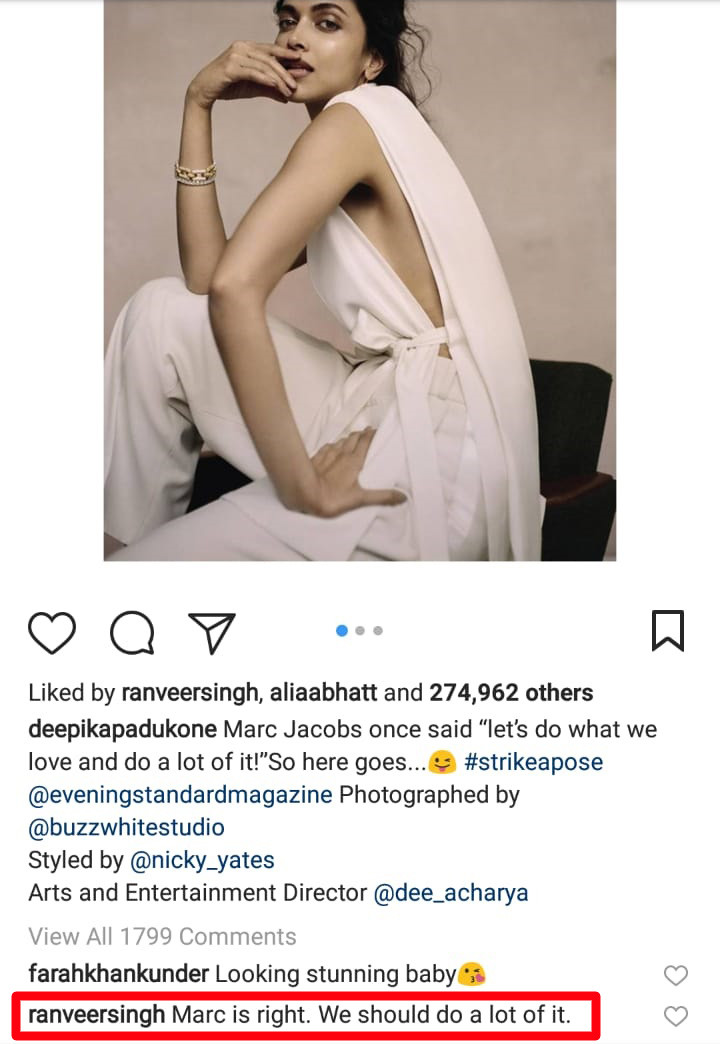 Ranveer Singh's Comment On Deepika Padukone's Picture

Now lover boy's comment may sound cheesy and naughty but we're sure fans find Ranveer and Deepika's romance online just too cute. A few days back, Deepika Padukone posted a video of her saying Hindi slangs and explaining what it means. She was supposed to say the word Bhidu. Deepika captioned the video as: "lesson 2/hindi slang/#epicfail (sic)." Well, epic fail or not, boyfriend Ranveer had a hilarious take on Deepika's video. As we know Jackie Shroff is known as Bhidu in Bollywood. So Ranveer commented, "HAHAHAHAHAHA! If @apnabhidu says you got it right, then you got it right! kya boltai bhiduuu (sic)."
Talking about the couple's wedding buzz, Deepika and Ranveer are set to get hitched on November 10. While the wedding is said to take place in Bengaluru, a reception is likely to take place in Mumbai soon after. Deepika has been seen shopping with her family time and again in Bengaluru for the wedding. Meanwhile,Ranveer has bought an apartment in the same building as his parents in Bandra.

So, until Deepveer take wedding vows, let's just feel entertained with their witty social media banters. Keep it coming, guys!


Image Source: instagram/deepikapadukone & ranveerfc