Drunk Ram Gopal Varma Swears By His Mother, Amitabh Bachchan & Steven Spielberg That He Will QUIT Vodka
Not just this, in a series of tweets after mocking Tiger Shroff and Vidyut Jammwal last night, RGV went on thanking Vidyut for evolving him and showing him the mirror. This is surely an interesting one...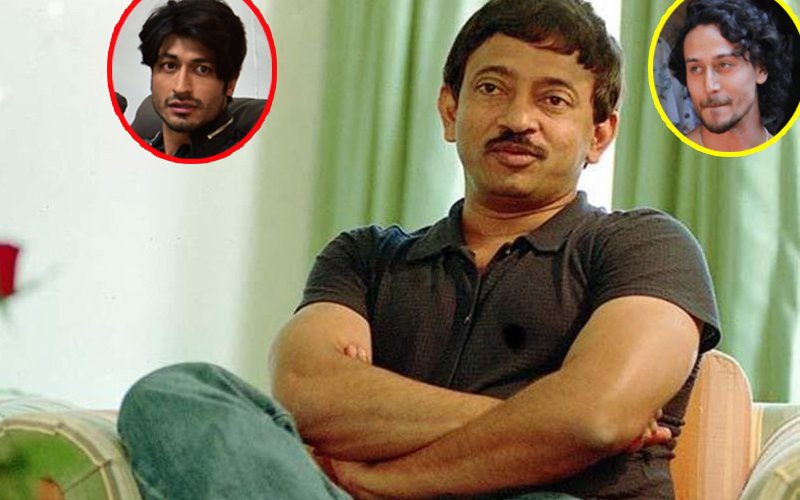 Trust Ram Gopal Varma to go all tipsy and twisted at night and start a series of tweets that make no sense sometimes (actually most of the times).

Last night, the man who loves being in controversy, chose Vidyut Jamwal and Tiger Shroff for his tweet trap.

RGV started a series of tweets stating that being a martial arts fan he is curious to know who is a better fighter, Tiger Shroff or Vidyut Jammwal.



After the first tweet, he went on and on mocking Vidyut Jamwal and sarcastically praising Tiger Shroff.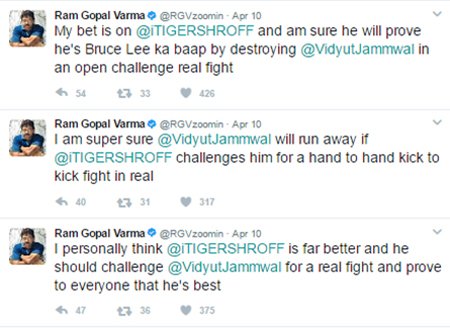 After seeing his name crop up so many times on Twitter, Vidyut made a quick call to Ram Gopal Varma to stop his rant. He posted the recording on his Twitter handle too with a caption, "Forget the Shaolin Monk style, check out @RGVZoomin's #drunkenmasterstyle."

All we can make out of the recording was that the filmmaker is quite drunk! In the recording Ramu calls Tiger a "woman" and tells Vidyut that "you are the biggest, greatest man I ever saw in my life, Tiger Shroff is the greatest woman I saw in my life". He goes on to say that the "bottom line is whether you think you can beat the shit out of Tiger Shroff or not" to which Vidyut retorts, "I don't need to think like that Sir."

We assume that Ram Gopal Varma also heard his rant on Twitter as all the tweets which followed thereafter were about his evolution, thanking Vidyut for it and swearing by his mother, Amitabh Bachchan and Steven Spielberg that he is off Vodka. Check out his hilarious tweets: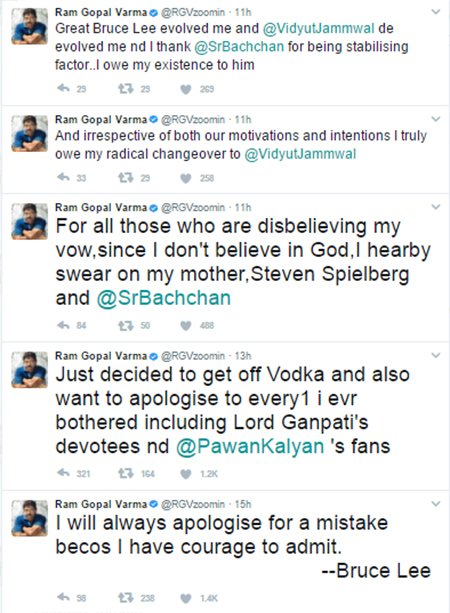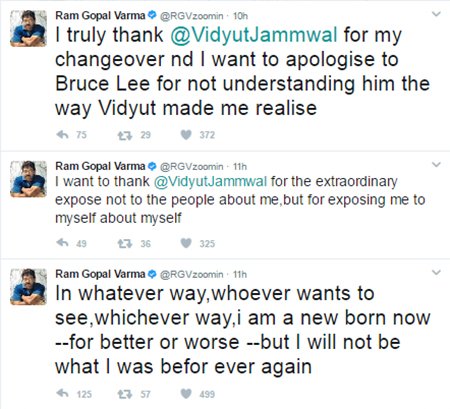 Later, RGV apologised for the 'irritation caused'. Guess, next time when he takes a drink in his hand (if at all), he will think twice before logging in to his Twitter account.
Thumbnail Image Source: APH Images, Manav Manglani & hdimages