Bollywood actress Richa Chadha sent the netizens reeling on Thursday when she made a comment of the 2020 Galwan clash between India and China. Netizens have been trolling her nonstop for her hurtful comments. Bharatiya Janata Party leader Manjinder Singh Sirsa demanded a police case be registered against her. Echoing his sentiments, filmmaker Ashoke Pandit has filed a police complaint.
He further added, "She has mocked the families of the security forces who have laid down their lives at Galwan, she is abusing our security forces. It becomes my utmost duty to file a complaint against her so that action should be taken. And nobody can get away by mocking and making fun of security forces. We respect them, we respect their families."
The 56-year-old went on to say that he feels the film and television industries should condemn her statement and that it "should not be taken lying down." He said, "So that tomorrow if the people of this country react against the industry there should be no justifications. As far as condemnation is concerned. I'm sure industry bigwigs will react to this and condemn this statement of hers so that this act from the industry is not repeated anymore."
For the unversed, in a now-deleted tweet, Richa had posted her tweet 'Galwan says hi' as a reaction to Northern Army Commander Lt. General Upendra Dwivedi's statement on Indian Army being ready to take back Pakistan-occupied Kashmir (PoK).
Check out the tweet here: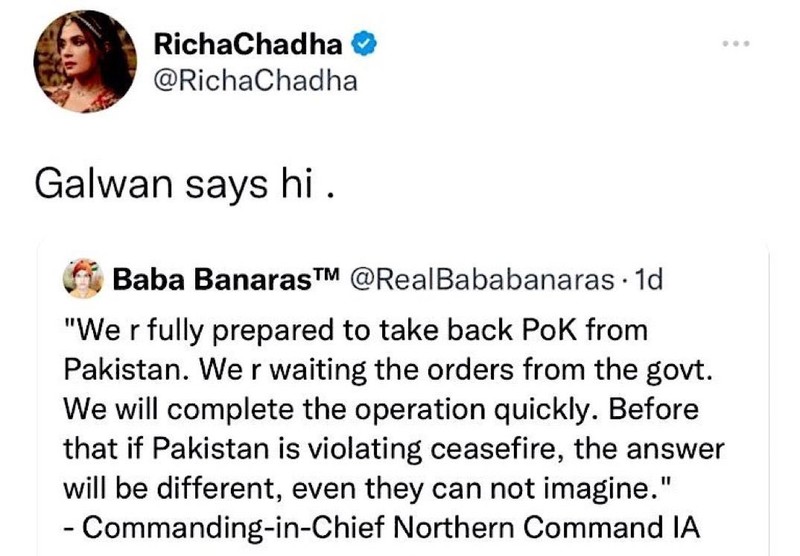 Taking note of the backlash, Richa took to her Twitter account to issue an apology for her statement. She stated that it was not her intention to hurt the sentiments of people and trigger their feelings, as her own grandfather was a part of the Army. She further added, "As a Lt. Col., he took a bullet in the leg in the Indo-China war, in the 1960s. My Mamaji was a paratrooper. It's in my blood. A whole family is affected when their son is martyred or even injured while saving the nation which is made up of people like us and I personally know how it feels. It is an emotive issue for me."