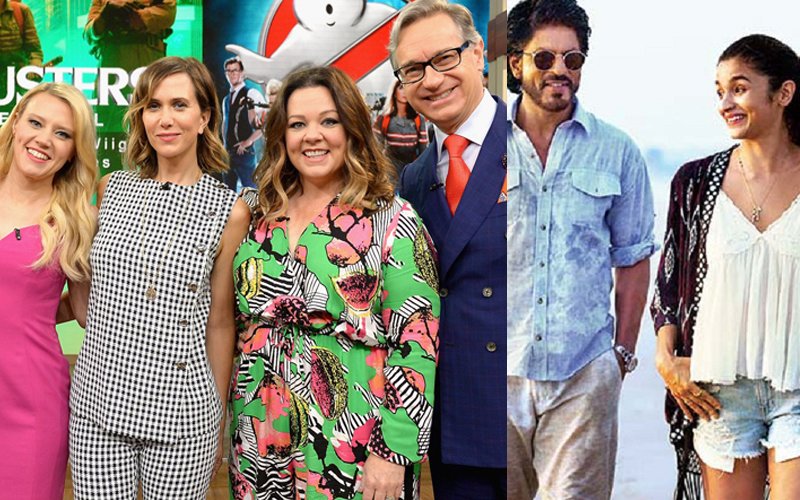 Now, Hollywood too is talking about Gauri Shinde's hit film, Dear Zindagi. And not just anyone, it is Paul Feig, the filmmaker who puts women front and centre in comic capers like Bridesmaids, Ghostbusters and Spy, who has taken notice.

Since the movie released, stars have been raving about Shah Rukh Khan and Alia Bhatt's performances and now Paul Feig has joined in.

Apparently Paul shares a good rapport with SRK and Karan Johar and takes a keen interest in Bollywood. After watching the film, he took to Twitter saying, "Huge congrats to @iamsrk and @aliaa08 on your wonderful performances in #DearZindagi. @gauris, you are an amazing writer/director. Bravo!"




Proud KJo promptly replied to Paul's tweet. "So happy you saw the film Paul...@gauris @iamsrk and @aliaa08 will be thrilled to hear your feedback...lots of love!!," he wrote.



Paul then praised Koffee With Karan. He replied, "You're an amazing producer, Karan. I'm in awe over how much great stuff you put out. And an amazing host too! #CoffeeWithKaran (sic)."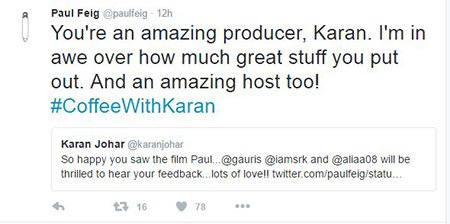 Alia is over the moon right now and tweeted back to Paul thanking him!




Back in May this year, when Shah Rukh Khan hosted a star-studded dinner party for Apple CEO Tim Cook, Feig's wife had tweeted: "Some day I hope Paul Feig can be welcome at Mannat! Dream, Shah Rukh Khan."

Shah Rukh had then invited the couple over for a meal. The Spy director had then responded: "You're on, Shah Rukh Khan! I'll bring the ketchup. It would be an honour to meet you. Many thanks, my friend."



Thumbnail Image Source: voux & celebchatter