Happy Birthday Taimur: Priceless Moments Of The Li'l One That Left Shutterbugs Wanting For More
It's impossible to ignore Taimur Ali Khan's charm. He may be just 2 years old, but it wouldn't be incorrect to say that he is already a star. On his birthday today, let's take a look at some of his fun moments with the media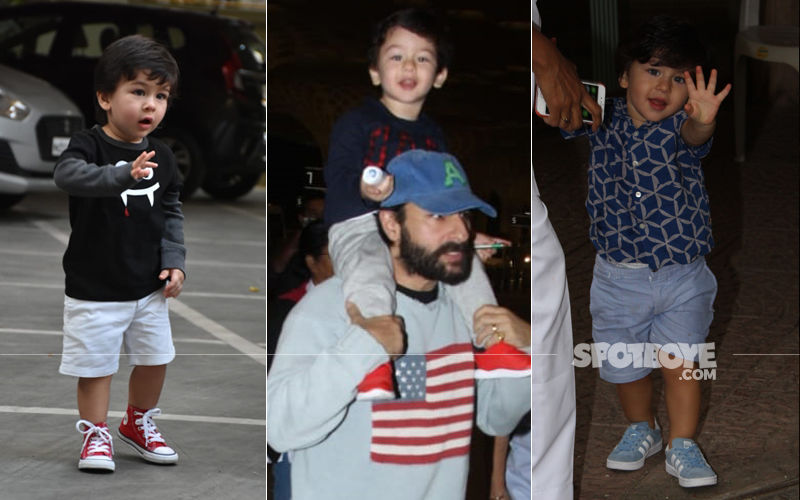 Saif Ali Khan and Kareena Kapoor Khan's adorable son Taimur turned 2 today. The family is currently in South Africa celebrating together and we bet, the three are having a gala time. But what's a better way to mark Taimur's birthday than to get you some of his precious moments with the shutterbugs? The star kid is a celebrity in his own right and has had several fun moments with the paps.
1. Take a look at the l'il one correcting the shutterbugs when they shout –'Taimur Taimur'. He looks at them and says, "It is Tim." The star kid is sporting a printed tee and blue shorts as his nanny accompanies him home.
2. You just can't afford to miss this! Taimur gets down from the car, lets go of the nanny and strikes a pose for the media. And not just a pose, a diva-esque pose. He has taken after his mother after all. Look at how confidently he looks into the camera and then waves at shutterbugs.
3. Seems like Taimur is in a playful mood because the moment he sees the paps, he says 'Hi' and continues to look at them as he is led away by his nanny. He steals hearts every time he steps out.
4. And here is Taimur repeating his name after the media. While his interaction with the paps is limited, there is enough to bring a smile to your face. Isn't it?
5. Last but not the least. At the airport, Taimur, who is sitting atop papa Saif Ali Khan's shoulders seemingly says –Media! This is right before the li'l one was leaving for South Africa to celebrate his birthday.