While the media wrote whatever it wanted and Isha Koppikar and Sonal Kariya came out to say a few things about Inder Kumar who passed away on July 28, interestingly Pallavi who was the current wife of Inder, never spoke out except for a brief post on FB questioning Sonal that how could she castigate a man after this death, who was the father of her daughter.

On Sunday, we decided to speak to Pallavi at length. We didn't know if she would be in the frame of mind to talk but Pallavi took our questions calmly until we asked the final one. Read on to find out what transpired to make her teary-eyed, and yet she said, "I am glad I spoke to you. I trust you.

Here are the excerpts from that conversation:

Extremely sorry to disturb you so soon after the tragedy, but can I request you to speak on Inder?
We were leading a very normal life. Allegations that he was financially broke are all hogwash. In fact, he had started working well nowadays. He was involved with a few projects. And how can one talk so loosely that my husband was clinically depressed? How can one be depressed when he has such a beautiful daughter? I am the biological mother of our daughter Svanaa, but Inder was her true mother.

As for his work, he had just completed Phati Padi Hai Yaar which I have co-produced. Then, he completed films called Krina and Who Is The First Wife Of My Father? He was not out of work. He was physically fit. I am really hurt that people are talking sh** about him.

I have been very close to him since long. We were friends since 17 years. He shared a lot with me.




Was he under any psychiatric treatment recently?
Not at all. Why would he need a psychiatrist? Yes, he was smoking 5 cigarettes a day- but is there anything abnormal about that? As for alcohol, he wasn't touching it since the longest time (pauses).

Please continue...
I would like to ask Isha Koppikar-Narang here who came out to say that "Inder threw it all away because of his bad habits". Isha, why were you hanging around with a man who has bad habits, for a full 12 years? Nobody would spend 12 years of her life with a man who is an alcoholic/ drug addict. 12 years is a very long time.

And who is this Sonal Kariya who married Inder for a brief while? Nobody knew her then, nobody knows her now. Isn't she hankering for publicity by talking bad about my (late) husband? She came out and spoke a lot of stupid things like Inder was a wife-beater, drug addict and alcoholic. Everybody knew Inder when he married. This girl Sonal only wanted to get famous by marrying him. And why is she speaking ill about Inder now? Where was she for 12 years? How sure are we that Sonal will not speak ill of her current husband if and when she decides to part ways with him?

Above all, her statement that 'Inder could not forget Isha' is ridiculous. If she knew that, why did she marry him?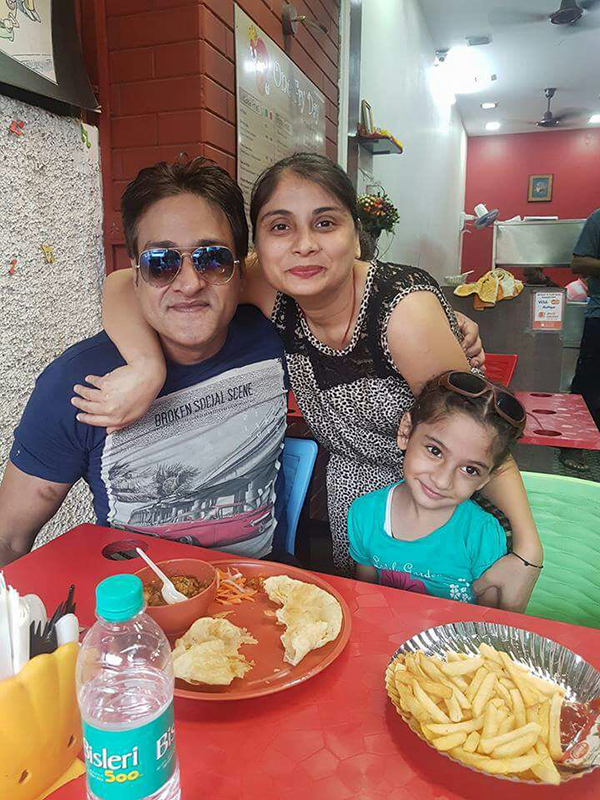 Inder Kumar With Wife Pallavi And Daughter Svanaa

I think she felt it only after she got married to him...
No, she clearly says in your interview that she had heard about that even before they took the plunge. Shaadi bahut badi cheez hoti hai. Every doubt about your to-be partner should be cleared before you take the saat pheras. Moreover, aisa bhi nahin tha that Inder and Sonal were madly in love and were in a hurry to get married. It was more of an arranged marriage. There was no love, no emotion. It was a complete mismatch. In fact, Inder had shared with me the problems he had with Sonal even while he was still married to her.

I am shocked with Sonal's attitude to grab headlines. So far she hadn't said anything about Inder. The day he died she came out and said that he was a drug-addict, alcoholic and wife-beater. Strange that she was waiting for the day that Inder leaves this world to open her mouth! How stark it is that Sonal is now desperately seeking attention.

I would really like to question Sonal's upbringing. Inder died and she celebrated their daughter Khushi's birthday on that very day and posted the cake-cutting pictures on social media! Khud itni gandi insaan ho, kisi aur ko kaise ganda bol sakti ho?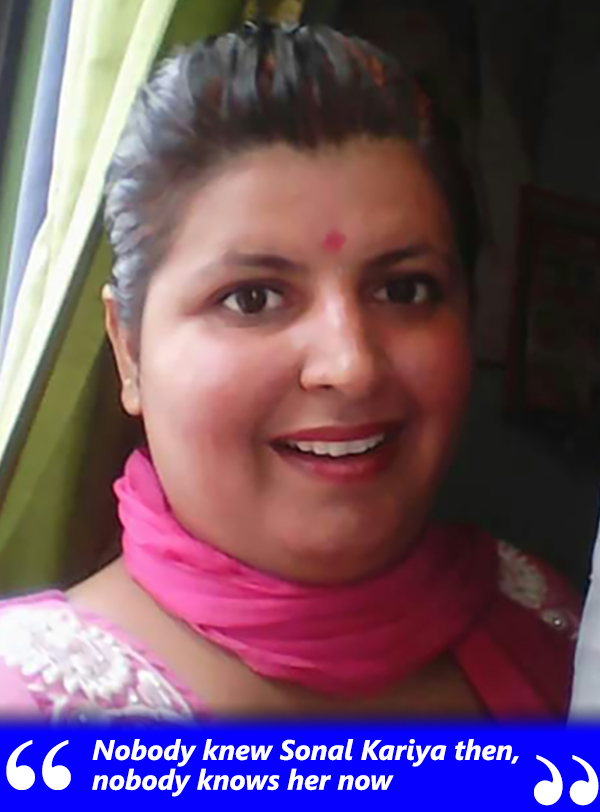 Sonal said in that interview that she informed Inder that she had delivered their daughter but he did not respond....
I am a witness to Inder making frantic efforts to get in touch with his daughter from Sonal, Khushi. Let's not get nasty about that.

Did Sonal come for Inder's funeral or prayer meet?
It was not required for Sonal to come. Agar aati toh shayyad mujhse bardasht nahin hota.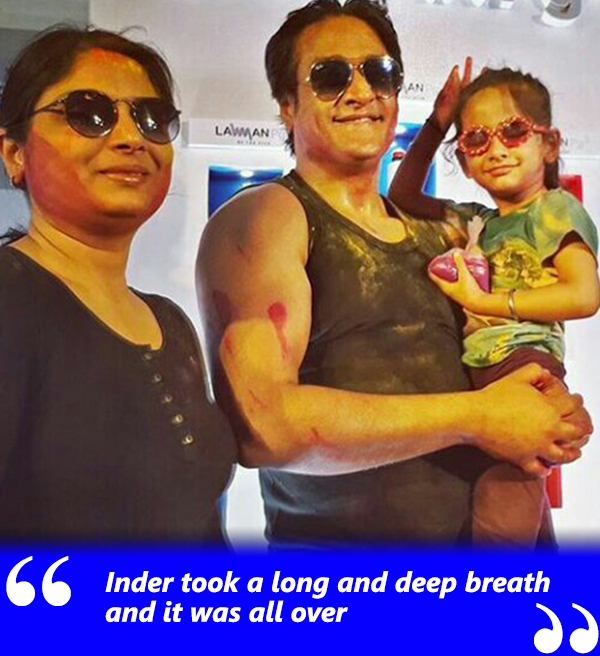 Did Isha come?
Why should Isha come? She had nothing to do with Inder now. But yes, I was definitely hurt when she made those uncharitable remarks against my husband. She should have had some respect for her 12-year long relationship.

Why did Isha and Inder split?
Isha wanted to marry somebody else. She fell for someone else and didn't want to continue with Inder. She felt that that she would be more compatible with the other person.

That's Timmy Narang you mean?
Yeah.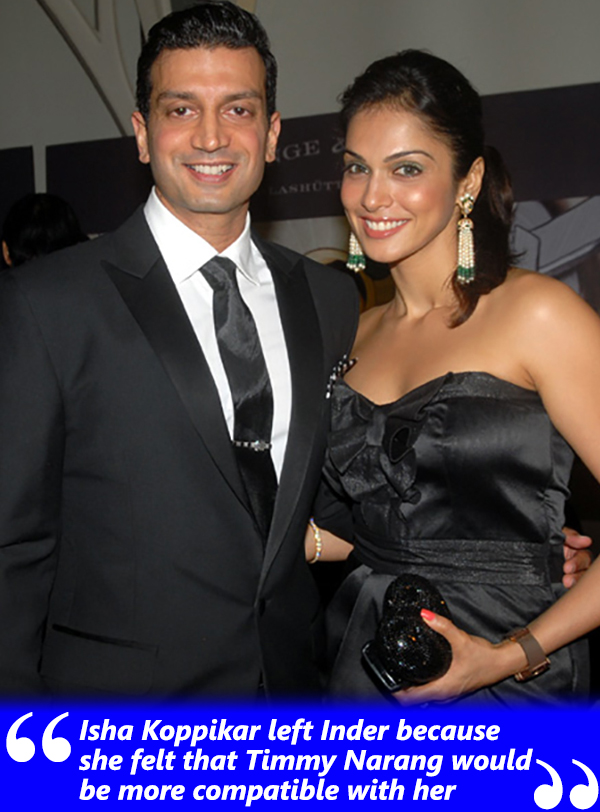 How well do you know Isha?
I know her since the days she was dating Inder. I was their common friend. I knew Inder since 1999.

Did you ever feel in your marriage that Inder hadn't forgotten Isha?
I never felt so. Inder had married me and he had a responsibility. Mind you, he was a thorough gentleman. Please don't believe Sonal for even a word of hers. Here's a woman who couldn't tell her daughter not to cut the cake on her birthday and post pictures on FB. Khushi is 12-years old, why couldn't she be explained?

Sonal told us that Khushi had gone quite silent after seeing pictures of Inder's funeral...
Oh pleassse! What about the pictures which she put out on FB soon thereafter? Cake was smeared on Khushi's face!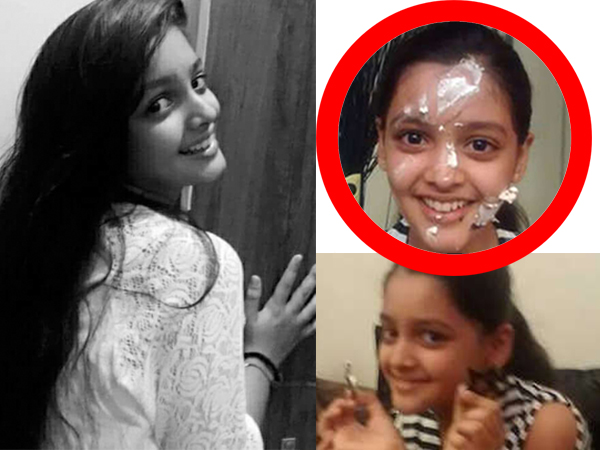 Inder Kumar's Ex- Wife Celebrated Their Daughter Khushi's Birthday Soon After His Death

And I can also assure you that Inder never took drugs, was not hooked on alcohol, and never raised his hand. I lived with him for 7 years.

I am anguished about one more thing.

Which is?
Some stories have been floating that Salman Khan did not attend Inder's funeral and two and two is being added to make it five. Pray, does Salman need media attention? Does Salman need to prove that he loved Inder? How silly it is to infer that if a person does not attend someone's funeral, he/she is at war with the deceased?

I think the media needs to understand certain things in a mature way. It is so shi**y to read that if such-and-such star did not attend Inder's funeral, he did not love Inder. Inder was a brother to Salman. Agar arthi uth rahi hai aur Salman nahi hai, agar chita jal rahi aur Salman nahin hai- then Salman does not love Inder! How dumb is that!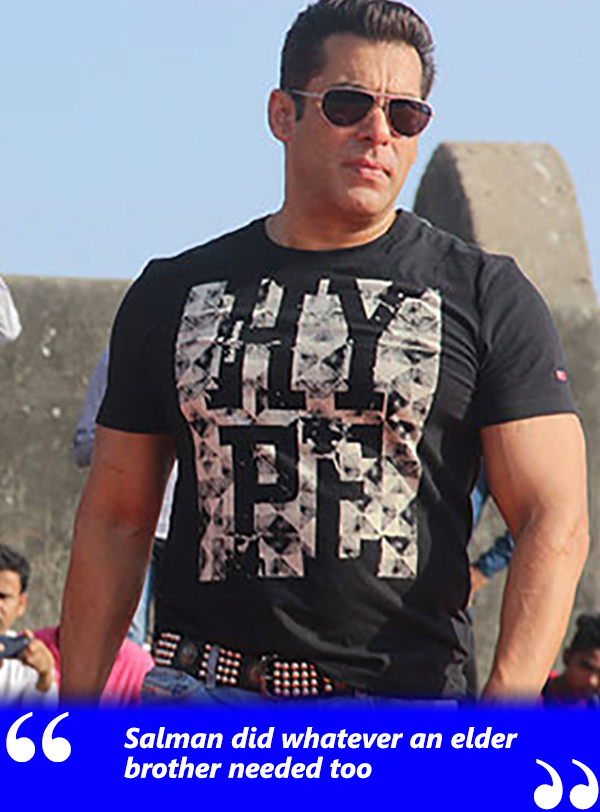 So, Salman connected with you after Inder passed away?
Of course, he did. Let's not get into the details how he connected, but Salman did whatever an elder brother needed to. Certain relations are personal and it is better to respect them and not talk about them in public. Inder had a very personal relation with Salman since 15-20 years.

Another loose talk that has been doing the rounds is that Inder had sold his car to carry on with his life. I would like to clarify that his car is still in the parking lot of our building. Inder didn't have much work since many years, so how many cars he must have sold to survive in this heartless city? Yet another loose talk happening is that there were hardly any people at Inder's funeral and there were not enough relatives to light his pyre. Can people open their eyes that Inder's brother had shaved his head and he lit the pyre?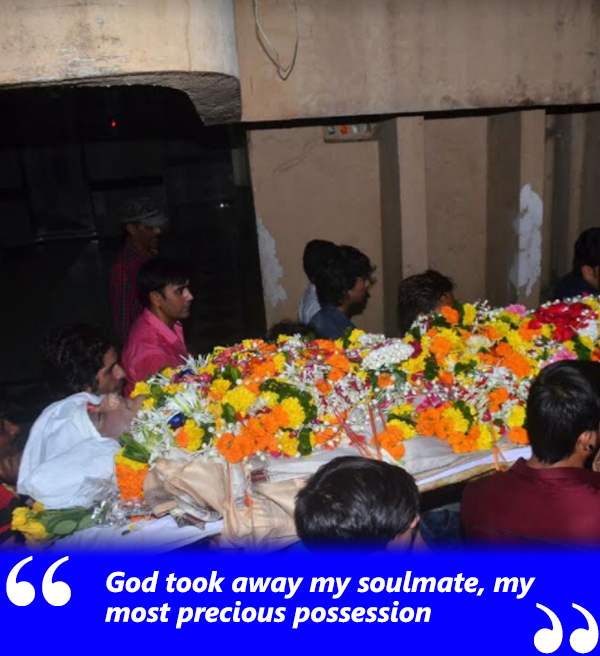 You said 'heartless city'. Do you think Inder got a good deal from the industry?
No, he did not. Inder got a raw deal compared to the talent he had. Bollywood should have given him lots more work. In fact, after the rape allegations he faced, a lot of people from the industry stopped associating themselves with him.

Did Inder have any health issues in the recent past?
None.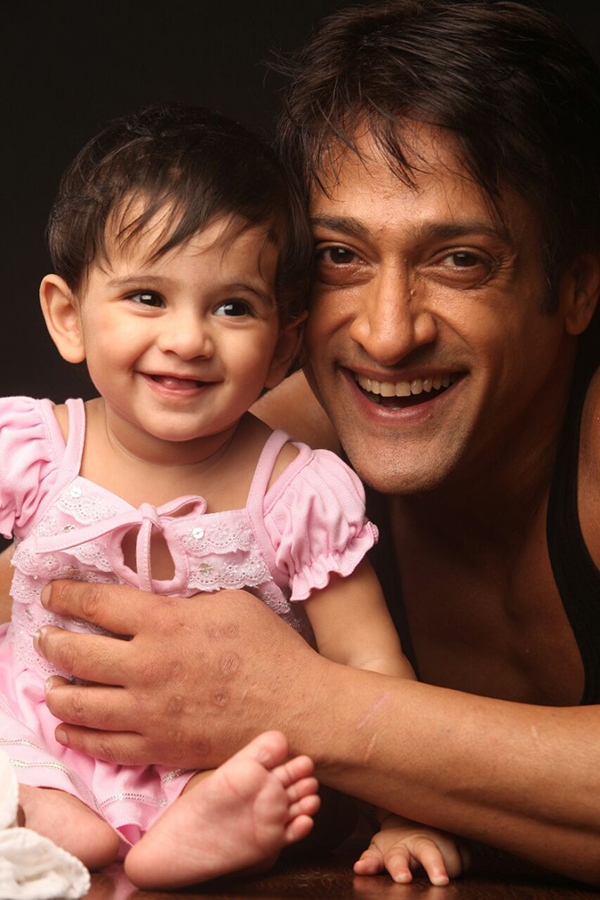 Inder Kumar With Daughter Svanaa

Sorry to ask you this, but what exactly happened that night?
Inder had retired for the night around 7 30 pm. I was sitting with my laptop outside our bedroom. When I came inside around 11 pm, I saw that he was breathing very heavily. I sensed something was wrong and I tried to give him CPR (Cardiopulmonary resuscitation), but he took one long and deep breath and it was all over. I called my neighbours and we rushed him to Kokilaben Ambani Hospital, but it was too late. We were told that Inder had a major cardiac arrest.

I must add here that Inder was a fighter. Had God not taken him away in sleep, he would have taken a rickshaw and headed straight to a nearby hospital and demanded that they save him.

After Sonal, Inder married model-actress Kamaljeet Kaur..
Inder married only me after Sonal. There was no other marriage in his life. That's another bullsh** piece of rumour doing the rounds.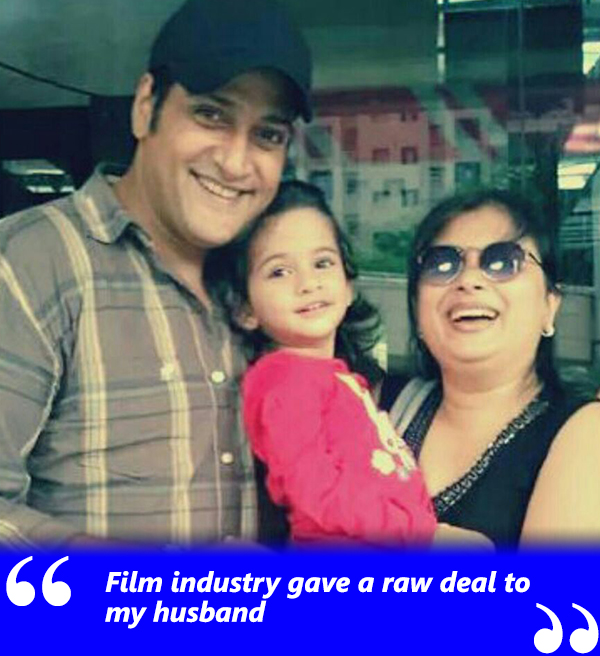 How did you and Inder fall in love and get married?

I had shifted to Delhi, but we were in touch. Once I came to Mumbai and we met at a function. Inder told me that why don't we take our friendship to the next level. He had divorced Sonal by then. I decided to marry my best friend rather than anyone else. And we decided to start a family soon.
How has your daughter Svanaa taken the loss?

Svanaa hasn't taken it well. As I said, Inder was her mother. Sometimes she understands that Dad is gone, but sometimes she comes running and says that she plans to do such-and-such thing with Dad. Actually, she has been running fever since the past few days. Guess she will have to be inspired by Inder's training to her: Don't be scared of anything on earth.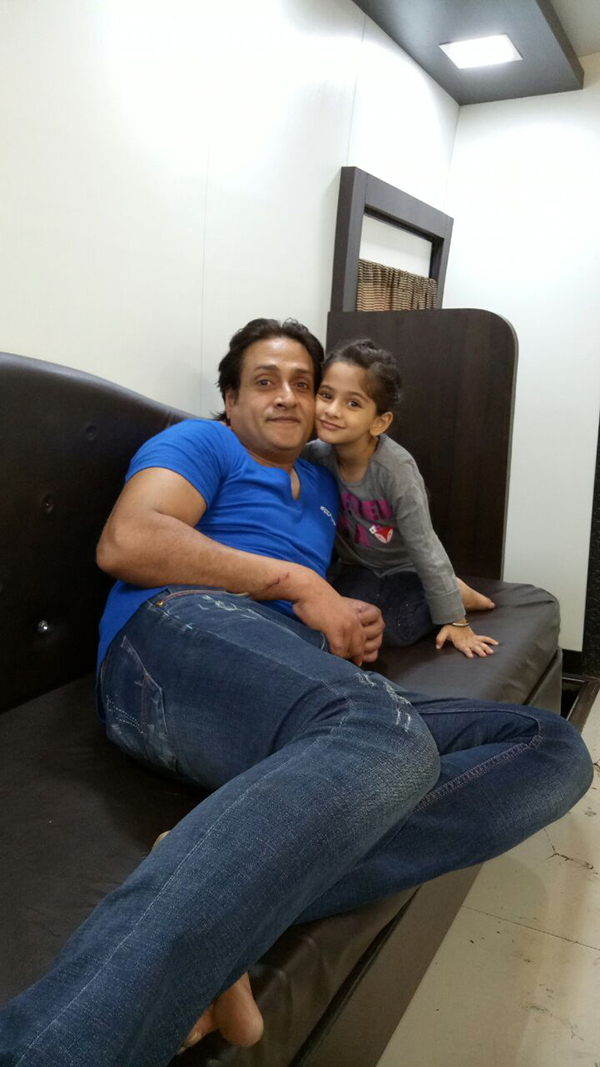 Inder Kumar With Daughter Svanaa
Never saw Inder in parties...
Very low profile. He shared a lot with Salman and went across to meet him sometimes. He loved to sleep at 8 pm and get up at 5 am. Parties were never on his list. In fact, at times, we had arguments on why he didn't want to be seen and heard much.
What did Inder like in particular?

He loved good food. Often he was on a diet because he was all the time making his body, so he had to stay away from many dishes. He loved chicken and mutton. He was also fond of movies. We watched the movies at home on his laptop. He came along with me for my monthly groceries to DMart and even helped me to pick up so many things which I forgot to add in my list. And he made some very good biryani.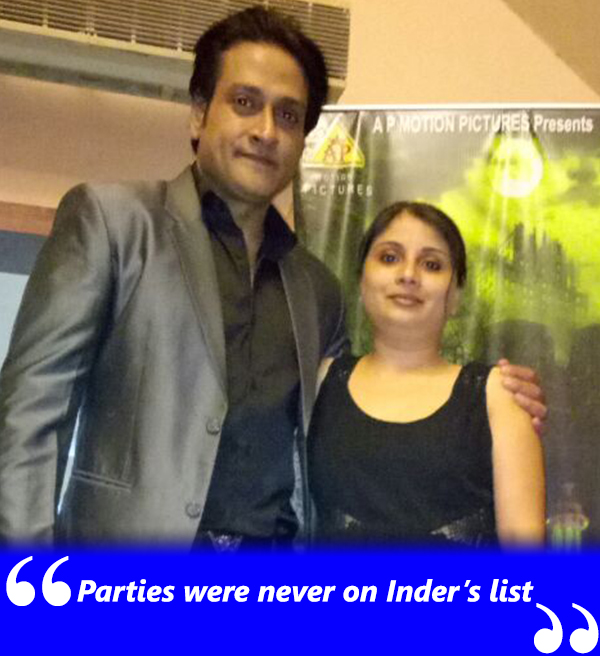 Did you'll travel?

Last month, we went to Khawaja Darbar in Ajmer. We were planning to go to Kamakhaya Temple in Guwahati. Inder was a super duper believer in God. He said 'Good night', 'Good morning' and 'Thank you' to God every day.
Final question: Do you still believe in God?

I have no complaints but I have told Him that I have prayed enough to you in this birth. He took away my soulmate, my most precious possession. Inder was not just my friend or husband. I have become so incomplete after his death and this void will never be filled again. I used to call up Inder at the drop of a hat and share with him everything. Ab kisko phone karun? (voice chokes with emotion). I have nobody to talk to.
I think I have said whatever I wanted. Almost every section of the media has been calling me incessantly but I chose to speak to you first. I trust you, hence this interview. And I am glad I spoke to you.
They say the best things in life are free! India's favourite music channels 9XM, 9X Jalwa, 9X Jhakaas & 9X Tashan are available Free-To-Air. Make a request for these channels from your Cable, DTH or HITS operator.