Sridevi and Boney Kapoor's second daughter Khushi Kapoor who was in New York to pursue her higher studies is back in Mumbai amidst Coronavirus scare. Khushi came back to Mumbai and is in self-quarantine with sister Janhvi Kapoor. The ladies are having the best time of their lives, spending together, chilling and creating great memories. While Janhvi is spending time painting and writing, Khushi is all about eating, sleeping and chilling. And of course, if two siblings are under one roof, one is bound to annoy the other. Janhvi and Khushi's recent picture is another sweet addition to their archive.
Janhvi recently posted a picture on Instagram stories that sees her cuddling sister Khushi. Well, she's not exactly cuddling. Janhvi is lying on Khushi while the latter has a poker face on. Janhvi has captioned this picture as "She loves having me around, can you tell?" LOL! Both the ladies are in their pajamas and are chilling at their home doing almost nothing. It is sweet, isn't it?
Meanwhile, Janhvi recently posted a long note on Instagram talking about the things she learnt when in self-isolation. She captioned this post as, "Also learnt that I like to write... p.s. wrote this 3 days ago since we started self-isolating a little before the lockdown and it had already been a week for me by then." In the post, she has shared about how she learnt to value people around her and that she relied on too many people for her daily chores. She also shared that her father misses her.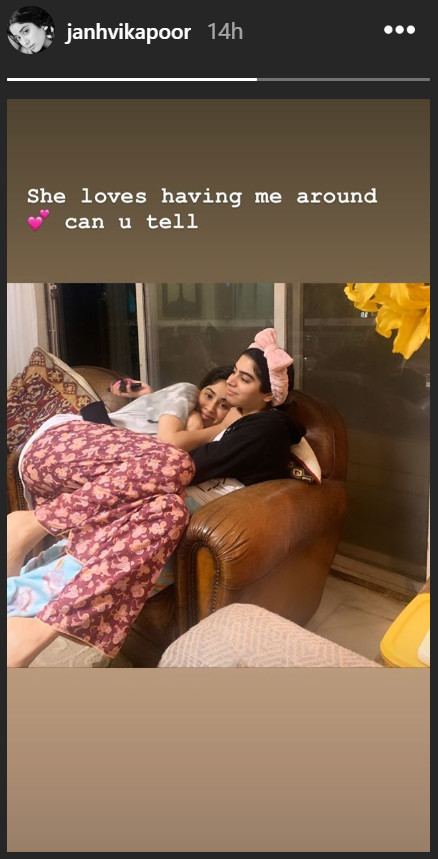 Image Source: Instagram/janhvikapoor