K Balachander's Immortal Love Story Ek Duuje Ke Liye Completes 40 years: 7 Unknown Facts About The Kamal Haasan, Rati Agnihotri Starrer
Ek Duuje Ke Liye introduced Kamal Haasan to Hindi cinema and Rati Agnihotri to films. As the iconic movie completed 40 years of its release on June 5, let's go down memory lane and take a look at some unknown facts about the movie.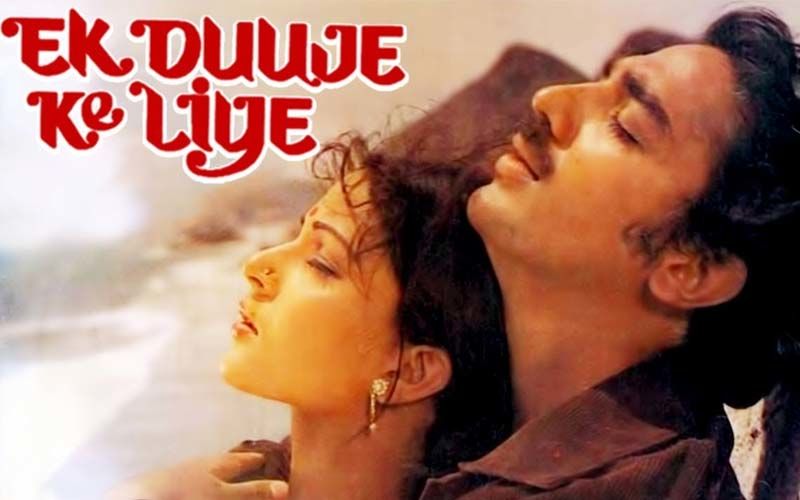 Ek Duuje Ke Liye introduced Kamal Haasan to Hindi cinema and Rati Agnihotri to films. As the iconic movie completed 40 years of its release on June 5, let's go down memory lane and take a look at some unknown facts about the movie.
1. This blockbuster of a love story about a Punjabi girl in love with a Tamil guy introduced Kamal Haasan to Hindi cinema and Rati Agnihotri to cinema. In an interview with me on K Balachander here is how Rati recalled the experience : "He didn't only discover me for the Hindi cinema in Ek Duuje Ke Liye he guided me through the film. I remember how I got this role.My Dad was approached and we immediately agreed because the film was produced by the great L V Prasadji and directed by the stalwart K Balachanderji.Ek Duuje Ke Liye was a remake of Balachanderji's Tamil film Maro Charitra. My dad saw the original before saying yes to the remake. But I was not allowed to see Maro Charitra. Balchanderji didn't want me to get influenced by the earlier film. So I had no idea what the film was all about. All I knew was I had a great producer, director and co-star Kamal Haasan. I remember when I first came on the sets I was really scared of Balachanderji. I wondered if he was angry with me. He had these really huge eyes which would look straight at you. But he never ever shouted at me.Not once.I was so young—just 16—and so raw. I knew none of the emotions that I had to express. Balachanderji would come up to me , whisper comforting things in my ears, and I would do the scene. I'd just follow what he said. I was like a sponge, absorbing all that I was given. Balachanderji would talk to me in Tamil, then English.Prasadji, Balachanderji and Kamalji would pull up a chair and explain the scenes to me. That's how I managed.I couldn't have done it without these three great artistes to guide me through Ek Duuje Ke Liye. Talent is all very well. But what really matters is luck. I was lucky to have Balachanderji as the director of my first Hindi film."
2. Kamal Haasan and Rati Agnihotri were not on speaking terms when they shot for their Hindi debut Ek Duuje Ke Liye. The pair were so much at odds that by the time the shooting was halfway through the poor director K Balachander was at his wit's end.How to make Kamal Haasan and Rati Agnihotri look intensely in love when in truth they couldn't stand one another?! In the past Dilip Kumar and Madhubala had stopped talking to one another when they did Mughal-e-Azam. But then, they had shared something really special in the past. Kamal and Rati hated one another from the start.Pacing together the most notorious star war between onscreen lovers a source close to Ek Duuje Ke Liye tells me, "It was all to do with the ego. You see Kamal Haasan was already a veteran actor of many acclaimed performances when he came to his Hindi debut. Rati was a raw newcomer.And she was expected to behave like a pupil at the Kamal Haasan School. On top of that Kamal was very close to Balachander. He had already done the Tamil version of Ek Duuje Ke Liye with Balachander . So perhaps rightfully, Kamal came to the locations of the Hindi remake with a know-all attitude."Apparently Rati, never one to pamper her costars, made it very clear that she would take directorial instructions from only the director 'Balachander Sir.'When Kamal Haasan would try to instruct her she would look the other way.It was hell for Balachander. He somehow completed Ek Duuje Ke Liye. After the film became a hit ,Kamal Haasan and Rati were seen together in only one other film Dekha Pyar Tumhara which they had signed even before Ek Duuje Ke Liye was released. Thereafter they never met.Ironically many years later Kamal Haasan's daughter Akshara became very close to Rati's son Tanuj Virmani.
3. Kamal Haasan knew almost no Hindi when he started work on Ek Duuje Ke Liye. The toughest scene of my career was in my first Hindi film Ek Duuje Ke Liye. I was asked to rattle dialogues in Hindi, a language I didn't know. I know I was playing a Tamil guy who wasn't supposed to know Hindi but this was the climax where I had to do a three-and-a-half minute monologue ,because by the end of the story I was supposed to know the language.As luck would have it, we were shooting the scene at the beginning of the film. On the 5th day the director, my guru and mentor K Balachander announced that we would shoot the climax first because we had got permission for the required location.In that scene I had to rattle lines in Hindi, in one take. I froze. Balachander Saab was very encouraging. He said that I could do it and I couldn't let him down.But it was my generous and helpful co-star Satyen Kappoo playing my girlfriend's father, who came to my rescue. He sat down with me and practised the lines. He then taped the lines and I just memorised them. When we shot the sequence I managed till the first-half of my monologue but then I froze. I completely forgot my lines when I reached midway.I just said whatever came to my mind. Later, during the dubbing I repaired the scene but believe me, I went through serious trauma in that scene. Later in my career I did scenes which were far more difficult but at that point of my career rattling a lengthy monologue in shuddh Hindi seemed akin to jumping off a mountain without a parachute.
4. Kamal Haasan was Balachander's protégé. They had worked together in 9 films before Ek Duuje Ke Liye including Maro Charitra the Telugu version of Ek Duuje Ke Liye. In an interview with me Kamal Haasan had said,"The best roles and opportunities in my career came from Mr Balachander. I've done about 35 films with him. If you look carefully in his first Hindi film Aaina you'll see me as the pencil-thin moustachioed clapper-boy in a song Jaane kya ho jaaye jab dil se dil takraaye featuring Dharmendra and Neetu Singh playing themselves.In his 100th film featuring Madhavan I did a guest role. He said I must be in his 100th film. There was no question of refusing him. For him I was ready to break my rule of the last ten years of doing only one film at a time. There were no rules for Balachanderji."
5. The Music by Laxmikant-Pyarelal played a very big hand in the success of Ek Duuje Ke Liye. The Lata Mangeshkar-S P Balasubramanian duets Tere mere beech mein, Hum bane tum bane, Hum tum donon jab mil jayenge cracked open the charts. Lataji who the soul of the love story recalls, "The songs were all original and not rehashed from the Telugu version of the film. The producer L V Prasadji insisted on original songs. Laxmikant-Pyarelal had done many films with Prasadji prior to Ek Duuje Ke Liye. Fortunately I was a part of all of them. The music of Prasadji's production was always special But nothing compared with Ek Duuje Ke Liye. I remember having recorded and forgotten the songs when my closest friend rang me up excitedly from abroad .She was babbling about some song 'Bandhan ajana'that had become a craze. I told her I had not sung any song called 'Bandhan anjana' at least not recently. Later I realized she was referring to Tere mere beech mein kaisa hai yeh bandhan anjana."
6. The tragic ending of Ek Duuje Ke Liye shocked many .When hotshot producer Gulshan Rai saw the ending he backed out of his distribution deal with producer L V Prasad. Finally LV Prasad had to distribute the film himself. It made him richer than he already was. When Raj Kapoor saw Ek Duuje Ke Liye at the premiere he advised Prasad Saab to change it to a happy ending. After all, Raj saab had done the same in Bobby, which was to romance in the 1970s what Ek Duuje Ke Liye was to the 1980s. Prasadji stuck to his guns.
7. The great K Balchander made better Hindi films—Aaina which came before Ek Duuje Ke Liye and Zarasi Zindagi which came after , were in my opinion better films—but none so successful. Ek Duuje Ke Liye is one of the most successful romantic Hindi films of all times.Rati Agnihotri became a big star. Kamal Haasan could not capture the cowbelt's attention.
Image source: Youtube/Goldmines
They say the best things in life are free! India's favourite music channels 9XM, 9X Jalwa, 9X Jhakaas & 9X Tashan are available Free-To-Air. Make a request for these channels from your Cable, DTH or HITS operator.