SpotboyE.com had told you how
Karan Johar hit back at Kangana Ranaut over her accusation of him being the "flag-bearer of nepotism"
in an interview with Anupama Chopra at the London School Of Economics.
The ace filmmaker responded to Anupama saying that Kangana doesn't seem to know the meaning of nepotism as he has not promoted any of his family members in the industry. He also accused Kangana of using the women and victim card all the time and that he is tired of it now.
It was obvious that Kangana will not take this lying down. Known for her bold personality and bindass attitude, Kangana spoke to Mumbai Mirror in detail about Karan's statement. Well, let's say she just lashed out yet again! Here's what she expressed:
"I can't speak for Karan Johar's understanding of nepotism. If he thinks that it is restricted to nephews, daughters and cousins, I have nothing to say. But, to say that he chose not to give me work is to mock an artiste. As importantly, his memory appears to be poor because we worked together in a movie (Ungli), which was produced by him. And quickly realised our sensibilities did not match.
Image Source: instagram/koffeewithkaran
Kangana also added that she is at a loss to understand how he gave Kangana a platform by inviting her to be on his show. (Johar had said that he gave Ranaut a platform to "give it off to Karan".) She said that she has been on several platforms before with several global icons. To say he helped her voice her opinions is to discredit her as an artiste and a public personality. Kangana also added that she was invited to be a part of the show in its fifth season. His team requested Kangana's team for months for her dates.
Coming to Karan Johar's accusation of Kangana playing the 'victim' card all the time, Kangana said, "Why is Karan Johar trying to shame a woman for being a woman? What is this about the 'woman card' and the 'victim card'? This kind of talk is demeaning to all women, particularly the vulnerable because they are the ones who really need to use them. The 'woman card' might not help you become a Wimbledon champ, or win you Olympic medals, or bag National awards. It might not even land you a job, but it can get a pregnant woman who feels her water is about to break a 'ladies' seat on a crowded bus. It can be used as a cry for help when you sense a threat. The same goes for the 'victim card', which women like my sister, Rangoli, who is a victim of an acid attack, can use while fighting for justice in court. I use every card possible. At the workplace, it's the badass card to fight cutthroat competition. With my family and loved ones, it's the love card. When fighting the world, it's the dignity card, and for a seat in a bus, it's the woman card. What is important to understand is that we are not fighting people, we are fighting a mentality. I am not fighting Karan Johar, I am fighting male chauvinism."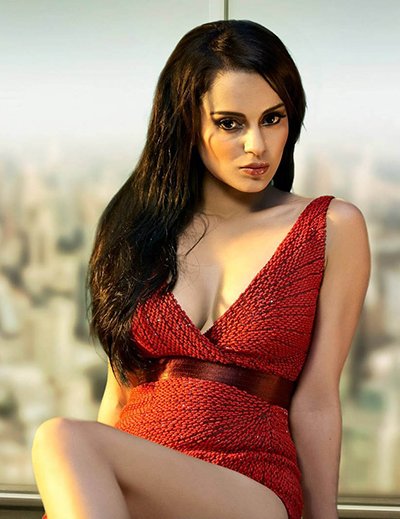 Image Source: southdreamz
Kangana also touched the topic of Karan Johar recently becoming a father to a daughter and a son, "Now that Karan is the father of a little daughter, he should provide her with all these cards — the 'woman card' and the 'victim card', as also the 'self-made-independent-woman card', and the 'badass card' that I flashed on his show. We will use whatever we need to ensure no one rocks our boat."
Ms. Ranaut also said she is a little surprised at the "graciousness" Karan says he displayed in choosing to not edit the jousty bits on the show. She added, "While I'd have blacklisted the channel if something like that had happened, let's also remember that a channel wants TRPs, and he is just a paid host."
Lastly, Kangana concluded the chat by replying to Karan Johar's suggestion of her leaving the industry if she is so fed up of it, "Also, the Indian film industry is not a small studio given to Karan by his father when he was in his early 20s. That is just a small molecule. The industry belongs to every Indian and is highly recommended for outsiders like me whose parents were too poor to give me a formal training. I learnt on the job and got paid for it, using the money to educate myself in New York. He is nobody to tell me to leave it. I'm definitely not going anywhere, Mr Johar."
Now that's a hell lot of a talking by Ms. Kangana Ranaut. Will Karan Johar give an equally elaborate reply to Kangana or will he stay put? Difficult to guess...

Thumbnail image Source: indiaglitz & dailyausaf
They say the best things in life are free! India's favourite music channels 9XM, 9X Jalwa, 9X Jhakaas & 9X Tashan are available Free-To-Air. Make a request for these channels from your Cable, DTH or HITS operator.