Late legendary actor Irrfan Khan's son Babil Khan has made his acting debut with the Netflix film 'Qala' and he has left everyone mighty impressed with his brilliant performance. Babil is receiving praise from fans as well as from Bollywood celebrities and the latest celeb to shower love on him is Kangana Ranaut. The Queen actress called Babil's performance terrific and also said she is proud of 'Himachali girl Tripti Dimri. Ranaut also sang praises for 'Qala''s director Anvita Dutt.
Taking to her Instagram stories, the actress penned a series of posts, lauding the film, its storyline, and its lead actors. Kangana wrote, "#Qala is a great film, it's not your usual three-act structure neither is it a literal story of the physical world, it's a metaphorical representation of creative consciousness…watch it with an open mind sit back to let it flow, magic will unfold."
ALSO READ: WHAT! Kangana Ranaut Is Angry With Instagram, Calls Photo-Sharing App 'Dumb'; Actress Complains, 'Whatever Opinion One Writes Disappears Next Day'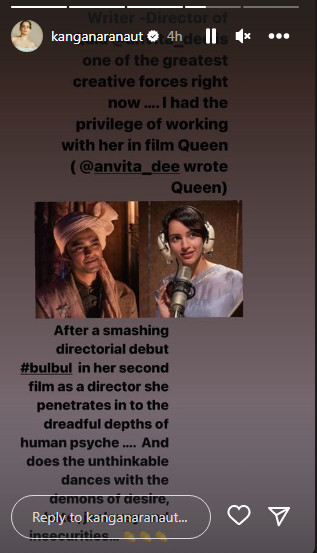 She added in the next post, "Director of Qala @anvita_dee is one of the greatest creative forces right now. I had the privilege of working with her in my film Queen (@anvita_dee wrote Queen) After a smashing directorial debut #bulbul in her second film as a director. She penetrates into the dreadful depths of the human psyche. And does the unthinkable dances with the demons of desire, hate jealousy, and insecurities." Kangana also mentioned that as a fellow Himachali pahadi girl she is proud of Tripti and that she could not take her eyes off her.

'Qala' which saw Anushka Sharma in a special appearance, narrates the story of Indian playback singer Qala Manjushree. It also starred Amit Sial, Girija Oak, and Abhishek Bannerjee and was released on the streaming platform on 1st December.