Kangana Ranaut Says 'No Jugad Like Desi Jugad' While Sharing A Picture Of Her Mother's Resourceful Invention For Cooking Outside In The Sun
Kangana Ranaut took to her Twitter to share a picture of her mother, cooking parathas outside in the sun as it was too cold in the kitchen! Her resourceful invention left the Manikarnika actress amused!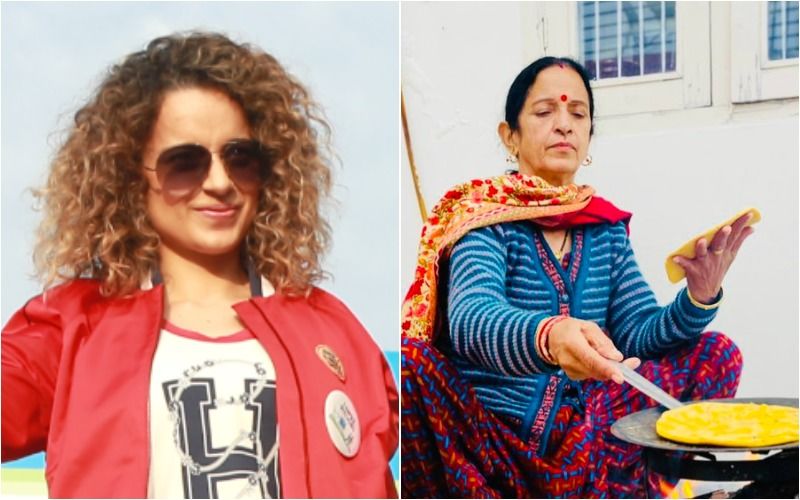 Kangana Ranaut is quite active on social media, and there's never a dull moment for her fans as she keeps them hooked to her social media. Known for her controversial tweets on Twitter, Kangana also often shares lovely pictures of herself, and her family members, while sharing interesting anecdotes. While she was staying with her family in Himachal Pradesh amid lockdown, she would often give fans a glimpse of her beautiful life there. This time around, she has shared a picture of her mother, while lauding her resourceful invention.
Winters in Himachal Pradesh are quite extreme, and looks like Kangana Ranaut's mother decided to cook outside in the sun as it was too cold in the kitchen. Kangana shared a picture of her mother cooking on 'angithi', which is generally used to generate heat from burning coal in cold places. Her mother was seen cooking parathas over angithi, and Kangana Ranaut was left amused by this desi jugaad. She revealed that she couldn't stop laughing when she saw this, and is very proud that her mother came up with the resourceful invention.
"Spoke to mother she said kitchen is too cold so cooking outside in the sun, on angithi, I got curious, when I saw this couldn't stop laughing, no jugad like desi jugad... proud of my mother to come up with this resourceful invention," wrote Kangana, while sharing the snap. Take a look:
Spoke to mother she said kitchen is too cold so cooking outside in the sun, on angithi, I got curious, when I saw this couldn't stop laughing, no jugad like desi jugad... proud of my mother to come up with this resourceful invention 😂😂😂 pic.twitter.com/Q90U11xMtO

— Kangana Ranaut (@KanganaTeam) January 22, 2021
Image Source: SpotboyE Archive, Twitter/Kangana Ranaut