Karisma Introduces Boyfriend Sandeep Toshniwal To Guests At Randhir Kapoor's Birthday Bash
Their bond is getting stronger by the day. Karisma has started attending family functions with her lover Sandeep. Check out these pictures of the two talking to the guests at the bash...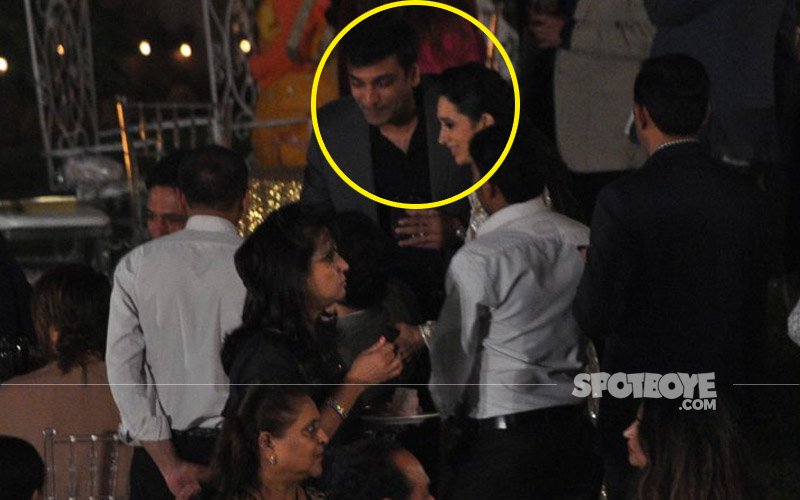 It all is official now in the Kapoor family about Sandeep Toshniwal and Karisma Kapoor's equation.
A few minutes back, we told you about
Randhir Kapoor's star-studded bash
which took place last night at Kapoor family's Chembur farmhouse. While a host of celebrities like Amitabh Bachchan, Salim Khan, Rakesh Roshan attended the bash, there was one guest who caught our attention. Check out these pictures: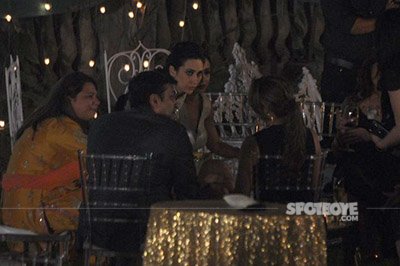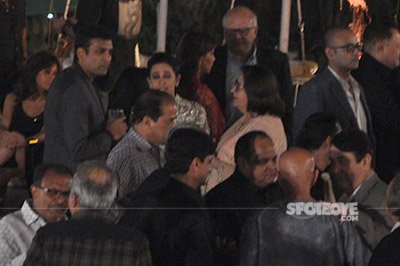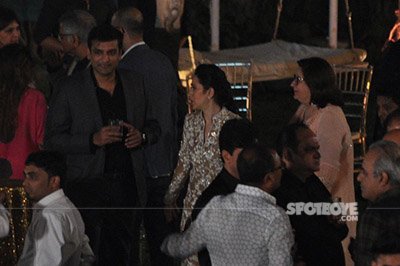 Yes, that's Karisma's boyfriend Sandeep Toshniwal with her at the bash. The two were seen interacting with the guests. While the duo has been making public appearances together past few months, it was the first time Lolo, as she is fondly called in the industry, was seen introducing Sandeep Toshniwal to Bollywood. Karisma's mother Babita is also seen accompanying the couple.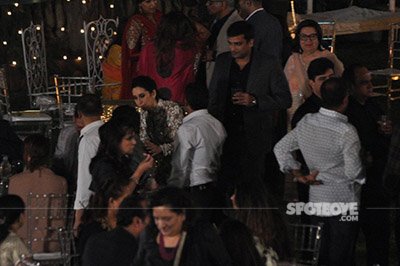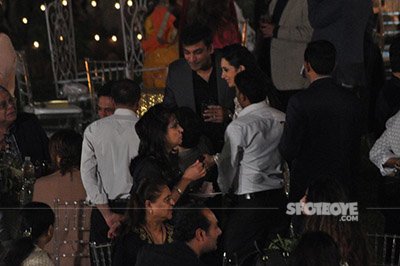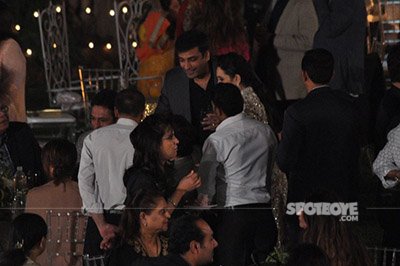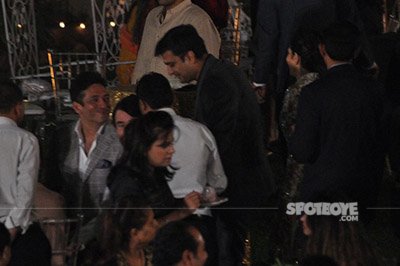 Karisma is said to be dating Toshniwal (CEO of a pharmaceutical) since a few years. Its' said that both are keen to tie the knot once Toshniwal's divorce is out of the way. He is married to a dentist in Delhi, Dr Ashrita.
Just a few days back,
during their divorce proceedings, Dr Ashrita appeared in the court
. A friend of her said, "Ashrita accused Sandeep of adultery. He was not faithful to her, he had a scene with a certain media person (name withheld on request)."
Meanwhile, Toshniwal's advocate Toban Irani said, "Dr Ashrita is suffering from a psychological disorder where she feels that people are doing something to her, and she even tends to get aggressive. We have doctor certificates on that, she did not take treatment when the same was detected. This made it difficult for (my client) Toshniwal to continue his marriage with her."
SpotboyE.com also has it that a senior producer from Bollywood (name withheld on request) appeared in the Court and spoke in favour of Toshniwal. Says Irani, "That producer is a common friend of the accused media person and Toshniwal. It was really commendable on his part to come forward and speak in favour of Toshniwal. Dr Ashrita has cooked up the affair with the media person."
With so much happening on the legal front and now within the Kapoor family, it appears that soon some official announcement about Karisma and Sandeep is on the way...

Thumbnail Image Source: Manav Manglani