In Bollywood no heartbreak is permanent. And sometimes, you have to pretend to be in love with the person who broke your heart in the first place. Case in point, Katrina Kaif.

In what can only be called a quirk of fate, Katrina has been spending all her days with her exes Ranbir Kapoor and Salman Khan.

She returned from Austria, where she was shooting Tiger Zinda Hai, in the last days of March.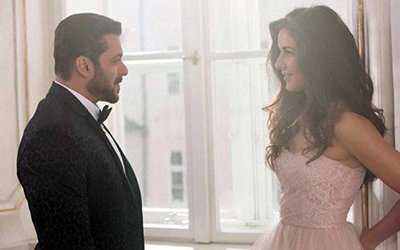 And nowadays, she starts her day with Ranbir Kapoor, with whom she is shooting Jagga Jasoos. Katrina and Ranbir started shooting the Anurag Basu directorial in 2013, when they were very much in love. Four years later, Ranbir and Katrina are exes who do not even talk to each other.

But being a consummate professional, Katrina is grinning and bearing it.

She starts her day with Ranbir and spends some four hours shooting with him. The former couple are shooting patchwork scenes for the film. Jagga Jasoos sees the two playing young vigilantes and the film has already grabbed a few headlines thanks to a kissing scene between the two ex-lovers.


Then she moves on to Salman Khan. Katrina dated Salman Khan for many years and the two have remained friendly exes.

They are now paired together in the much awaited sequel to their 2012 hit Ek Tha Tiger. Tiger Zinda Hai is being shot at Yashraj Studios and that is where Katrina heads every afternoon.

From 2 in the afternoon to 2 in the night, she is busy shooting with Salman. The superstar and Katrina's turn as two lovelorn spies in the original had won over fans and the romance is sure to heat up in the sequel.

So, now you know what is keeping Katrina Kaif busy these days.

Thumbnail Image Source: images,hdwallpapers