It's all over. Masaba Mantena and her husband Madhu have decided to part ways. The couple does not want any speculation and have announced it publicly on social media. In a heart felt post, Masaba has written just few minutes back, "With a lot of sadness, Madhu and I have today decided to go on a trial separation in our marriage.' Further she added that she added that they consulted their parents and professionals before taking this step. She also added, 'We are not strong enough to explain ourselves to even friends who deserve answers from us. All we can say to each of them is give us time and gives us love when we reach out to you.'

Madhu and Masaba married in June 2015. A source says, "The industry is shocked. Their wedding was a big lavish party attended by so many celebrities. It's all over now. Though they are saying it's a trial separation and they are giving each other time, yeh sab aajkal ke fashion statements hain. It's living in denial for a while and allowing it to sink in, then declaring we are not husband and wife anymore. Adds the source, "Neena Gupta is very disturbed. It happened a bit suddenly and she hadn't seen it coming." Goes without saying that the parting was ugly. What drove them to take the drastic decision is still not known.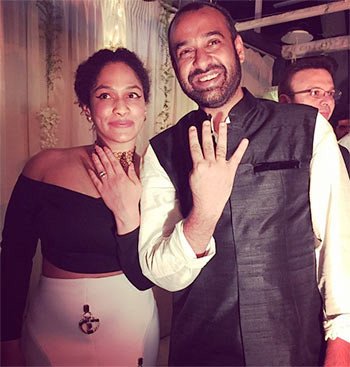 Masaba Gupta And Madhu Mantena Pose For The Shutterbugs. Oh, Those Were The Days


"Masaba is the daughter of actress Neena Gupta and West Indian cricket legend Vivian Richards, and she has been steadily climbing the popularity charts in the Indian fashion scene. Mantena has produced films such as the Aamir Khan-starrer Ghajini, Ram Gopal Varma's Rann, and the Shahid Kapoor-starrer Mausam. Mantena is also a partner in Phantom Films- he belongs to the quartet of Phantom Boys which besides him includes Vikramaditya Motwane, Vikas Bahl and Anurag Kashyap.


Image Source: starunfolded