Mom-To-Be Amy Jackson Shares An Enlightening Message; Says It's Important To Get Up, Get Changed, And Spend Some Time Outside
Amy Jackson took to Instagram to share a picture of her enjoying a day out basking in the beauty of nature and mentions how it helped her get motivated and break out of the slump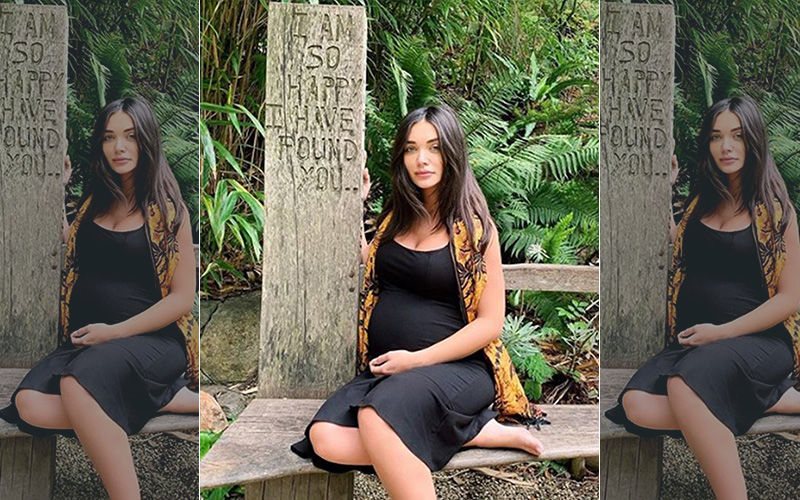 Amy Jackson, who is in the last trimester of her pregnancy, has been very active on social media and
has shared several pictures of her pregnancy on social media.
The 27- year-old actress who is expecting her first child with
her fiancé George Panayiotou,
often shares a lot of insightful messages with her fans and is big on fitness. She earlier shared a lengthy note talking about fitness and how she kept doing it during her third trimester as well. Her posts on Instagram are quite inspiring and in the latest one, Amy Jackson shares a powerful message with her fans.
In the latest post shared by Amy on Instagram, she can be seen enjoying a beautiful afternoon out basking in the beauty of nature. The actress looks gorgeous amid a peaceful setting donning a black dress and a yellow scarf. She can be seen sitting on a log bench and behind her, a carved log reads, "I am so happy I have found you." She penned a note in her caption mentioning how spending some time outside helped her get motivated and break out of the slump. The caption reads, "Afternoons like this ✨The decision to take a little step back from work over the last month was scary but definitely necessary. Although waking up at mid day and eating whatever you want surprisingly gets a bit boring after a couple of weeks but once you're in that mindset, it's so hard to snap out of it!! I've been finding it really difficult to motivate myself through the last few weeks but yesterday was so enlightening. I've realised regardless of what's happening... it's sooo important to get up, get changed, and spend some time outside. Nature is super powerful ✨🙏🏼💚 #SoulFood" Take a look at the picture:
Amy Jackson was last seen in the film 2.0 starring Rajnikanth and Akshay Kumar. She is expected to deliver the baby in the month of September 2019.
Image Source: Instagram/iamamyjackson