Mother's Day 2021: Shabana Azmi Says Mother Shaukat Kaifi Would 'Strap Me On Her Shoulder As A 4-Month Child And Carry Me To Work' - EXCLUSIVE
On Mother's Day 2021, Shabana Azmi remembers her mother, the formidable actress-activist Shaukat Kaifi who was a matriarch to all she loved.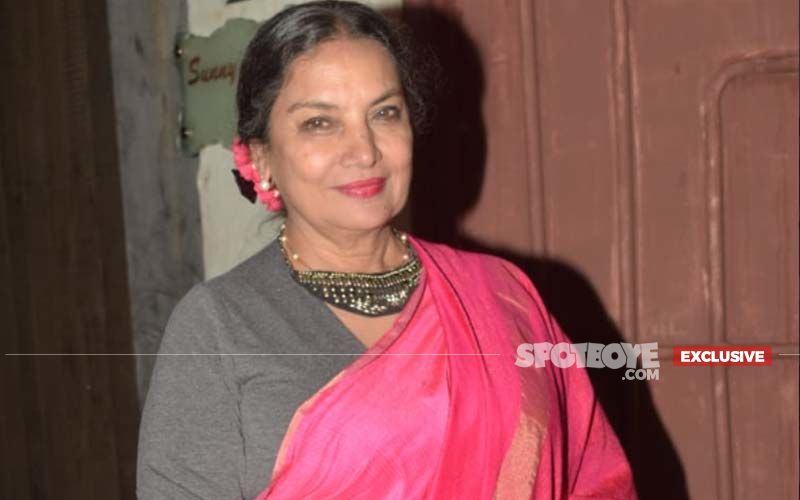 Remembering her mother the formidable actress-activist Shaukat Kaifi who was a matriarch to all she loved, Shabana says, "She was remarkable in many ways. She always chose her own path, and though she continued to be her own person all her life, she never faltered as a wife, mother or housekeeper."
In Shaukat Aapa (as she was affectionately known throughout the film industry) Shabana sees a majestic merger of tradition and progress. "The traditional and the modern were perfectly balanced in her personality. My relationship with Abba (father Kaifi Azmi) has always been the more celebrated one. But both my brother Baba and I have been deeply connected to mum too. In the last couple of years the roles had reversed and she had become my child. Her presence in the house was hugely comforting."
Shabana says, "The woman I admire most is my mother Shaukat Kaifi who has been a wonderful wife, mother housekeeper but most importantly, her own person and a noted theatre actor. She found the perfect balance. My mother Shaukat Kaifi who is a very respected theatre artist was working with Prithvi Theatres and used to strap me on her back as a 4-month old child and carry me to work because we couldn't afford a maid. When I was about 3 years old I started accompanying her on her tours during vacations from school..I would go to sleep backstage with the smell of greasepaint all around me."
The bond between Beti and Mum is still evident " Mashallah, Shaukat Kaifi was my mother, my child and my friend. Warm compassionate generous to a fault. But brutally frank. In her final years her memory was failing. But she remembered lines from a play that she did at age 10! She continued to be a fabulous hostess till the end. Her love for sarees only increased with time. When (nobel laureate)Amartya Sen wrote a glowing review of her memoir Kaifi & I she bought 16 sarees for herself at one go. When I gasped that I had never done that in my life pat came her answer, 'Well, Amartya Sen has never praised you during your life so far.' My mom was a riot! I thank her with all my heart. By the way, I honestly think she would rather have me gift her a saree than speak so sentimentally about her!!"
Shaukat Kaifi, as she liked to be known, married the love of her life Kaifi Azmi when she was very young. She often spoke passionately about her early years of struggle with her husband. "Kaifi was closely associated with the Indian People's Theatre Association (IPTA) and the Progressive Writers Association (PWA),and through him I became associated with theatre . From the day we were together our struggles were mutual. The children Shabana and Baba came shortly. And our struggles grew. But they never seemed insurmountable," Saaukat Aapa once confided.
Speaking on her mother's most memorable movie role in M S Sathyu's Garam Hawa she told me. "I vividly remember the shooting of Garm Hawa. In theatre for IPTA I had played many lead roles with Balraj Sahni. This role of his supportive wife was not difficult for me at all. Even today if you tell me to do a scene I can do it in a jiffy. What helped my performance was the dialogues by my husband (Kaifi Azmi) which were very natural. Balraj was hesitant about doing the role. He asked me, 'Kya main yeh role kar sakta hoon, Shaukat Appa?'I assured him that only he can pull it off, that he was a better actor than me. It was because I convinced him that he did the role. For me the hardest scene was the one where I had to react to my screen daughter(Gita Siddharth)'s death. I am a method actress, and I could actually feel the emotions of a mother who has lost her child. For the first time we all felt we were working in a movie where the dialogues seemed to be like real life. If I tell you how we did the dubbing you'd probably laugh in amazement. Balraj and I had to dub without sound on screen. And the tape containing the dialogues was lost. So we had to relive the emotions through our imagination. We had no audio reference for the dubbing. We were all from the Indian People's Theatre Association(IPTA) and we had no money. But being from a theatre background we were all used to roughing it out. My nephew Ishan Arya was the cameraman. We all believed in the film. We knew we were working on something extraordinary.
She told me one of the most memorable sequences in Garam Hawa was borrowed from Shaukat Aapa's life. "The scene where the old lady wants to return to her ancestral home is from my own life. When my father left his ancestral home, a distant relative took over the house. My grandmother felt it was unjust to evict her from her own home where she had come as a bride.When she was on her deathbed she told her son,my father that unless she returns to the ancestral home she can't die.My father took his mother in his arms and carried her to the ancestral home. I had related this incident to Kaifi and he included it in the film so beautifully."
Multi-faceted, passionate about art and life and , a fiercely committed wife and a devoted protective mother, Shaukat Kaifi, you were much more than a woman. You were the life force. Long live the empowered woman.
Image source: SpotboyEarchives/Instagram/azmishabana18