New Year 2021: Anushka Sharma And Virat Kohli Celebrate With Hardik Pandya- Natasa Stankovic; Parents-To-Be Cosy Up To Each Other- PICS
Parents-to-be Virat Kohli and Anushka Sharma enjoy a dinner party with Hardik Pandya and Natasa Stankovic as they ring in the New Year together. Check out pictures!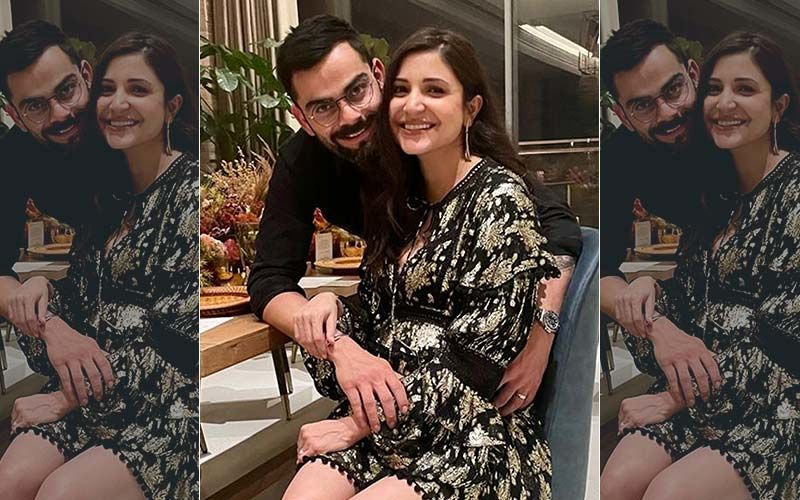 Virat Kohli and Anushka Sharma rang in New Year 2021 along with their friends Hardik Pandya and Natasa Stankovic. They were also joined by a few other friends for a lavish dinner party. Virat Kohli and Anushka Sharma, who are expecting their first child together, were all smiles as they dined with their friends. Virat Kohli took to his social media to share a few glimpses of the New Year celebration, and all of them were seen gathered around the dinner table as they posed for the pictures.
In the first picture, Virat Kohli held on to Anushka Sharma, while Hardik Pandya and Natasa Stankovic were seen holding hands. They were seated around the huge dining table which was decorated with numerous flowers. The picture was clearly taken before they had dinner together, as the wine glasses and plates are empty. Another picture showed Anushka Sharma and Virat Kohli cozying up to each other. While preggers Anushka Sharma was seated in a chair, Virat lovingly hugged her from behind. The glow on Anushka Sharma's face was unmissable!
In the caption, Virat mentioned that they all tested negative for COVID-19 before they celebrated together, in a safe environment. He wrote, "Friends who test negative together spend positive time together! Nothing like a get together with friends in safe environments. May this year bring a lot of hope, joy, happiness and good health. Stay safe! #HappyNewYear2021" Take a look!
Meanwhile, Anushka Sharma recently opened up about how she and Virat have decided to keep their baby away from the media glare.
Read more about it here.
Image Source: Instagram/Virat Kohli