The talk of the town since a few days is Sonakshi Sinha and the discussion about Sonakshi performing at the Justin Bieber concert, scheduled next month.
Just the news of her performing rubbed the music industry the wrong way and Sona baby had to face a lot of backlash from singers and musicians, including Armaan Malik, with
whom she had a nasty Twitter spat as well
.
And now, this morning, we got to know that Sonakshi has got involved in an interesting episode with another singer as well. A singer she has BLOCKED on Twitter. Well yes, it's none other than the Ambarsariya girl, Sona Mohapatra.
Sona Mohapatra posted a screenshot of the message that said that she has been blocked on Sonakshi Sinha's Twitter account. Not just did she post the screen grab, Sona also wrote a sarcastic message for Sonakshi which read, "Hahahaha! Not that I'd ever followed this bundle of talent, grace & intelligence."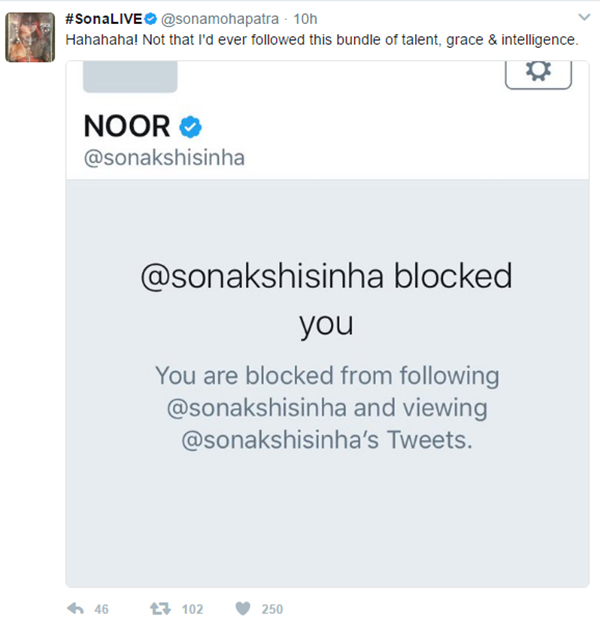 In case you're wondering what triggered Sonakshi Sinha to block the singer, well, it's again connected to the Justin Bieber controversy. After Sonakshi clarified a day back that she isn't performing at the concert at all and added that she is an actor who loves music, who loves to perform and who loves to sing. And if anyone has a problem with that, in the wise words of baba Bieber himself... they can go "love" themselves, singer Sona Mohapatra took to Twitter to give an earful to the actress.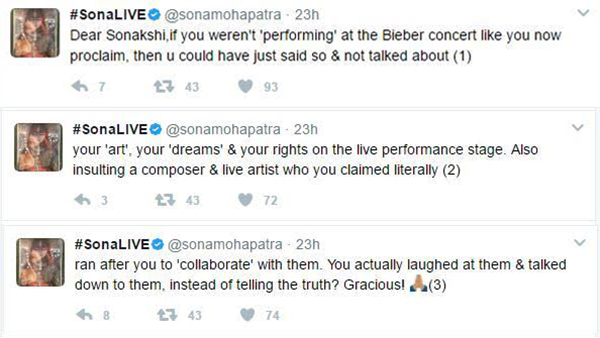 She wrote, "Dear Sonakshi, if you weren't 'performing' at the Bieber concert like you now proclaim, then u could have just said so & not talked about (1) your 'art', your 'dreams' & your rights on the live performance stage. Also insulting a composer & live artist who you claimed literally (2) ran after you to 'collaborate' with them. You actually laughed at them & talked down to them, instead of telling the truth? Gracious! (3)"
After reading Mohapatra's post, Sonakshi Sinha blocked the singer.


Thumbnail Image Source: wallpapersglad & clipartkid