Old Lovers Turn Friends Again! Kim Sharma Chose Yuvraj Singh's Retirement Bash Over Arjun Khanna's Fashion Show
It was a tough choice for Kim Sharma as her former lovers, cricketer Yuvraj Singh and fashion designer Arjun Khanna had sent her invitations to be a part of their big days, which coincidentally happened to be on the same day. The actress chose cricket over fashion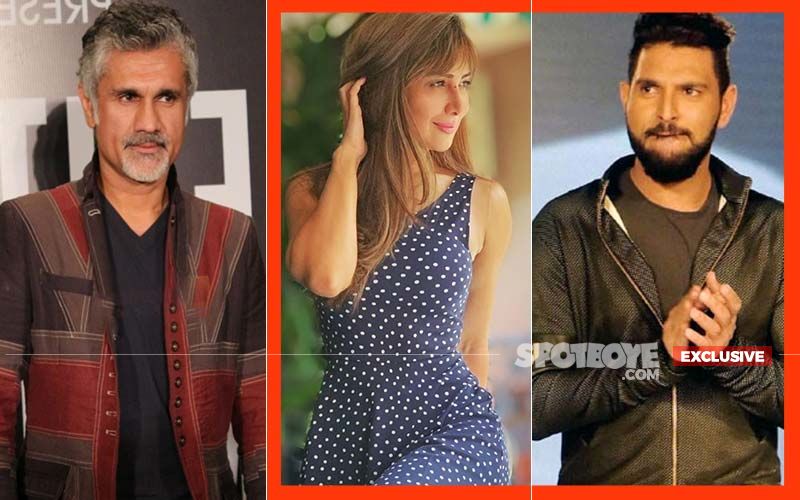 Yuvraj Singh threw a post retirement party on Saturday night in Mumbai which turned out to be a star-studded one as several celebrities from Bollywood and Cricket came under the same roof. One actress that walked in style to give her best wishes to ex-boyfriend Yuvraj Singh for his next innings was Mohabbatein girl Kim Sharma.
For the same day, Kim had received an invitation from her another ex-boyfriend, Arjun Khanna. Arjun invited Kim to come and enjoy the Airmen Collective fashion show that was held on the same day in Mumbai when Yuvraj Singh's post retirement party was happening. The actress chose cricket over fashion. A source revealed, since it was a big decision by the cricketer and Kim had been an integral part of his sports days, she thought of attending it with a big heart, leaving the past behind.
SpotboyE.com was the first to tell you that Kim Sharma's marriage to Kenyan Tycoon Ali Punjani coming to an end.
Few days later, we also got you the scoop that
the Mohabbatein girl had moved on in her life and found love in fashion designer Arjun Khanna and the duo were painting the town red
. He even accompanied her at the launch of Dabboo Ratnani's calendar and she was seen introducing him to all the guests.
Post every break-up, Kim Sharma like a strong woman has moved on in her life.
The actress had multiple past relationships and none of them turned out to be successful. Her recent break-up with Harshwardhan Rane wasn't different too
.
The actor also posted a note on Instagram addressed to "K", in which he wrote: "Thank you gentle soul! It was amazing and much more. God bless you and god bless me too. Bye." He signed off the note as "H"...
Coming back to Kim and Yuvraj Singh, like us, Kim too wishes him the best for future.
Image Source: Instagraa/kimsharmaofficial, Kitchen Decor Club, INDTVUSA