Trust Priyanka Chopra to entertain you wherever she is! Oscar 2017 was no different.

We stumbled upon a clip on social media which shows a segment from Ripa's gig backstage at the Oscars 2017, where Priyanka is seen indulging in a hilarious banter with Hollywood biggie Jennifer Aniston along with Chrissy Teigen. Take a look:


Well yes, hosting a show definitely isn't that easy! No wonder Priyanka decides to head home after a couple of shots!

But that's not it, the trio also talked about their 'hall passes' also referred as 'free passes' (the person your significant other would theoretically let you sleep with should the occasion arise). We didn't get any answer though, but the confusion and the discussion is worth a watch:


Priyanka also met up with Dev Patel backstage. Check out this picture:


Priyanka Chopra walked the red carpet at the Academy Awards 2017 wearing a Ralph and Russo gown, $5 million 60 carat Lorraine Schwartz diamond earrings and band hand cuffs. Priyanka looked nothing less than a diva in white!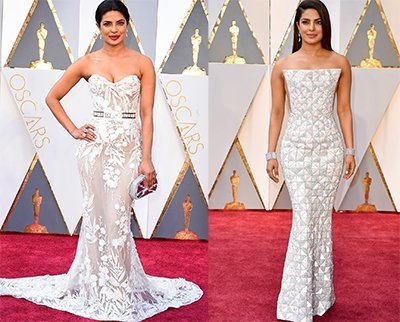 Image Source: caseme & instagram/ralphandrusso
Last year too, Priyanka attended the Oscars and she wore a pearl white tube gown by Zuhair Murad. At that time as well, she accessorized her look minimal with a piece of diamond clung to her ear! As far as her hair and make-up are concerned, Priyanka tied her hair in a neat ponytail last year and this time round she kept it neat but open. Make-up was almost the same, smoky eyes with Priyanka's signature dark lip shade!

For the Vanity Fair party, which was also attended by Deepika Padukone, Priyanka wore a black Micheal Kors gown to the do. She looked stunning!



Thumbnail Image Source: instagram/pcourheartbeat