Legendry film maker Raj Kapoor's dear wife, Krishna Raj Kapoor took her last breath this morning. She suffered a cardiac arrest and passed away at 5 am.

Since morning, Bollywood celebrities have been visiting her Chembur bungalow, to offer condolences to the family. Amitabh Bachchan with family, Karisma-Kareena Kapoor, Saif Ali Khan, Sanjay Dutt, Aamir Khan among others visited the Chembur bungalow.

Few hours back, we got you some lesser known facts about Krishna Raj Kapoor's life. And now, here is another interesting fact about her life.

Reportedly, Simi Garewal revealed details about Raj and Krishna Kapoor when she released her documentary on Raj Kapoor titled Living Legend Raj Kapoor. Simi, during her research about the legendary actor, shared some thoughts about his personal life, which also included letters he wrote to his wife.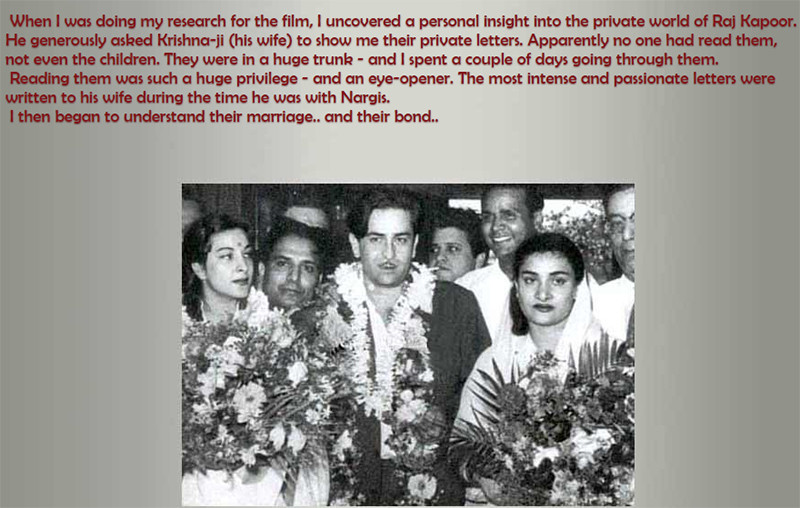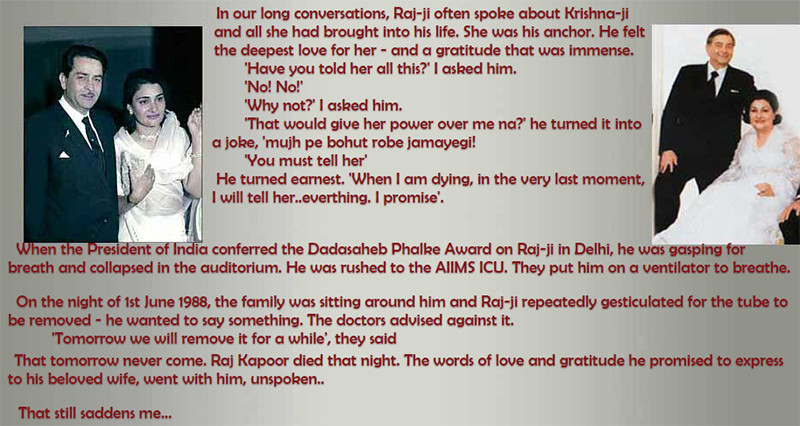 On her blog, Simi has written details about it. Here's what it reads:

"When I was doing my research for the film, I uncovered a personal insight into the private world of Raj Kapoor. He generously asked Krishna-ji (his wife) to show me their private letters. Apparently no one had read them, not even the children. They were in a huge trunk - and I spent a couple of days going through them. Reading them was such a huge privilege - and an eye-opener. The most intense and passionate letters were written to his wife during the time he was with Nargis. I then began to understand their marriage...and their bond...In our long conversations, Raj-ji often spoke about Krishna-ji and all she had brought into his life. She was his anchor. He felt the deepest love for her - and a gratitude that was immense. 'Have you told her all this?' I asked him. 'No! No!' 'Why not?' I asked him. 'That would give her power over me na?' he turned it into a joke, 'mujh pe bohut robe jamayegi!' 'You must tell her' He turned earnest. 'When I am dying, in the very last moment, I will tell her...everything. I promise. On the night of 1st June 1988, the family was sitting around him and Raj-ji repeatedly gesticulated for the tube to be removed - he wanted to say something. The doctors advised against it. 'Tomorrow we will remove it for a while', they said. That tomorrow never came. Raj Kapoor died that night. The words of love and gratitude he promised to express to his beloved wife, went with him, unspoken..."


Image Source:- Simigarewal