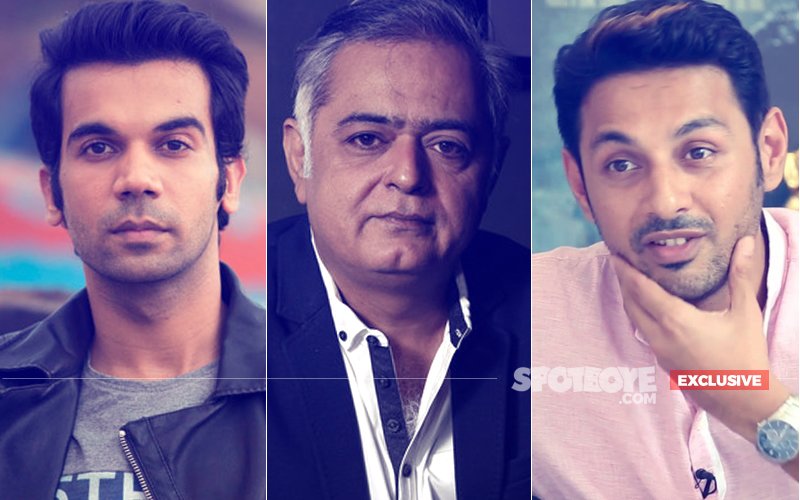 Your browser does not support the video tag.
Apurva Asrani and Hansal Mehta's fight pertaining to the writer credits of Kangana Ranaut's Simran doesn't seem to fade. Very few from the film industry have come out and opened up about the controversy. However, Hansal Mehta's muse, Rajkummar Rao, isn't someone to keep quiet.

In an exclusive interview with SpotboyE.com, Rajkummar has said that he stands by Hansal Mehta, and that he isn't 'Spineless'. "I don't agree to that statement. I don't think he is spineless at all. He (Hansal) could have kept making the kind of films he was making, but he took a sabbatical of 4 years, and came back to tell stories that he believed in, and to give voice to people who were voiceless. I am with him (Hansal) always. I believe in the kind of films he makes. I think Apurva (Asrani) is hurt, of course. But I think they both will just talk and sort it out."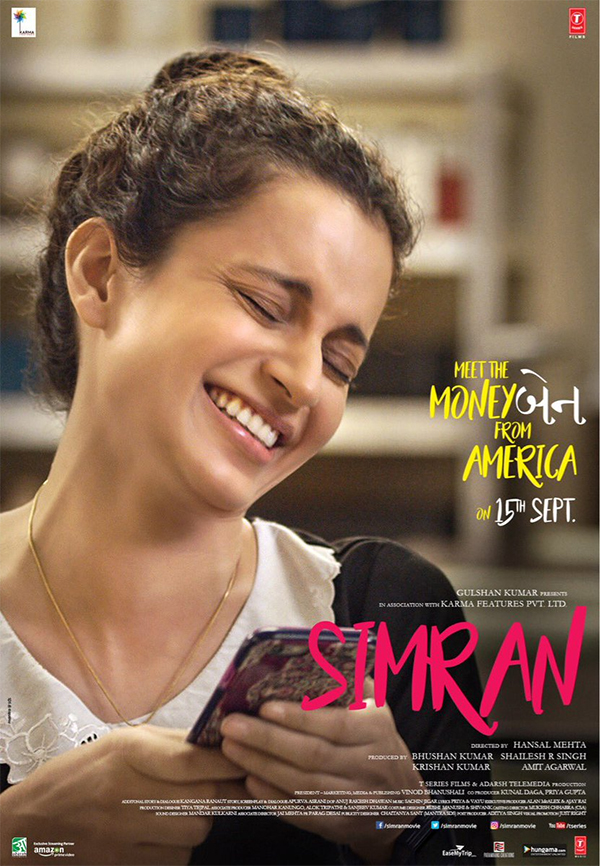 For those who've come in late, Apurva had put out a post on Facebook last week calling Hansal Mehta 'Spineless'.

Apurva had said:

"I have always supported Kangana in her fight against the system. Being a self-made person myself, and having experienced being an outsider at some point, I applaud her courage and her determination to fight a good fight.

I know there seems to be a discrepancy regarding credits. Many of you have outraged against her 'additional dialogue & story' credit appearing before mine on the poster, and I am thankful to you for your support.

While it is demeaning for any writers name to be pushed after an additional writing credit, I want to bring to your attention that it's not the 'credits' that irk me so much. There is something bigger that I notice, something that I cannot make sense of.

Ms Ranaut has been claiming in several interviews that Hansal Mehta, the director of Simran, approached her with just a one line screenplay of the film. She says that they story was dark & gritty thriller at that stage and that she herself developed it into a light, fun film.

This completely discredits me and my efforts, and I have to call out this lie at the cost of so many of her fans turning against me. Those that know me will know that I have always strived for the truth, and that is more important to me than a hit film.

Hansal sent me a news article of a woman in the US who crossed the line of the law. I loved it and thought it would make a great film. But I didn't want to do a serious film after Aligarh. As gratifying as the experience of making Aligarh was, it churned my insides out and left me emotionally drained. I saw 'Simran' as an opportunity to have some fun. This was 2 years ago!

I signed a contract with Hansal's company Karma Features, developed the idea into an original story and wrote a one-line screenplay. Hansal loved it, and took me to meet Kangana. She heard the narration and jumped at it. She told us she would do it!

Jubilant to work with my favourite actress, I began research and development. I went to the US and studied the subject, I met lots of people who added value to the idea. I then returned and began writing.

I wrote 9 drafts of the script. With each draft I went deeper into the character, I gave her an identity, motives and colour. Both Kangana and Hansal gave me valuable inputs. I incorporated some, rejected some. They were always happy with the outcome. I have proof of this. Besides, writers write for the director and his/her approval is the final word for us.

At no point (during 9 drafts and 1 & a half year!!) was there any talk or communication that Kangana didn't like the tone or direction of the script. Infact she used to jump with glee when I finished my narrations.

When they went to shoot the film, I heard stories about things transpiring on set. I would not like to go into that now. But I waited excitedly for them to return with the material and when it came earlier this year, I dived into editing it.

I was thrilled to see that it was exactly the story and screenplay that I had registered at the Film Writer's Association. I noticed that Kangana had improvised many dialogues, and I thought those improvs were excellent; in keeping with the lines/thoughts I had written.

At no stage did I see this new narrative of theirs coming. It was only the day after I finished the first cut of the film that Hansal called me to meet. He informed me nervously that Kangana is turning director and therefore has demanded a co writer credit.

I naturally had a shit fit and feeling shocked and betrayed, I refused to give in. For 2 months, he and his co producer Shailesh tried to arm twist me into giving her a co writer credit. The details of which I will reserve for the future.

I finally gave into an additional writing credit, but only because they claimed their film would be stuck if I didn't do so. But I refused to give her a co writer credit, and we signed a letter where they promised me the same.

Today not only do I see her credit before mine on the poster ( which I had decided not to fight), but I also saw Kangana on her 'Facebook Live' event yesterday claiming that she had written the film (with Hansal) from a one-line he gave her. She had already discredited my one line in her Mid Day Interview in April, saying it was a dark & gritty thriller till she wrote a new film.

I have tried to be dignified about this for so long, but I am at a loss to understand why Kangana would snatch the hard earned work of a writer. I wish she had been graceful about this and acknowledged what I brought to this film.

I also wish that my dear friend Hansal shows some spine and either refutes or endorses my story ."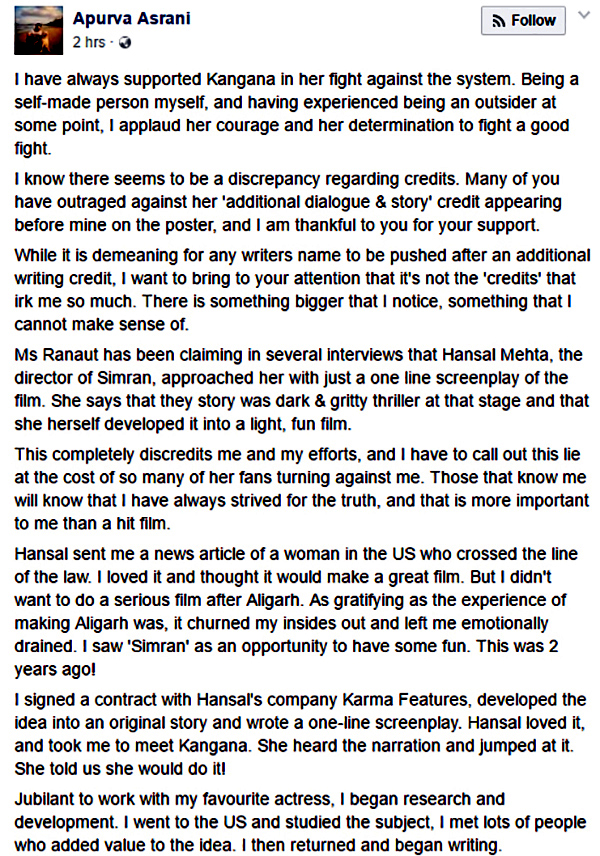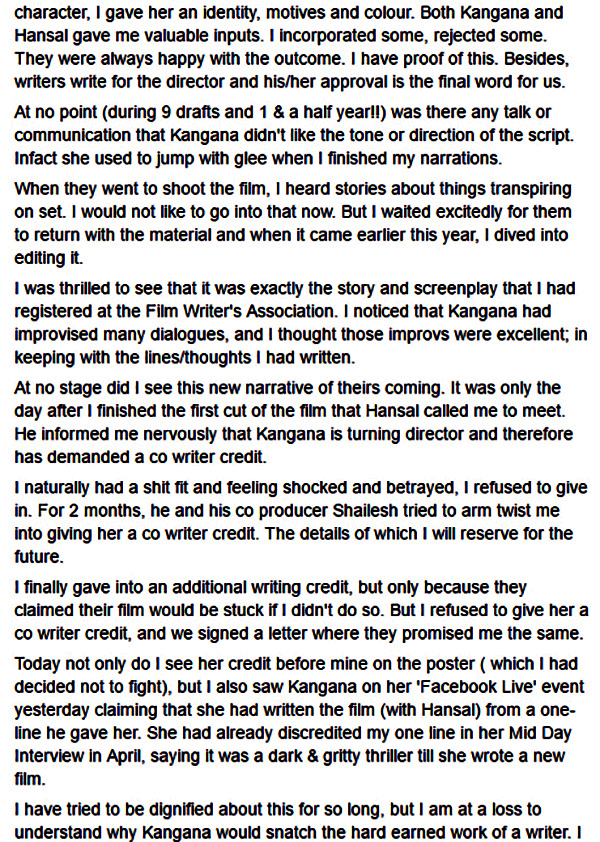 Hansal had also retorted back to Apurva with a very emotional open letter, saying he was guilty of striving for the betterment of his films. "My spine is whatever it is, weak or strong, it is only for my film and nothing else. If I chose to not speak, it is for my film. And when I do speak, it will be for my film- not driven by blackmail or any noise on social media where dignity is perceived as weakness and conversation is replaced by allegations."
Image Source: twitter/mehtahansal, silverscreen & wn