With the festive season just around the corner, who doesn't like indulging in sweets, especially during Diwali? However, the aftermath could be disappointing and getting rid of that extra fat can be a bit difficult. Riteish Deshmukh had a witty take on the same, and expressed his views on this eye-catching phenomenon. But in doing so, he invited the wrath of a certain Twitter user. Riteish, however, had a witty reply.
It so happened that Riteish took to Twitter and posted a demo price chart of all the sweets during the festive season and highlighted the expenses for weight loss, which was definitely way higher than the sweets. "Choose wisely," was the ending note. Meanwhile, the caption read, "I thought I should warn you."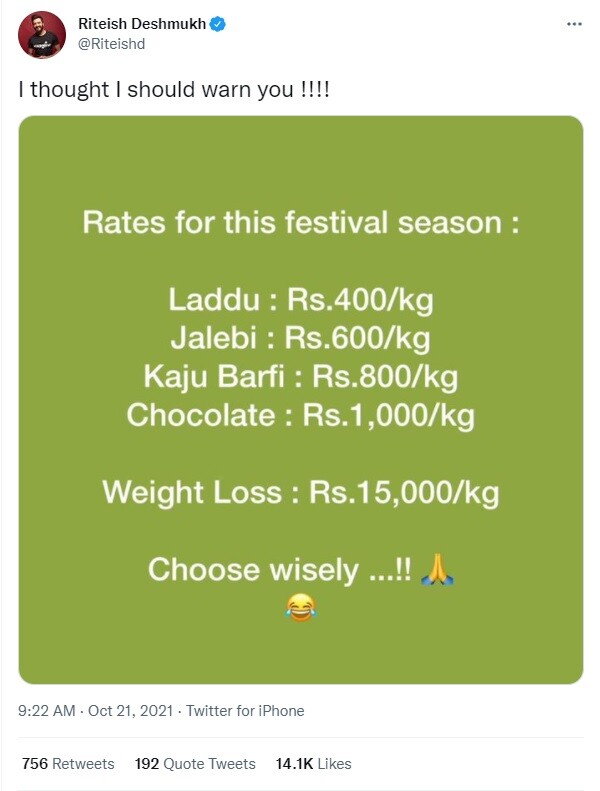 The Twitter user in question was offended by the actor pointing out the price difference between festive sweets and weight loss around the time of a Hindu festival, Diwali.
Quoting the post, the user asked Riteish in Hindi: "You people are enlightened only during Sanatani (Hindu) festivals only? Eid ya New Year ya Christmas par muh mein dahi jama lete ho! (Cat's gets your tongue on festivals such as Eid, New Year, or Christmas!)"
Riteish, who usually doesn't bother responding to such tweets, kept his can and said, "Sorry sir - Main Vegan hoon, dahi nahi khaata (Sorry sir, I'm vegan. I don't eat curd.)"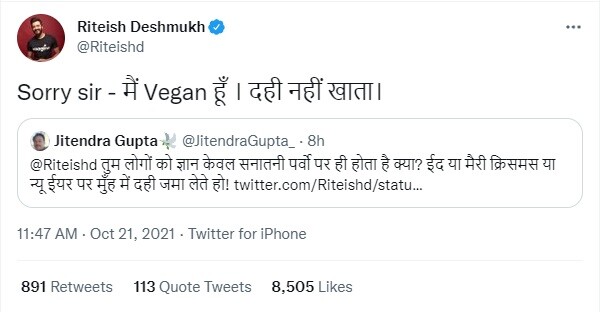 Aaahaa! We like it. Way to go, Riteish!
Riteish Deshmukh and his wife Genelia Deshmukh are anyway known for their wit and humour. They gave a demo when they appeared on Arbaaz Khan's show, Pinch 2, a few weeks ago. On the show, the guests are pinched with offensive comments from the trolls. One such comment, which was read out to them, called Genelia a 'vulgar aunty' whose 'overacting' would embarrass even children. And she had an apt answer for this.
"Besharam (shameless), cheap, vulgar aunty always overacting. Doesn't suit your age and face especially when you're married and have two kids dadi amma (grandmother). Even kids will be shocked and embarrassed with all your overacting. They'll be like, 'Even we don't act anything like this,'" the comment read.
Genelia, who was clearly shocked by the statement, said, "I don't think he is having a good day at home. I think he is very frustrated, bechara. I mean, I don't know. I hope you're well, bhaisaab. I hope you're really okay at home."
Image Source: Instagram/riteishd, Twitter/Riteishd