Harshvardhan could not bag the Best Debutant Award 2016 for Mirzya and that hit him quite a lot. Voicing his opinion on the unfair decision of giving the award to Diljit Dosanjh,
Harshvardhan was heavily trolled for his non-sporty attitude
!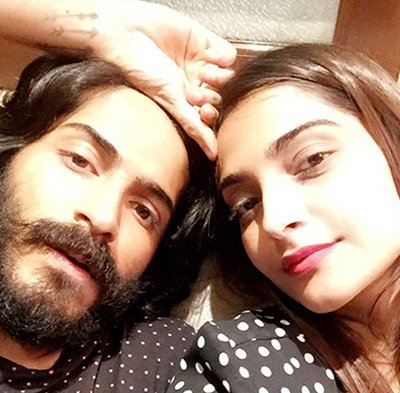 Image Source: snapchat/sonamkapoor
While Harshvardhan did speak a lot in his defence, now its sister Sonam's turn to defend her younger sibling. Talking to a section of media, Sonam played a perfect elder sister and spoke on behalf of her brother, "He's not that kind of a person. Harsh is the sweetest, gentlest, kindest soul I've met. And to troll him just because he made a point about the debutant's award is just too unfair. He was speaking out of conviction. And according to me, he was not speaking out of line,"
Not just this, she sided Harshvardhan and also acknowledged his hard work in Mirzya, "Just because it didn't do well, doesn't mean all the hard work that has gone into it is nullified. Even my debut film, Saawariya, didn't work at the box office. But I'm very proud of it. And I'm proud of what my brother did in Mirzya," added the dotting sister, Sonam.
Sonam also clarified Harshvardhan's stance on Diljit Dosanjh, "Harsh is one of Diljit Paaji's biggest fans. Harsh's objection was on technical not on creative grounds. Our father (Anil Kapoor) has always taught us to be appreciative of other actors' works. We've grown up in an atmosphere where we have constantly heard other actors' work being appreciated. Neither my brother nor I would ever feel resentful of the good work done by our colleagues."
Well, we're sure Harshvardhan is one lucky brother to have a sister like Sonam Kapoor!
Thumbnail Image Source: Manav Manglani & speedrecords