Shah Rukh Khan's Deewana Was The Second Highest Grossing Film Of 1992: Read Lesser Known Trivia About King Khan's Big Bollywood Debut HERE
Shah Rukh Khan's first two films in Bollywood were with Divya Bharti. Read about lesser known facts about his entry into the world of movies here.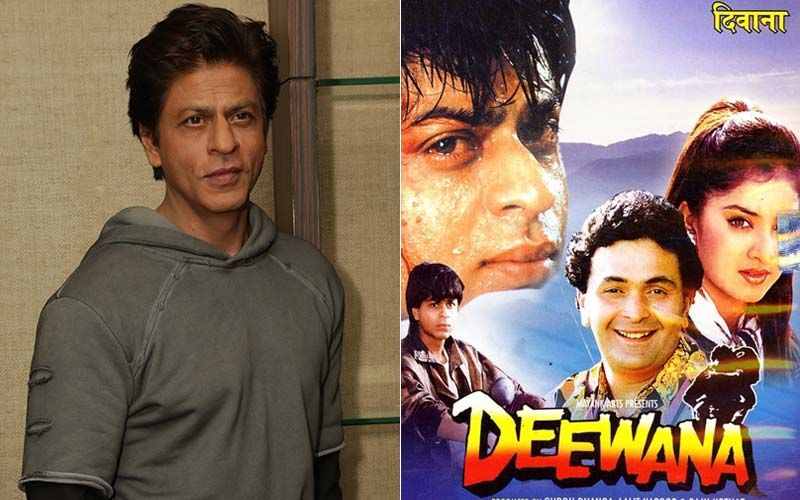 1. Hema Malini's Dil Aashna Hai and not Deewana was supposed to be Shah Rukh Khan's debut film.Hema's initial release on December 18 1992 got delayed because of the Babri Masjid demolition and the subsequent unrest in the country. Technically however Dil Aashna Hai was SRK's first film.It finally released on December 25, two weeks late.
2. Divya Bharti was an instant star. Shah Rukh Khan had already become the nation's sensation. Deewana had released two months earlier and …well… a star was born! Coincidentally, the late Divya Bharti was SRK's co-star in his first two releases Deewana and Dil Aashna Hai. And though the former released first, SRK had signed the latter first.
3. Recalling how she signed Shah Rukh Hema Malini had told me how he met her as a newcomer in Mumbai and when she told him, she was turning director, he insisted on being in the film. "I told him very bluntly that the film was based on the girl's character. He could play her boyfriend which was a brief role. He insisted on playing the role. I wish I could give him more to do," Hema expressed regret.The film was ripped off from the Shirley Conan bestselling novel Lace. Many years later Hema directed the same story with her daughter, Esha Deol in the lead in a film entitled Tell Me Oh Kkhuda. Both the versions of the story were crippling flops. Divya Bharati had a brief but brilliant career as a leading lady before she died under highly mysterious circumstances.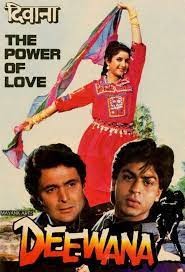 4. Both SRK's debut and sophomore films co-starred Divya Bharati. In fact she played the central character in both of SRK's debut and post-debut releases.SRK recalled Divya as hardworking and focused star material.Death snatched her away before she could get the stardom she deserved. In 1992 Divya had two releases Deewana and Shola Aur Shabnam, both superhits.
5. The real star of Raj Kanwar's Deewana was meant to be Rishi Kapoor.His song Sochenge tujhe pyar was upstaged by Shah Rukh's introductory song Koi na koi chahiye pyar karne wala. Shah Rukh's duet Aisi deewangi dekhi nahi kabhi with Divya was a straight lift of the song the Kannada song Kanasalu Neene Manasalu Neene from the 1976 Kannada movie Bayalu Daari.
6. Deewana was the second-highest grossing film of 1992 right behind Indra Kumar's Beta and ahead of Mukul Anand's Khuda Gawah. It made Raj Kanwar one of the most saleable names among Bollywood directors. Just like Divya, Raj died relatively young.
7. SRK's role was earmarked for Armaan Kohli. He shot for the film and then walked out due to differences with the director.


Image source: SpotboyE archives, IMDb, Wikipedia