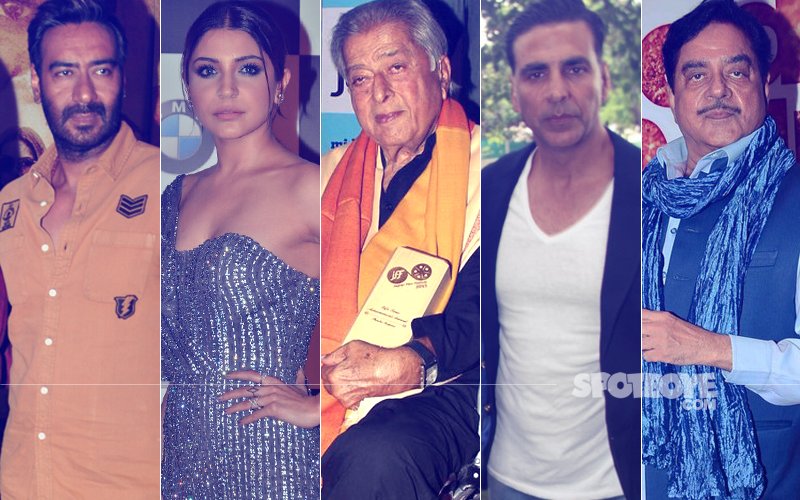 One of the most precious jewels of the Hindi film industry-wide Shashi Kapoor passed away this evening. The veteran actor, who was admitted in Mumbai's Ambani hospital, was 79. The film industry is deeply saddened by the news of his sudden demise and celebs have taken to social media to pay condolences to the late actor's family. Check out their tweets.
Ajay Devgn
Ajay Devgn Tweeted: You won't be forgotten. Rest in peace #ShashiKapoor ji.

Anushka Sharma
Anushka Sharma Tweeted: An era of great cinema belongs to you and will always do so. RIP respected #ShashiKapoor Ji.

Akshay Kumar
Akshay Kumar Tweeted: Innumerable Bollywood dreams came to life watching your iconic dialogue, "Mere paas maa hai." Your tremendous contribution to cinema will always be remembered. RIP #ShashiKapoor ji

Shatrughan Sinha

Shatrughan Sinha Tweeted:Heartbroken by unfortunate demise of our senior friend,the veteran actor, filmmaker, theater personality & star par excellence #ShashiKapoor. The void can never be filled by anyone,shall miss his personality,smile & greatness. Heartfelt condolences. May the departed soul RIP.
Bipasha Basu

Bipasha Basu Tweeted: RIP Sir. You will be deeply missed by all🙏 #ShashiKapoor
Lata Mangeshkar

Lata Mangeshkar Tweeted: Mujhe abhi pata chala ki guni Abhineta Shashi Kapoor ji ka aaj swargwas hua .Ye sunkar mujhe bahut dukh hua, wo ek bahut bhale insaan the. Meri unko vinamra shraddhanjali.
Simi Grewal

Simi Garewal Tweeted: Am deeply saddened by the passing away of my co-star #ShashiKapoor. The last of that generation of Kapoors gone. A gentleman and friend gone. An era gone.. All that remains are his films...and precious memories.. 😭 RIP Shashi-ji.
Shabana Azmi

Shabana Azmi Tweeted: We will miss you ... pic.twitter.com/ZMGoFk0DCM
Bhagyashree
Bhagyashree Tweeted: End of an era with the sad demise of Shashi Uncle. Even the skies mourn your loss.
The handsomest and classiest of that generation. You will be missed.#ShashiKapoor #RIP

Poonam Dhillon

Poonam Dhillon Tweeted: Did films like Trishul , Sawaal, Basera, Bepanah Etc with this utterly beautiful handsome man!!!Loss not only to The Kapoor Family & Film Industry but to Nation. RIP Shashi uncle

Prime Minister Narendra Modi too has expressed his thoughts on the sad demise of Shashi Kapoor. In a tweet, Narendra Modi said, "Shashi Kapoor's versatility could be seen in his movies as well as in theatre, which he promoted with great passion. His brilliant acting will be remembered for generations to come. Saddened by his demise. Condolences to his family and admirers."
His elder son, Kunal, was by his bedside when his end came. His daughter Sanjana and his younger son Karan rushed as soon as they got the news. Both of them were out of station when the veteran star breathed his last.

The actor has been ailing for quite some time and was confined to a wheel chair.

His funeral will take place tomorrow.

Some time ago, we brought you an interview with Shashi Kapoor's son, Kunal, which was done by SpotboyE.com Editor, Vickey Lalwani, when he worked at Mumbai Mirror.

Shashi Kapoor will forever be known for his films like Kalyug, Deewar, Junoon, Satyam Shivam Sundaram, Jab Jab Phool Khile and many, many others.

Watch Jalwa Specials
The Greatest Hits Of Legendary Romantic Star Shashi Kapoor (18/3/1938- 4/12/2017) 8 Pm Onward.



Image Source: Manav Manglani