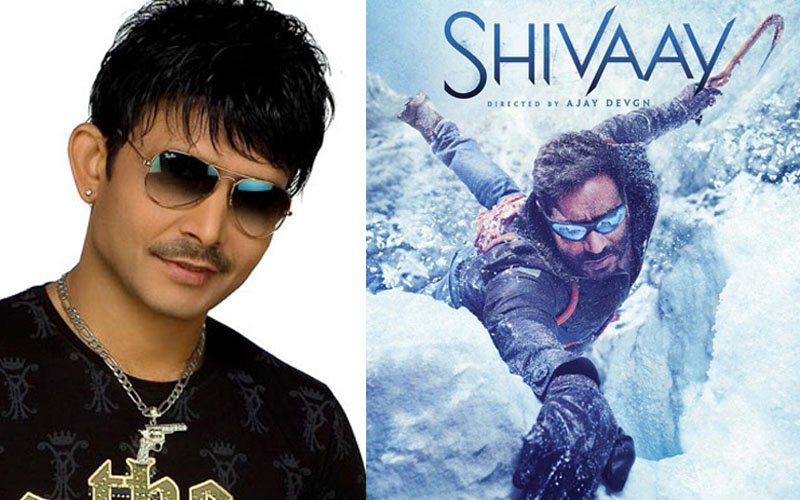 Self-proclaimed critic, Kamaal R Khan, has done the unthinkable. And no, he hasn't slammed a film or made a nasty remark this time around. In fact, he has violated piracy laws and leaked the opening scene and revealed plot details of Ajay Devgn's Shivaay.



Image Source: twitter/ajaydevgn

Yes, believe it. He saw the much-awaited film at a theatre in Dubai and recorded the first scene on a device (we assume a mobile phone). He then went on to upload the video on Twitter along with the caption, "#Shivaay is starting with trailer of next flop #RockOn2," he wrote with the clip. He followed it with yet another tweet, "First scene of Shivaay," with yet another tweet.




KRK didn't stop there. He went ahead and revealed important details of the plot. "Let me clear, #Shivaay is story of prostitution problem in Bulgaria, so what Indian audience has to do with it? Why will Indians watch it?"




In yet another tweet, he wrote, "Story started by 9 years old memory and Since last 15 minutes Ajay Devgan Sahab is jumping in the mountains! #Shivaay."

Within minutes he realised the consequences of his actions and deleted some of his tweets. Needless to say, this illegal step did not go down well with distributor Reliance Entertainment, who is now contemplating legal action against KRK.

Looks like he is indeed going after Shivaay. You may recall that last month, Ajay released a tape where KRK and Ajay's manager Kumar Mangat are having a conversation in which KRK claims that Karan has paid him Rs 25 lakh to run down Shivaay and promote ADHM (Devgn releases tape saying that Karan has paid KRK to run down Shivaay, Sep 2). While KRK claimed that these allegations were baseless, Ajay stuck to his guns (ADHM-Shivaay War: Ajay Says KRK Is Lying, Sep 2). Karan, who initially maintained a stoic silence on the subject, finally spoke up and simply stated, "My self-respect, reputation, company reputation, upbringing doesn't allow me to dignify this question with a response" (Karan Johar breaks his silence over ADHM-Shivaay-KRK controversy, Sep 3).


Thumbnail Image Source: sakshi & twitter/ajaydevgn