Sanjay Leela Bhansali has received widespread support from Bollywood ever since members of Karni Sena attacked the set of his upcoming film Padmavati and manhandled the filmmaker.

Sushant Singh Rajput too reacted to the controversy, although in his own way. The actor, a Rajput himself, dropped his surname from Twitter to express solidarity with Bhansali.

He wrote, "We would suffer till the time we're obsessed with our surnames. If you're that courageous, give us your first name to acknowledge. #padmavati

But what we saw this morning was surprising -- the surname was up AGAIN! In just 3 days!

Was this merely for publicity, Sushant? A celebrated filmmaker like Sanjay Leela Bhansali was attacked and the entire Bollywood industry was shaken up by the incident. Sushant shows his support, drops his surname but gets its back in merely 3 days? What kind of a momentary support was this?

In no time, he was trolled for this childish act, to which Sushant again reacted aggressively.

A troll said, "Why don't you change your name too if you don't follow any religion? Then why a Hindu name Sushant?? Remove that too."

Sushant responded: "I've not changed my surname idiot. I'm probably 10 times more Rajput than you are if you're implying courage. I'm against the cowardly action."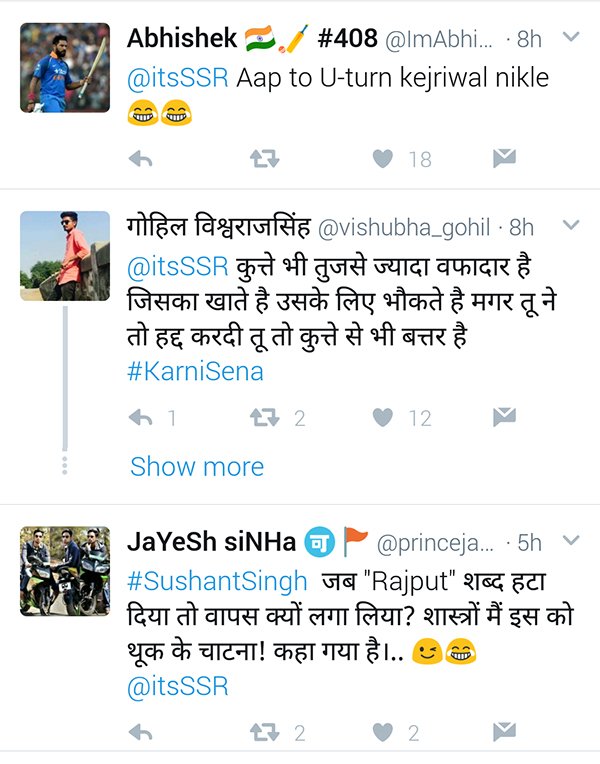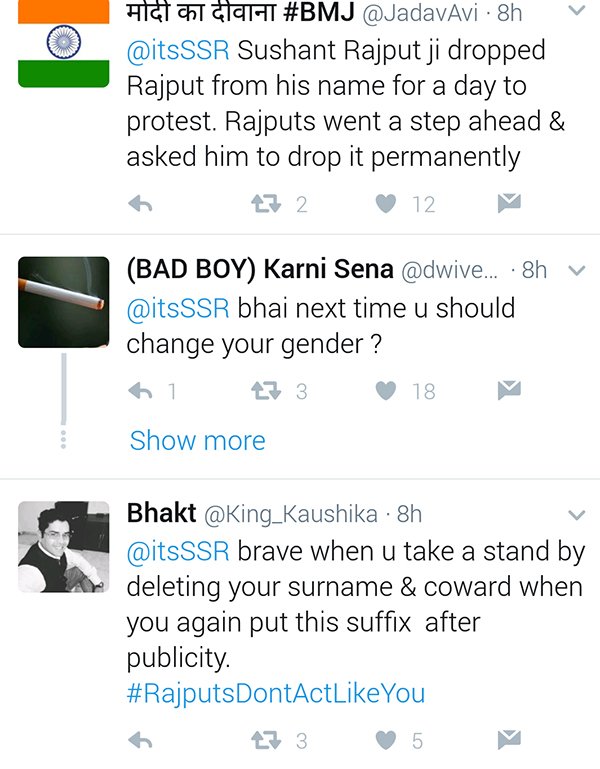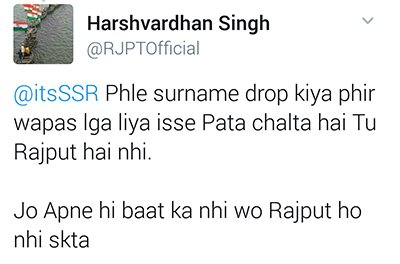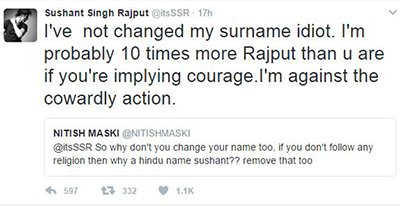 Sushant, we guess you have started taking social media for granted? You may recall that Sushant had gone off the social media platform in mid 2016 after a lot was being asked about his split with long time girlfriend Ankita Lokhande. He returned to the platform in JUST 23 days. He posted a selfie with good friend Kriti Sanon to mark his return. Again, an attention-seeking tactic?
Sushant, you recently played a very respectable role on-screen of an acclaimed Indian captain, MS Dhoni. Agreed that your performance was stupendous but such attention-grabbing tricks, especially in context to a senior filmmaker like Bhansali, just comes across as very shallow.
Not just this, he has been engaging in worthless conversations with trolls since last night: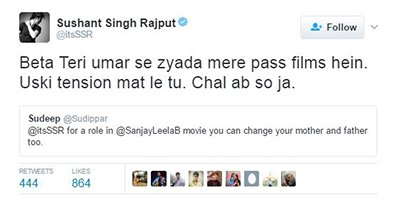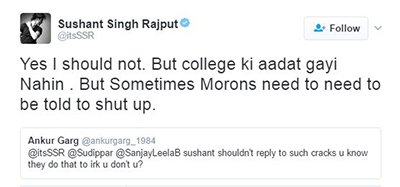 While talking to a section of media, Sushant clarified his stand by saying, "Yes, I did it for a day to show that the unfortunate action is not what everyone with that surname endorses. They do not represent the entire Rajputs. There are ways to express your ideas, but violence is never an answer, and that too just on mere speculation."
He further added, "I am not changing my name that was a way to express that I don't endorse the view of a particular group which claims to be the representative of entire Rajputs and probably India."
You may have your reason Sushant, but we still think this was uncalled for!
Thumbnail Image Source: mensxp