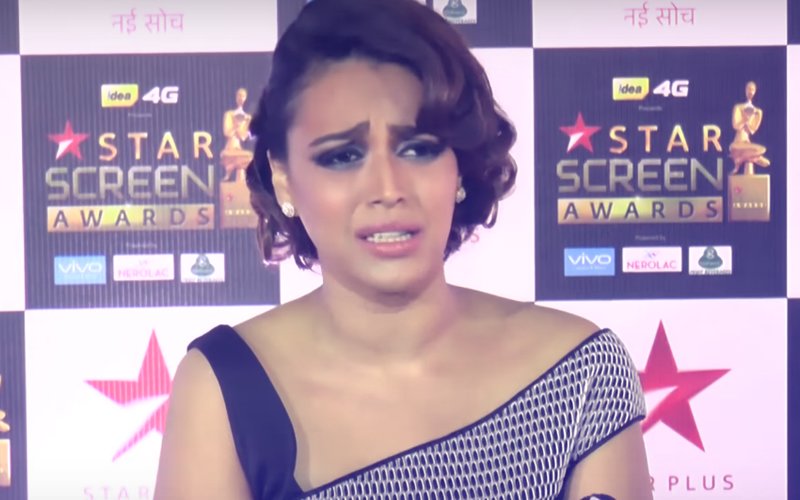 Swara Bhasker has self-invited a huge controversy. And the most interesting bit is that the lady is not stopping.

A few minutes back, we told you how Swara completely misinterpreted director Vivek Agnihotri's rape victim tweet and slammed him for it.



And now, we bring you a video, where Swara has spoken her heart out on the open letter controversy BUT in the bargain her double standards about 'her' idea of feminism have come in the forefront.

While talking about the issue, Swara ended up saying that she will refrain from using the 'V-word' (vagina) since a lot of family channels are present at the event and they would not like it. (WATCH THE VIDEO ABOVE)

We wonder why? When she has gone all out on a public platform like Twitter to scream out the word, why refrain from using it now, especially when you think your points are justified?

Feminism down the drain?

The actress also lost her cool on media when she was asked if all this was a publicity stunt. She shot back saying, "Aap mujhe paise dete ho bolne ke...I wish I was paid for talking."



Guess Swara's thoughts are all over the place at the moment. It's completely OK to put your points across but now, when you have created a big talking point out of it, it's just wise enough to stick to what you've started!

Meanwhile, last night, SpotboyE.com Editor, Vickey Lalwani had put out a few questions for Ms Bhasker in context to her open letter. Read it here.

Swara, time to step back now, rethink and then speak.


Image Source: Youtube/SpotboyE Team