Swara Bhasker's Hubby Fahad Ahmad Lashes Out At Trolls For Digging Up Her Old 'Bhai' Tweet; Says, 'Pati Patni Mazaak Bhi Kar Sakte Hai'
After being trolled by the netizens for calling political activist Fahad Ahmad 'bhai' in an old tweet, Swara Bhasker's husband has now hit back at trolls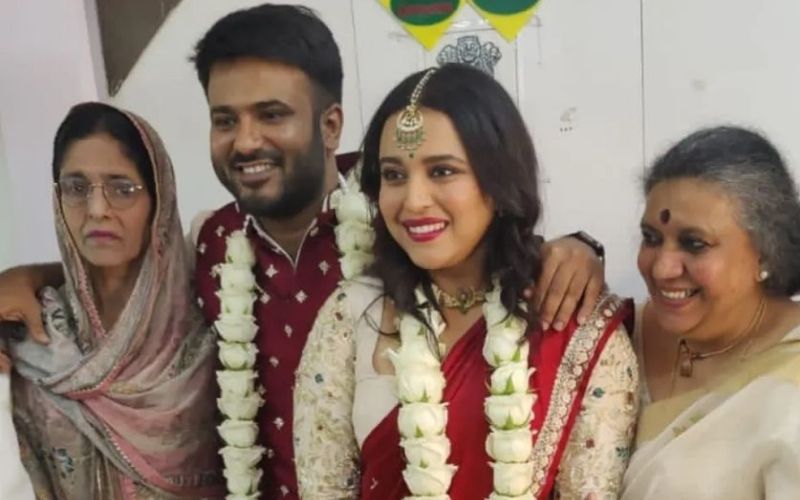 Bollywood actress Swara Bhasker left everyone surprised when she announced her court marriage to political activist Fahad Ahmad. The new bride got emotional as she shared a compilation of their journey together in a video on Twitter. She had gone on to reveal that she had gotten hitched to Fahad earlier in January, which had led trollers to dig up her tweet from February where she refers to him as bhai.
Take a look at the tweet here:
Jokes a part

संघियों ने यह तो माना

हिन्दू-मुस्लिम भाई बहन हो सकते है

बस यह और मान लो पति पत्नी मज़ाक़ भी कर सकते है……

— Fahad Ahmad (@FahadZirarAhmad) February 19, 2023
शुक्रिया ज़र्रानवाज़ी का दोस्त 💛

भाई के कॉन्फिडेंस ने तो झंडे गाड़े है वो तो बरकरार रहना ज़रूरी है….और हाँ, तुमने वादा किया था तुम मेरी शादी में आओगे तो वक़्त निकालो….लड़की मैंने ढूँढ ली है 😎😎😎

— Fahad Ahmad (@FahadZirarAhmad) February 2, 2023
For the unversed, netizens have brutally trolled the two in the name of religion for the past few days. While some shared memes of Fahad demanding a fridge in dowry, others wrote nasty comments about their relationship. Some even 'advised' them to go back to Pakistan where cousins get married. While, receiving nasty criticisms and being trolled is not new for Swara and Fahad, it really does make one wonder if this one was taken too far.
ALSO READ: Swara Bhasker Drops Hilarious Meme On Her Plans For Post-Wedding Celebration; Says 'Read Every Thought In My Head
Talking about the nuptials, the couple had a court marriage. Pictures and videos from their engagement ceremony are currently going viral on social media, where the happy couple can be seen dressed in red and white. Swara's friends including Sonam Kapoor, Divya Dutta and designer Sandeep Khosla attended the ceremony, alongside their family. It is being said that the actress and politician will be tying the knot in Delhi, next month.